After 14 years at Fox News, host Greta Van Susteren is leaving the network immediately, and according to her husband, she might take legal action against the channel in the future.
In a Facebook post about the decision, the former "On the Record" host wrote that Fox "has not felt like home for a few years." On Friday, Van Susteren invoked the "key man clause," which allowed the anchor to terminate her contract if and when former network chairman and CEO Roger Ailes was not in control.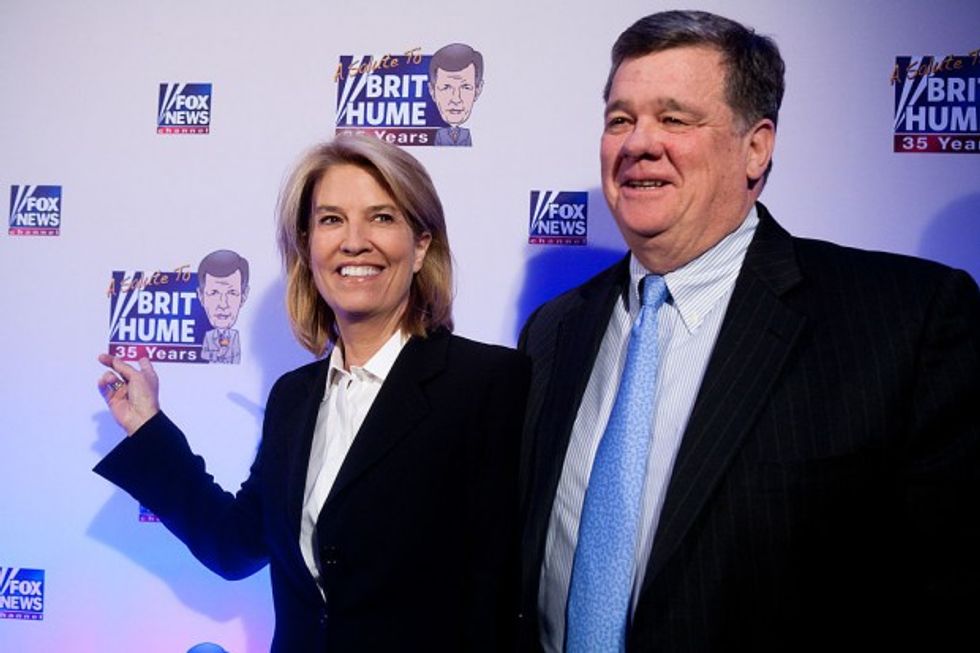 Fox News host Greta Van Susteren and her husband John Coale pose on the red carpet upon arrival at a salute to FOX News Channel's Brit Hume on Jan. 8, 2009, in Washington, D.C. (Brendan Hoffman/Getty Images)
Van Susteren said that she "could not wait" because of a time limit on the exit clause.
The broadcaster's husband, John P. Coale, backed up his spouse in a phone interview with The New York Times Tuesday, telling the newspaper, "There's so much chaos, it's very hard to work [at Fox]." News of Van Susteren's decision comes the same day Fox announced it settled with ex-anchor Gretchen Carlson for $20 million over sexual harassment allegations against Ailes.
Coale said the timing of the announcements was simply a "coincidence."
The Times pressed Coale on why his wife chose to invoke the "key man clause." In response, he said there is more going on at the network "than meets the eye," adding he didn't want to go into too much detail because there "might be litigation in the future" on the matter.
In a statement from Fox News, co-presidents Bill Shine and Jack Abernethy said, "We are grateful for Greta's many contributions over the years and wish her continued success."
In Van Susteren's absence, Fox's senior political analyst Brit Hume will fill in as "On the Record" host through the presidential election, a post he said he is "happy to take on" until November.
"My Fox News colleagues have set a high standard for political coverage which I'll do my best to uphold. I'm honored to be asked," Hume added.
Ailes resigned from his lead position at the network in July, just weeks after Carlson brought a sexual harassment lawsuit against the former chairman. He has denied all allegations.
—
Follow the author of this story on Twitter: