Hillary Clinton offered up a bold promise Wednesday night, saying, should she become president, there will be no more "ground troops" in Iraq "ever again" in the fight against the Islamic State.
"We are not putting ground troops into Iraq ever again and we're not putting ground troops into Syria," Clinton told NBC's Matt Lauer during a presidential forum on the network.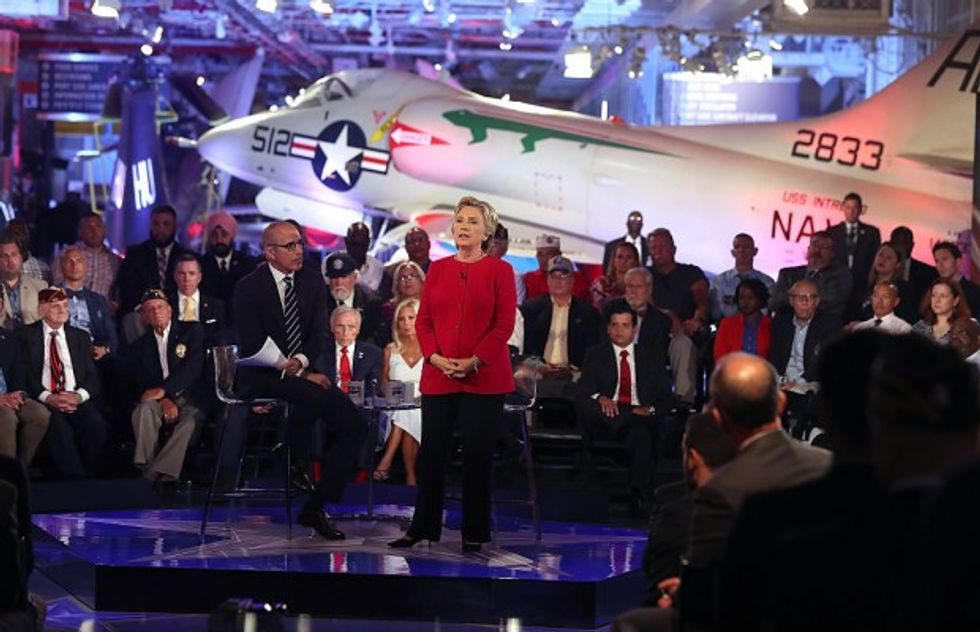 Hillary Clinton fields questions from veterans during NBC News presidential forum on Wednesday. (Justin Sullivan/Getty Images)
"We're going to defeat ISIS without committing American ground troops, so those are the kinds of decisions we have to make on a case-by-case basis," the Democratic presidential nominee added, using a popular acronym for the Islamic State.
However, Clinton insisted Iraqi forces must feel they have the U.S. support necessary to press forward. She said local forces will need assistance from U.S. Special Forces along with "surveillance, intelligence, reconnaissance help." Clinton said her support of the Iraq War when she was in the Senate was a "mistake."
"Remember, when I became Secretary of State, we had 200,000 troops deployed in Iraq and Afghanistan," she told Lauer. "And I'm very grateful we have brought home the vast majority of those."
Moving forward, Clinton said the U.S. must rely on "Arabs and Kurds who will fight on the ground."
There are currently more than 5,000 ground troops in Iraq and approximately 300 in Syria currently training and advising local Iraqi forces and Syrian opposition fighters who are challenging the Islamic State.
Watch Clinton's comments below:
Clinton: "We are not putting ground troops into Iraq ever again, and we're not putting ground troops into Syria." https://t.co/tYRwFIblnG

— NBC Nightly News (@NBCNightlyNews) September 8, 2016
—
Follow the author of this story on Twitter: