During an interview with a journalist who immigrated to the U.S. to escape the communist Soviet Union, former Minnesota Gov. Jesse Ventura argued "communism is gone" in Vladimir Putin's Russia.
"Well, as someone who immigrated to this country to escape communism and dictatorship, it's interesting—," Bianna Golodryga, who came to the U.S. from Moldova as a child, said before being cut off by the ex-professional wrestler.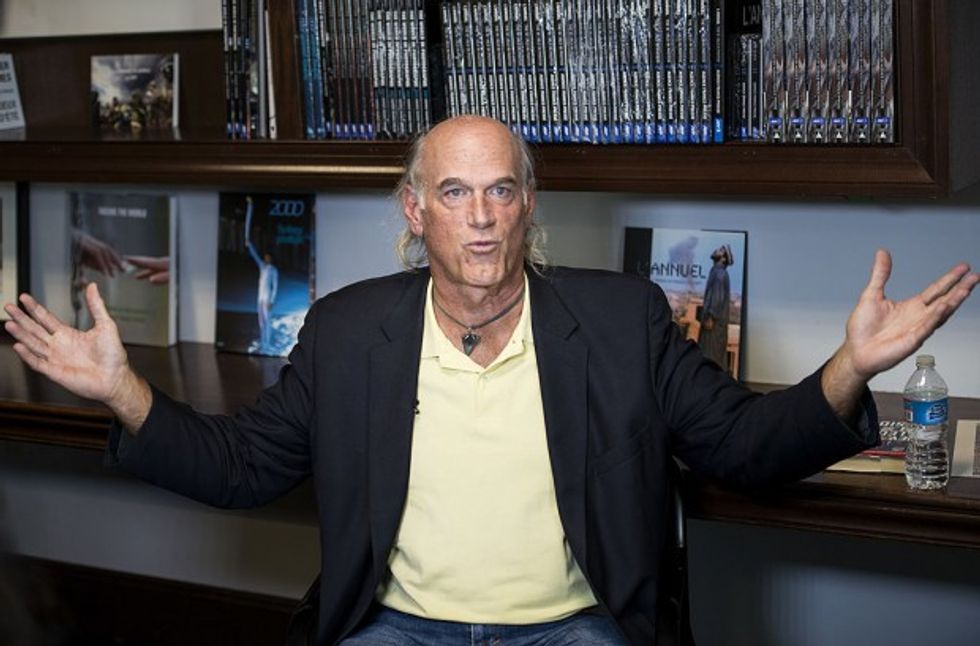 BRENDAN SMIALOWSKI/AFP/Getty Images
"It's gone — communism is gone! I was there in November," Ventura interjected.
It is important to note that Ventura, whose son, Tyrel, works for Russia's state-run RT America, just signed a contract with the controversial news network.
"I just signed a contract with the only people that let me speak freely: … Russia," he said at one point during the interview. "I just signed a contract with RT America. I will be on there with my own show. I met Vladimir Putin in December and he assured me he will never interfere in anything I talk about."
Ventura made his case that "communism is gone" in Russia by explaining to Yahoo's News and Finance anchor that capitalism is flourishing in Moscow. Golodryga reminded the "Marijuana Manifesto" author that, in 2005, Putin said, "The collapse of the Soviet Union was a major geopolitical disaster of the century," according to the Kremlin.
"I don't know about any of that," Ventura admitted, "but you know how much they've embraced capitalism in Moscow? More than us. You know how? Every store there's open 24/7. You can go get fitted for a tuxedo at three in the morning. That's competition in capitalism."
"They don't close 'cause of competition," he continued. "I'd like to know this: Why are they still our enemy, when they're no longer communist, they're capitalists?"
Before wrapping what she described as an "interesting" discussion, Golodryga told Ventura, "Well, I think it's beyond just that."
Earlier in the interview, the polarizing entertainer-turned-politician downplayed Libertarian presidential nominee Gary Johnson's foreign policy blunder Thursday morning, when the former New Mexico governor seemed unfamiliar with Syria's Aleppo, the epicenter of a violent conflict that has launched the international refugee crisis.
"Much ado about nothing," Ventura said of Johnson's misstep. "The reason is, Gary Johnson supports full withdrawal from the war. And I agree with him. So once you've withdrawn from the Middle East, who's going to care about that city any more?"
In his view, Johnson's gaffe is evidence of nothing more than fatigue.
"Gov. Johnson, I can imagine, as tired as he is — I'm on a book tour and I'm going 6 a.m. to midnight. He's running for president — you think you're not going to make a mistake?" Ventura told the Yahoo host. "You think that's going to stop me from voting for him? He's going to end wars — to end the war on drugs, too. These other two candidates, get ready: War is gonna continue."
During the wide-ranging interview, Ventura, an advocate of pot legalization, also argued that the president should "certainly" be able to smoke marijuana in the Oval Office because "nobody's died" from using the substance.
"People live from using marijuana, people die from using alcohol," he told Golodryga.
Watch a portion of the interview below:
Jesse Ventura: "If I'd have ran, I'd have beaten" Clinton and Trump https://t.co/j3t4TWCBGFpic.twitter.com/QcUtNjCoRy

— Yahoo News (@YahooNews) September 8, 2016
—
Follow the author of this story on Twitter: