Joe Miller is socially conservative, supports Republican Donald Trump for president and yet is running for a U.S. Senate seat on the Libertarian Party ticket.
For Miller, an Alaskan, this 2016 race isn't his first rodeo — or Iditarod. In 2010, as the Alaskan GOP's U.S. Senate candidate, Miller lost to now-Sen. Lisa Murkowski (R), who ran as a write-in candidate. Murkowski made history then as she became the first senator to win through a write-in candidacy since 1954.
Yet Miller, too, hopes to make history this year during his own campaign. Having declined to enter the Republican primary to challenge Murkowski's seat, he plans to challenge it through a last-minute, third-party entry. Miller officially became the Libertarian Party's nominee on Tuesday after Cean Stevens withdrew her own candidacy.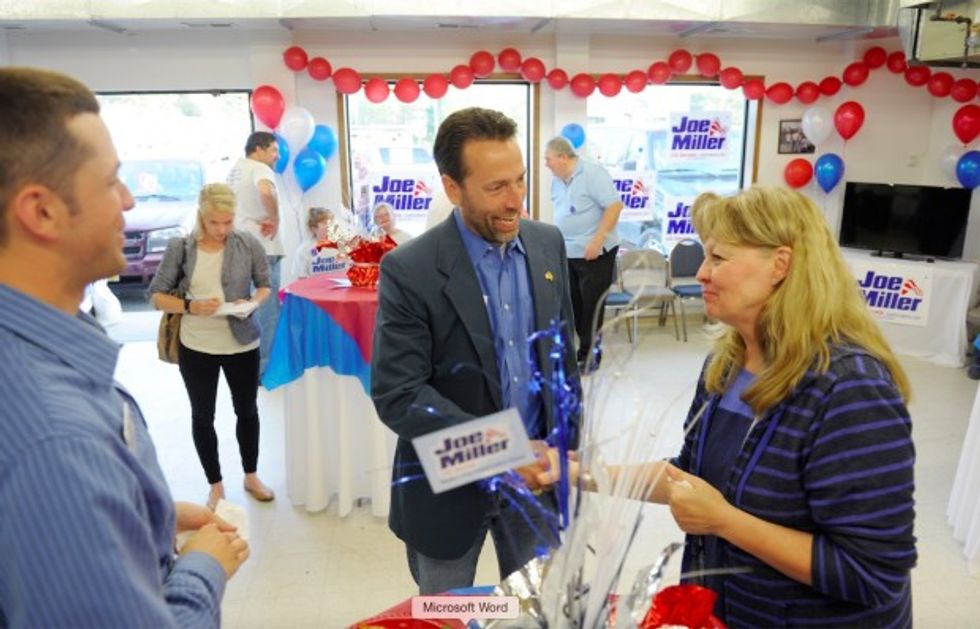 U.S. Sen. candidate Joe Miller talks with supporters at his Anchorage, Alaska headquarters on Tuesday, Aug. 19, 2014. (AP Photo/Michael Dinneen)
Despite his personal support for traditional marriage and anti-abortion views, Miller told TheBlaze social issues are those that should be left up to the states — not the federal government, a position consistent with mainline libertarianism.
"On social issues, I think life is federally protected, but with the others, I do believe that they are issues that the states should decide," Miller, a Christian, said. "I've obviously taken a federal libertarian position on those issues. We've got a diverse country, we've got diverse people. Some states have a population that is quite different in viewpoints on these issues than other states, and I think our founders intended that diversity to be worked out through approaches at the state level."
"Even though there may be a substantial percentage of libertarians who see things personally different than I do, I think they can have faith and they can trust in the fact that I'm a man of my word, I've been consistent in all my campaigns that this is something that states should resolve," he added.
Joking that he isn't ready to give away his campaign strategy secrets quite yet, Miller contended he has learned a lot from his failed 2010 and 2014 attempts. While the Alaska's Division of Elections only accepted the paperwork for his candidacy on Tuesday, Miller's team has established staff headquarters in both Anchorage and Fairbanks where "dozens of volunteers" can culminate.
"Obviously, we're going to base our campaign off that volunteer base. It has expanded beyond what it was, I believe, in 2010, and there's just an incredible amount of excitement amongst them," Miller said. "One of the reasons they're excited is because it's a tried and tested campaign. It's one in which we have solid support."
He continued, "One of the things we learned throughout the two campaigns is you need a strong organizational structure, which many campaigns are threatened by not having one. As you know, campaigning is sometimes considered to be organized chaos. We want to be organized without the chaos; sometimes that's difficult."
However, Miller hopes it won't be too difficult to defeat Murkowski — who he referred to as a "fake Republican" — as well as the other candidates, Democrat Ray Metcalfe and Independent Margaret Stock.
"They're all leftists, and the electorate really only has one conservative choice," Miller said. "I'm excited about it, the team's excited about it and I think we're on the path to victory."
And while Murkowski hasn't decided whether she will support the bombastic Republican presidential nominee, Miller told TheBlaze that he does plan to vote for Trump on Election Day. He also predicted that the billionaire businessman's campaign is most likely aware of Murkowski's hesitation to endorse her party's standard-bearer.
"I'm sure that his team is aware of that, so we'll wait and see," he said when asked if he had received any support from Trump's campaign.
Miller is hardly the only candidate in this Senate race who bucked with his own party in favor of another. As the Alaska Dispatch reported, Metcalfe, a former state legislator, founded his own party, the Republican Moderates. Eventually he became a booster of former Democratic presidential contender Sen. Bernie Sanders, which reportedly clashed with other state Democratic leaders.
—
Follow Kaitlyn Schallhorn (@K_Schallhorn) on Twitter