Recently crowned Miss America Savvy Shields was asked about Democratic presidential nominee Hillary Clinton during Sunday night's pageant, but she ultimately had a message for both candidates.
When Olympic gold-medal gymnast Gabby Douglas asked Miss Arkansas her thoughts on the former Arkansas first lady, Shields initially laughed at the short and abrupt question.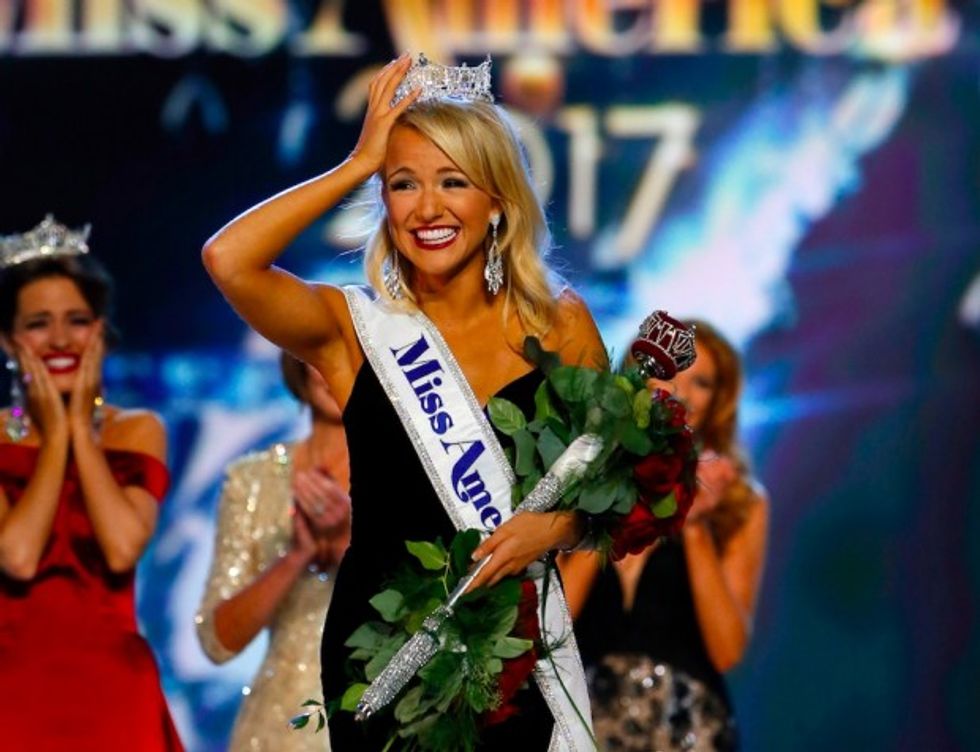 Miss Arkansa Savvy Shields reacts after being named new the Miss America 2017 on Sunday. (AP Photo/Noah K. Murray)
"If you're trying to be [the] leader of the free world, everything you say and do matters, and all of your actions are held to a higher standard," Shields said. "Unfortunately, the media does love to sensationalize everything, and it's hard to tell what is truth and what is truly scandal."
She added, "Both of these candidates have done a great job in competing, but they all need to watch what they're doing."
.@gabrielledoug asks @MissAmericaAR a question! #MissAmericapic.twitter.com/xQD6GLI3bc

— Miss America Org (@MissAmericaOrg) September 12, 2016
Following the pageant, Shields elaborated on her answer as she told reporters that she hoped that by the end of her reign as Miss America, politicians will be "rewarded" for "compromise."
"What I would want both candidates to focus on is compromise," Shields said. "Our country was founded on compromise, and we're living in a state now where both parties just seem to be yelling at each other."
Shields, a 21-year-old college student at the University of Arkansas, was crowned Miss America 2017 Sunday night in Atlantic City, New Jersey.
—
Follow Kaitlyn Schallhorn (@K_Schallhorn) on Twitter