Pope Francis called the Rev. Jacques Hamel, a Catholic priest murdered by Islamic State terrorists earlier this year, a martyr at a mass celebrated in the French priest's memory Wednesday, according to Catholic News Agency.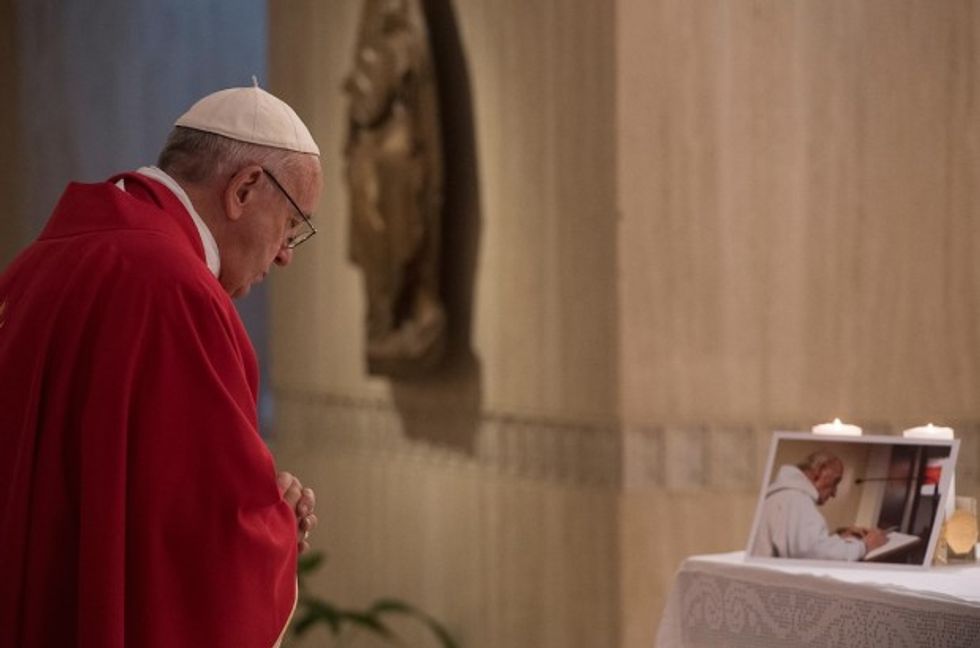 Pope Francis prays in front of a picture of the Rev. Jacques Hamel as he celebrates a mass to honor his memory at the Vatican on Wednesday. (L'Osservatore Romano/Pool photo via AP)
As TheBlaze previously reported, Hamel was killed July 26 while celebrating Mass at his parish near the city of Rouen. The elderly priest reportedly told the terrorists "go away, Satan!" before they slit his throat at the altar.
Reflecting on Hamel's death during his homily Wednesday, Francis said, "Today in the church there are more Christian martyrs than in the first times. Today there are Christians who are assassinated, tortured, jailed, their throats are cut because they don't deny Jesus Christ."
"To the first Christians, apostasy was proposed — that is, say that our god is the true one, not yours. Make a sacrifice to our god, or our gods. And when they didn't do this, when they refused apostasy, they were killed. This is repeated today," the pope said. "How much we would like that all of the religions would say that killing in the name of God is satanic."
Francis called Hamel "a martyr" who accepted death "on the cross" with Christ.
"Jesus Christ was the first martyr, the first that gave his life for us, and from this mystery of Christ comes all the history of Christian martyrdom," he said, adding that Hamel "gave his life for us and he gave his life for not denying Christ. He gave it in the very sacrifice of Jesus on the altar."
Francis said the "good, meek man" should serve as an example to the faithful to "go forward without fear."
The Associated Press reported that Rouen's Archbishop Dominique Lebrun and Hamel's sister Roselyne Hamel were in attendance at the mass.
Roselyne Hamel told the AP that her brother's assassins "accepted influence of the devil, of Satan," but that she doesn't believe Islam itself is responsible for her brother's death.
"Our Muslim brothers pray to a God who is our God and who is a God of love, of tolerance of sharing," she said. "It is certain that these young men killed my brother, they assassinated him, in the name of a God who kills, and that is not the God of Islam and it is not the God of Christianity."
—
Follow the author of this story on Twitter and Facebook: