San Francisco 49ers quarterback Colin Kaepernick's recent "activism" is "sympathetic to ISIS," according to Rep. Steve King (R-Iowa.)
During an interview earlier this week on the conservative NewsmaxTV's "America Talks Live," King speculated that Kaepernick's "Islamic" fiancée might have inspired his recent protests.
Kaepernick already made headlines this football season with his refusal to stand during the national anthem in protest of oppression of blacks in the U.S. His own protest has inspired other players on other teams to do the same.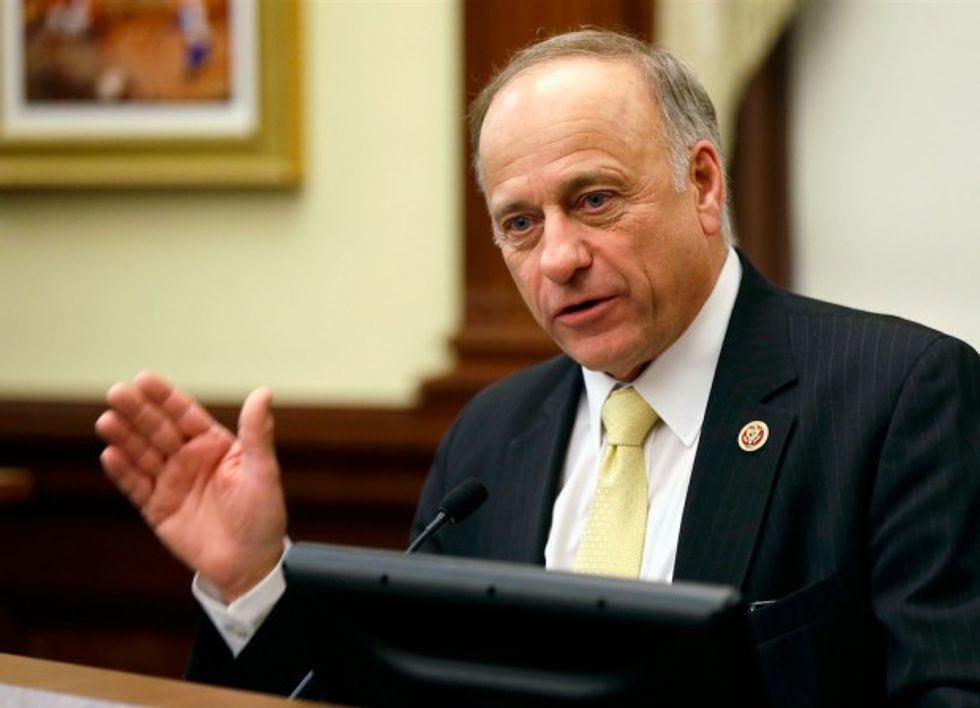 Rep. Steve King (R-Iowa) speaks in Des Moines. (AP Photo/Charlie Neibergall, File)
"I understand that he has an Islamic girlfriend that is his fiancée, and that this has changed him," King said Tuesday. "He's taken on some different political views along the way. This is activism that's sympathetic to ISIS."
"And for me, if I'm the coach, I would say, 'You're done. Until you take a knee and beg forgiveness from the American people, you're not going to set foot on this field again.' That would be my answer to him," he continued.
King also charged that Kaepernick is a representative of the entire 49ers team whenever he puts on his jersey and that his actions reflect on the organization.
"He's taking advantage of that, and he's undermining patriotism," King said.
King told NewsmaxTV:
I just think of it if somebody is working for me and they represent me, that's the name scenario, legal scenario that they have on a football team. If somebody went out there and said, "In my spare time I'm going to promote abortion and same-sex marriage and eroding the Constitution of the United States and promote socialism," they'd be gone in the first minute they opened their mouth on that. I would fire them, and they all know that."
King's remarks aren't the first time there has been speculation that Kaepernick could covert to Islam — or has already — at the behest of his significant other. But the quarterback put those rumors to rest at a press conference last week.
"I think the [rumor] comes along with people's fear of this protest, as well as Islamophobia in this country," he said. "People are terrified of them to the point where [GOP presidential nominee Donald] Trump wants to ban all Muslims from coming here which is ridiculous."
—
Follow Kaitlyn Schallhorn (@K_Schallhorn) on Twitter