Fox News contributor Charles Krauthammer tore into the Obama administration Monday for their continued "reluctance and denial" to identify and label terrorist attacks as terrorism, despite the numerous "lone-wolf" style attacks that have happened during President Barack Obama's tenure in the White House.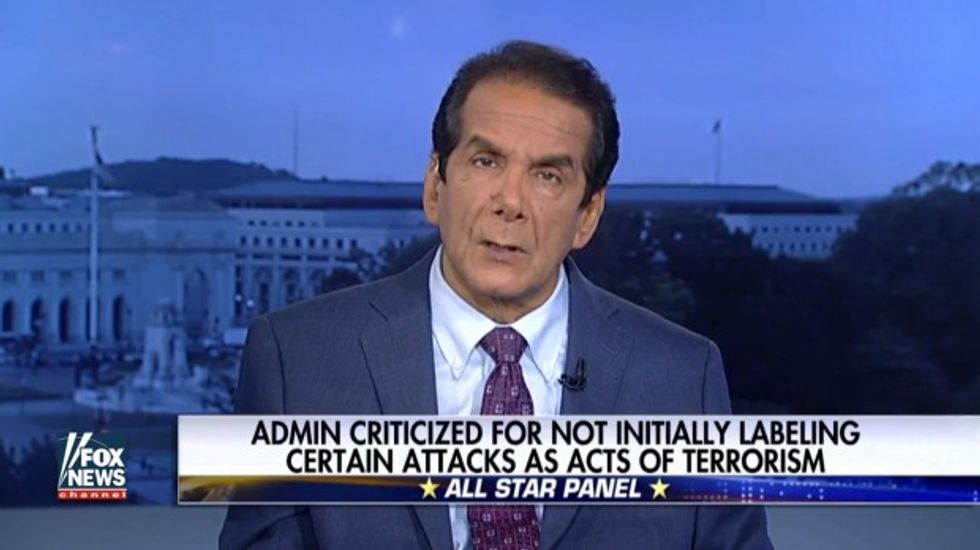 Charles Krauthammer (Image source: Fox News)
"I mean, it is absolutely clear that the administration's reluctance and denial hovers somewhere between the inexplicable and the delusional," Krauthammer said on "Special Report With Bret Baier." He continued:
This is time after time, as you showed, there is always an attempt to say anything other than what these things are. The way not to use the word "terrorist," the way the Fort Hood shooter was called "workplace violence" for months and the way even in this instance, which is obviously a terrorist attack, there's a reluctance to use the term.

And they're still pondering now about the guy who stabbed the people in the mall in Minnesota. According to eyewitnesses, he went around asking people if they were Muslims, and he invoked "Allah." What more do you need?
Krauthammer went on to push back against the administration's narrative that "lone wolf" attacks are in a "lesser category" than large-scale attacks orchestrated by the Islamic State's top brass.
"As if the absence of an absolute letter of instruction, handwritten in Raqqa by the leader of ISIS, it counts for less," Krauthammer said. "It counts for the same. The only explanation is a president who wants to deny what's going on and to pretend that it's not the threat that it is."
That position, according to Krauthammer, "gives fuel" to Republicans, particularly Republican presidential nominee Donald Trump and the billionaire's supporters.
—
Follow the author of this story on Twitter and Facebook:
[facebook //www.facebook.com/plugins/like.php?href=