Steve Harrigan, a Fox News reporter covering the violence unfolding in Charlotte Wednesday night, was berated by a furious protester after he asked her why she participated in the demonstrations.
"I serve a purpose, sir," she said, her voice escalating. "[B]ecause, guess what, whether I'm here, I'm in school, I'm in my car... You said, 'OK, a man got shot over here,' right? So you basically said why would I put myself in danger's way."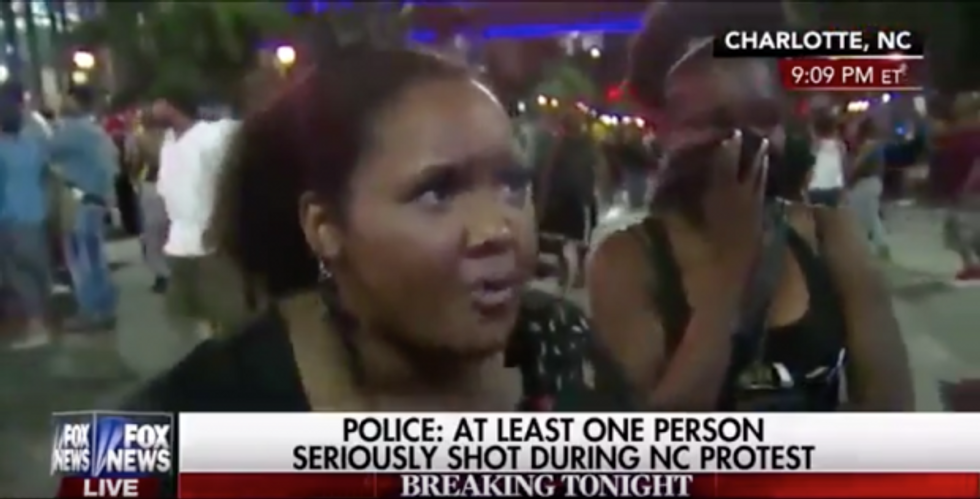 Fox News/YouTube
"Exactly," Harrigan confirmed.
At that point, the protester began yelling at the reporter, telling him she "could get shot anywhere."
"Do you see this? Do you see that?" she said, pointing to her arm and his. "Do you see me? Do you see you? We are not the same. We are human, but I am black and you are white, so don't tell me not to come over here!"
Harrigan quickly — and politely — told the angry woman he was in no way trying to tell her what to do, but was simply asking why she is risking her own personal safety to participate in the extremely violent protests. The woman told the journalist he was "using sarcasm" with her.
But it was Harrigan's next question that led the woman to unload on him.
"As people were running out [of the riot], I heard a lot of people saying, 'They [the police] shot someone else.' Does anyone know, did anyone see who did the shooting, or are you concerned that we're not sure?" he asked.
"Oh, you want it on video so you can put it on the news, right?" she charged, smirking at the reporter. "That's what you tryin' to find out: Have we got a video so you can elaborate out of it, make a f*****g fabricated story, right?!"
Watch the very heated exchange below:
—
Follow the author of this story on Twitter: