Hillary Clinton campaign manager Robby Mook was in no mood to answer any questions about the "Hillary cover-up operation" during an interview on CNN's "State of the Union" Sunday.
CNN anchor Jake Tapper, who hosts the Sunday talk show, challenged Mook during an interview Sunday about a comment a former Clinton IT aide made in December 2014. That aide was an employee of the Platte River Network, which was the company tasked with managing Clinton's private email server after her departure from the State Department.
According to FBI documents released late Friday, the employee "joked" about the "Hillary cover-up operation" after he was asked to setup a system that automatically deleted emails from the server after 60 days.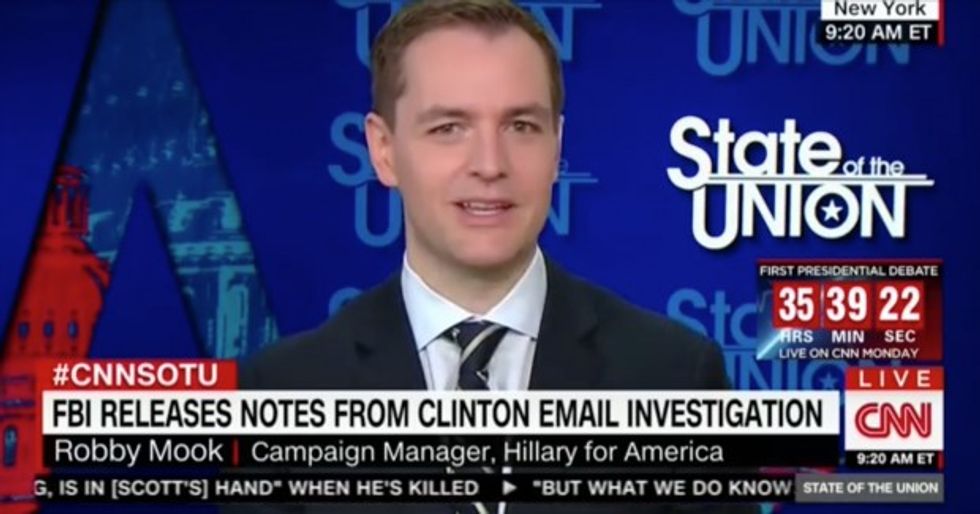 Image source: YouTube
"This IT director thought he was covering something up, no?" Tapper asked.
But instead of addressing the question, Mook told Tapper it's important to "look at the facts," saying that despite a thorough investigation into Clinton's email practices, the FBI decided earlier this year not to bring criminal charges against the former secretary of state or any of her aides.
"The FBI did a comprehensive and deep investigation into this and at the conclusion of that, FBI director Comey came out and said to the world that there was no case here," Mook said.
"So what's the 'Hillary cover up operation' the IT worker was referring to?" Tapper shot back.
Mook again dodged Tapper's line of inquiry, this time charging that "Republicans on the House side [of Congress] are selectively leaking documents for the purpose of making Hillary look bad."
"We've asked the FBI to release all information that they've shared with the Republicans so we can get the full picture," he added. "But I would trust the career professionals at the FBI and the Justice Department who looked into this matter, concluded there was no case than I would Republicans who are selectively leaking information."
Watch:
(H/T: Law Newz)
—
Follow the author of this story on Twitter and Facebook:
[facebook //www.facebook.com/plugins/like.php?href=