A conservative college student in Pennsylvania received some nasty insults after suggesting in a campus newspaper column that all students are not treated equally in the admissions process, despite what the school may want the public to believe.
The column, titled "The Admissions Office Doesn't Care About Your Values," was written by Swarthmore College student Erin Jenson and published in the school's Daily Gazette student newspaper on Sept. 12.
"Most Swarthmore students are excited to practice and preach the liberal values of tolerance and equality," Jenson wrote. "They believe that Swarthmore is a highly progressive school where no one can be discriminated against because of their gender, race, sexuality, or socioeconomic status. The admissions department, in particular, preaches fairness in every regard. This process, however, is anything but fair."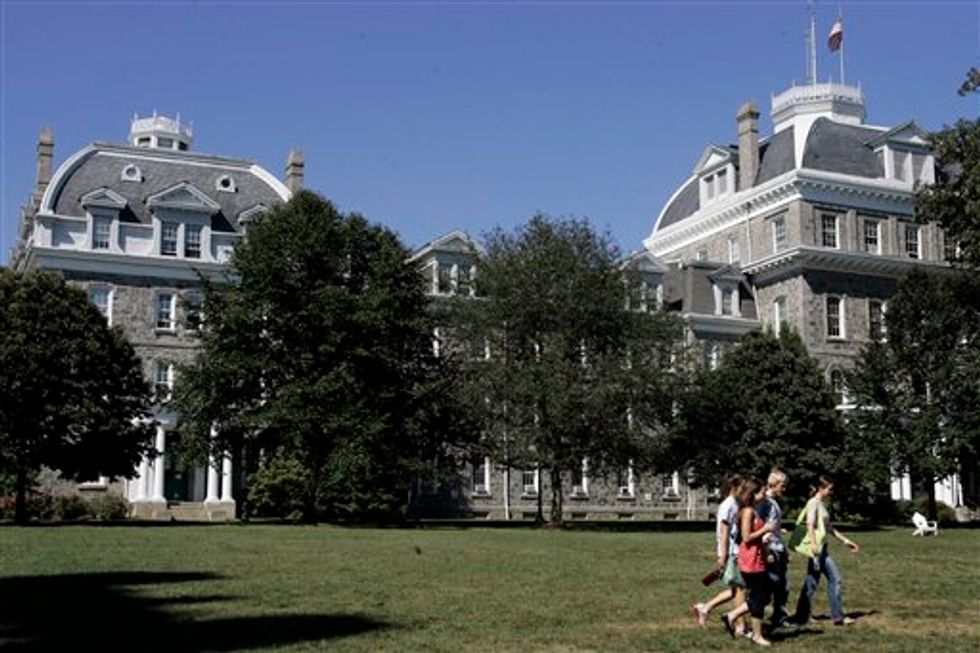 Parrish Hall at Swarthmore College in Swarthmore, Pennsylvania (AP Photo/Matt Rourke)
She went on to say that "need-blind admission" is "an absolute myth" at Swarthmore, despite the school's repeated emphasis on treating all students and prospective students fairly.
"While [Swarthmore] may never see your parents' actual income through the Common App, the admissions process is designed in a way where your income is implicitly indicated for anyone who is looking. The Common App can detect socioeconomic background easily, advantaging the most well off. Swarthmore's use of these indicators certainly hinders socioeconomic diversity on campus," Jenson explained.
Since the piece was published, however, Jenson said she's received at least four threats and been bullied on the internet more than 100 times.
Jenson told the College Fix that she received one note saying "kill yourself, bitch." Another message reportedly suggested that her tongue should be removed. Yet another individual reportedly posted a Facebook status suggesting Jenson was advocating for the ethnic cleansing of minorities.
But as Jenson later pointed out, "I didn't even bring up race in the article."
"I've been called a white bitch, privileged asshole, white supremacist, proponent of slavery. Someone made up a rumor that I didn't want to go to school with low-income students," Jenson added.
The threats and criticism eventually turned serious enough that Jenson had to leave campus. Now, she's trying to decide if she'll ever return.
"I'm afraid, but I want to finish my education," she said.
Amid the backlash, the Daily Gazette apologized for ever running Jenson's piece in the first place.
"Sorry. We f***ed up," read the headline expressing regret for the article.
Swarthmore College has not publicly responded to the controversy.
A representative for the school did not immediately respond to TheBlaze on Wednesday.
—
Follow the author of this story on Twitter and Facebook: