Linda Greenhouse, a former Supreme Court reporter for the New York Times, suggested in a piece published Thursday that the unexpected death of Supreme Court Justice Antonin Scalia "preserved democracy."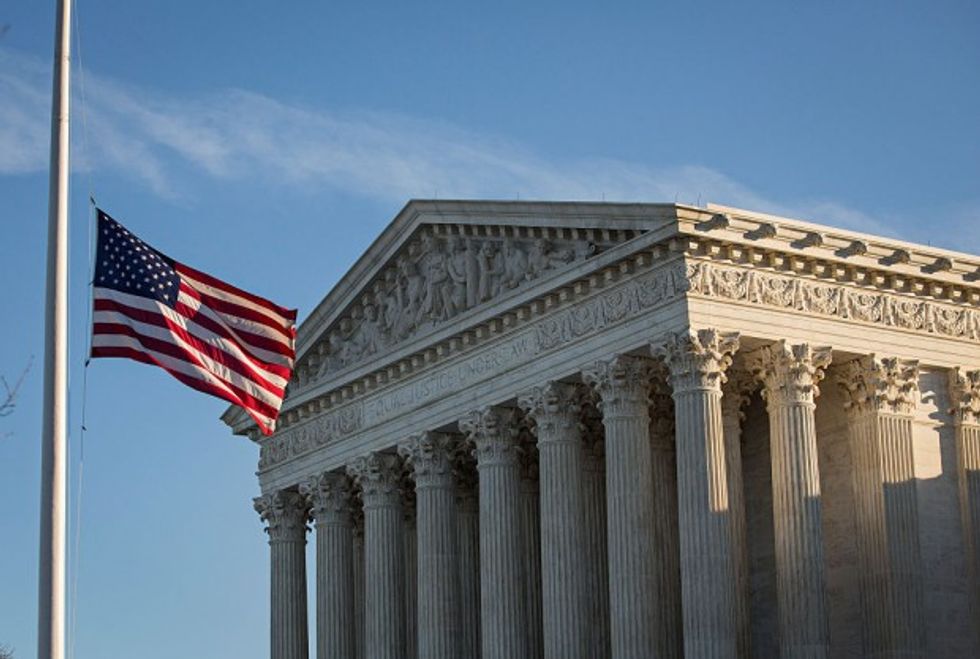 An American flag flies at half mast at the U.S. Supreme Court building Feb. 14 in Washington, D.C., following the death of Supreme Court Justice Antonin Scalia. (Drew Angerer/Getty Images)
Greenhouse, now a columnist for the Times, addressed the Supreme Court case of North Carolina State Conference of the N.A.A.C.P. v. McCrory, regarding a voter ID law passed in the state. In August, the court handed down a split 4-4 decision in the case, which blocked North Carolina from reinstating the law requiring voters to show photo identification at the polls after a lower court ruling struck down portions of the law.
The writer argued that the "missing fifth vote" changed the outcome of the case.
"Would it be unseemly to suggest that only Justice Scalia's death has preserved democracy in North Carolina?" she asked. "There, I just did."
Greenhouse also stated that Scalia's "absence" is "already having an impact on the new term in intriguing ways."
President Barack Obama nominated Judge Merrick Garland to the Supreme Court after Scalia's death, but so far, Senate Republicans have blocked action on his nomination, arguing that the next president should appoint a new justice, rather than a president so close to the end of his term.
—
Follow the author of this story on Twitter and Facebook: