Team Trump and Team Clinton faced off during a "Family Feud" sketch Saturday during the season premiere of "Saturday Night Live."
Kenan Thompson portrayed the show's actual host, comedian Steve Harvey. Team Trump consisted of: campaign manager Kellyanne Conway, Ivanka Trump, Gov. Chris Christie and Vladimir Putin, while Team Clinton consisted of: Bill Clinton, comedian Sarah Silverman, Sen. Bernie Sanders and Lin-Manuel Miranda, creator of the Broadway musical hit "Hamilton."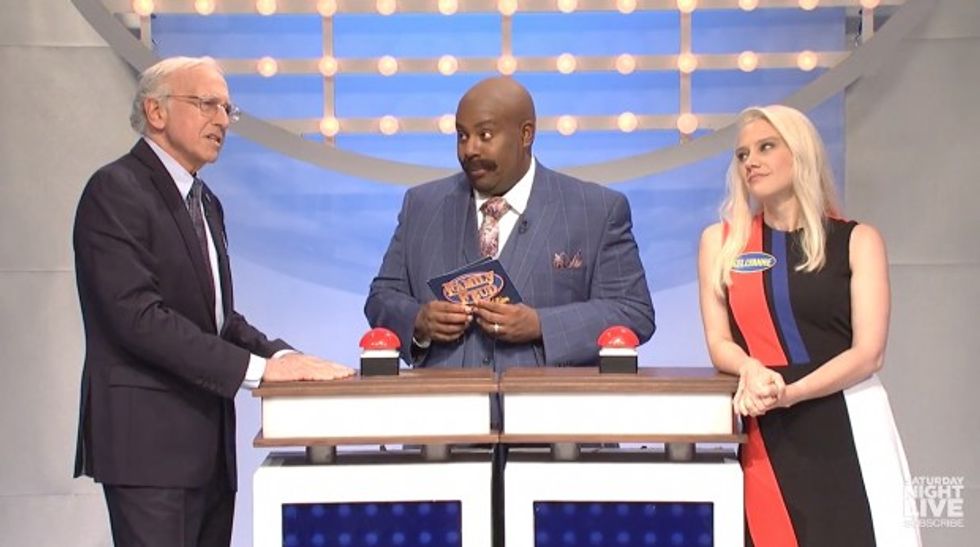 Image source: YouTube
Sanders and Conway faced off on the first question, which was: "Name a reason people give for being late."
Conway buzzed in first, but didn't give an answer. Instead, she said, "I do not have an answer even though I did buzz in, so I'll do what I usually do, which is talk and talk until people forget the question and then I'm going to make an insane claim about Hillary."
"Um, Hillary Clinton is North Korean," she added.
That answer wasn't correct, so Sanders was able to decide if his team would continue attempting to give answers or pass to Team Trump. Naturally, Sanders chose to pass.
After incorrect answers from Ivanka, Christie and Putin, Team Clinton finally had their shot at the question.
Sanders was able to win the round for Team Clinton after an outburst about Jill Stein, who is the presidential candidate for the Green Party.
Oh, and somehow Invaka ended up at Bill's side at the end of the segment.
Watch the full skit below:
—
Follow the author of this story on Twitter and Facebook:
[facebook //www.facebook.com/plugins/like.php?href=