Comedian Tyler Fischer, posing as a reporter for BBC America, took to the streets of New York over the weekend to convince people that Hillary Clinton had dropped out of the race for the White House.
Naturally, his bogus report was met with both excitement and defeat.
"She just dropped out, announced about five minutes ago," Fischer told one woman, who — clearly in shock — replied, "Oh, my God."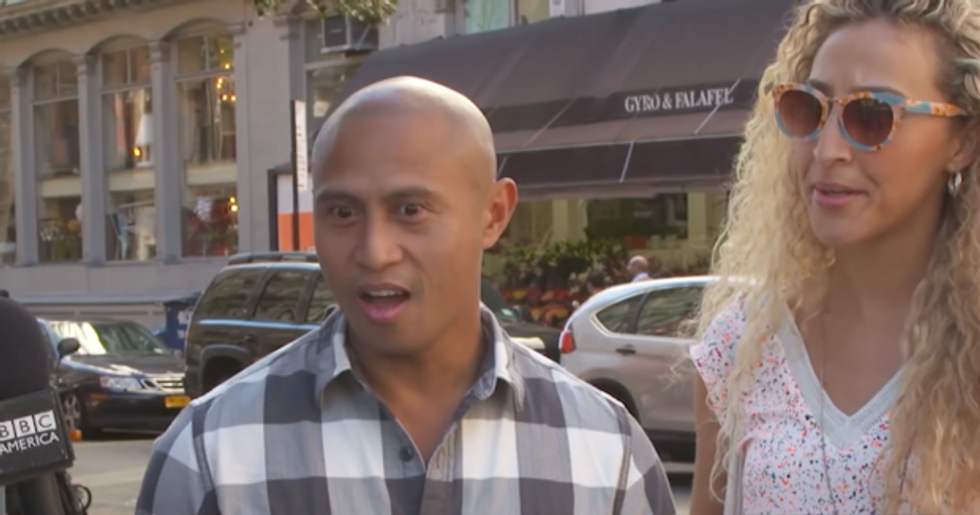 YouTube/Tyler Fischer
"No! You're kidding. I'll kill myself," another woman responded.
Another claimed to have predicted it: "I knew it was gonna happen — after that thing when she had that seizure."
"There goes another assassination," one passerby told the comedian. "God help us," said another.
One group of people — seemingly thrilled at the news Clinton had suspending her campaign — asked Fischer if the former secretary of state was diagnosed with Parkinson's disease. He told one woman Clinton actually has the Zika virus and another that she has the bird flu.
Fischer also asked one man if he was "surprised" by fake news that Clinton was sexting disgraced former Rep. Anthony Weiner.
"What's good for the goose should be good for the gander," he said.
Watch the whole video below:
—
Follow the author of this story on Twitter: