A brutal Washington Post article published Friday details a leaked recording of Republican presidential nominee Donald Trump speaking explicitly about women into a hot microphone in 2005.
The alleged conversation with "Access Hollywood" host Billy Bush included Trump detailing how he had made advances toward married and unmarried women, adding, "When you're a star, they let you do it."
The Post's reporter obtained "audio of Bush and Trump's conversation inside the [Access Hollywood] bus, as well as audio and video once they emerge from it to begin shooting the segment."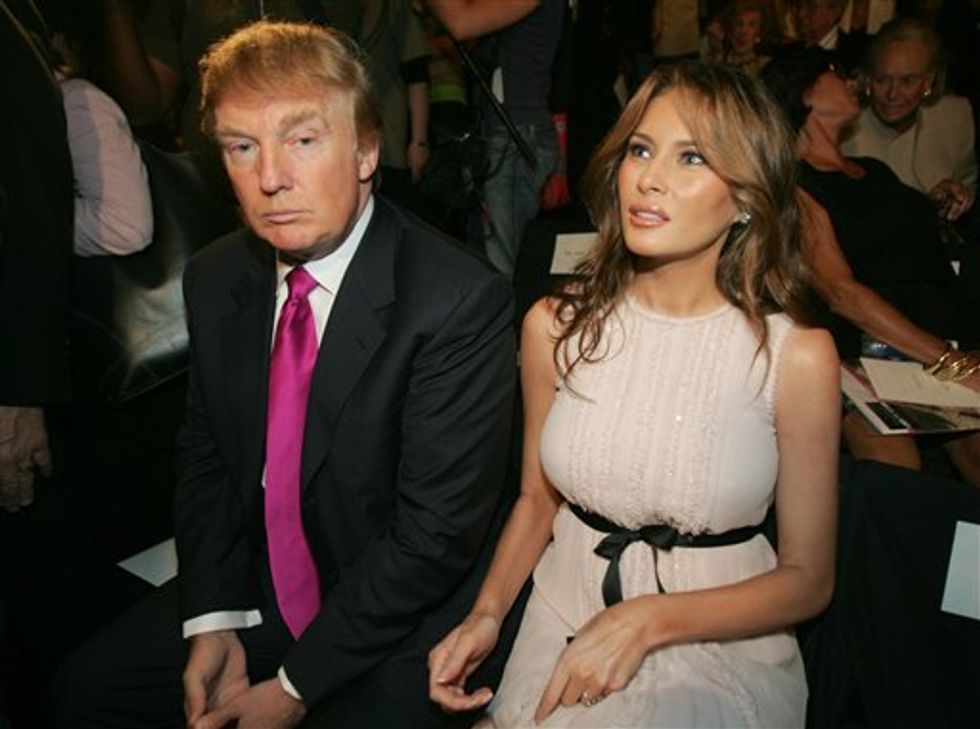 Donald and Melania Trump are pictured in September 2005 during Fashion Week in New York. (AP/Diane Bondareff)
Trump immediately responded with a statement: "This was locker room banter, a private conversation that took place many years ago."
He then pivoted to say that the husband of his opponent, Democratic nominee Hillary Clinton, has had similar conversations with Trump.
"Bill Clinton has said far worse to me on the golf course — not even close," Trump said in the statement, released by his campaign. "I apologize if anyone was offended."
Clinton herself reacted to the report on Twitter, saying: "This is horrific. We cannot allow this man to become president."
The leaked audio obtained by the Post included exchanges like this one about a married woman:
"I moved on her and I failed. I'll admit it," Trump is heard saying. It was unclear when the events he was describing took place. The tape was recorded several months after he married his third wife, Melania.

"Whoa," another voice said.

"I did try and f*** her. She was married," Trump says.

Trump continues: "And I moved on her very heavily. In fact, I took her out furniture shopping. She wanted to get some furniture. I said, 'I'll show you where they have some nice furniture.'"

"I moved on her like a bitch, but I couldn't get there. And she was married," Trump says. "Then all of a sudden I see her, she's now got the big phony tits and everything. She's totally changed her look."
In 2005, Trump was a businessman and host of NBC's "The Apprentice." He didn't enter politics until June 2015.
—
Follow the author of this story on Twitter and Facebook:
[facebook //www.facebook.com/plugins/like.php?href=