The Orange County district attorney's office has filed suit against two biological supply companies, alleging that they illegally profited from the sale of aborted fetal tissue.
Orange County District Attorney Tony Rackauckas told reporters Wednesday that the suits accuse the sister companies DV Biologics and DaVinci Biosciences of obtaining aborted fetal body parts from Planned Parenthood clinics and selling them for a profit.
"This case is not about whether it should be lawful to sell fetal parts or whether fetal tissue research is ethical or legal," Rackauckas said. "We are simply charging these defendants with illegally selling hundreds of fetal tissue products for profit."
Rackauckas noted that the sale of fetal tissue products for "valuable consideration" is illegal under both California and federal law, while donations of fetal parts to researchers are permitted.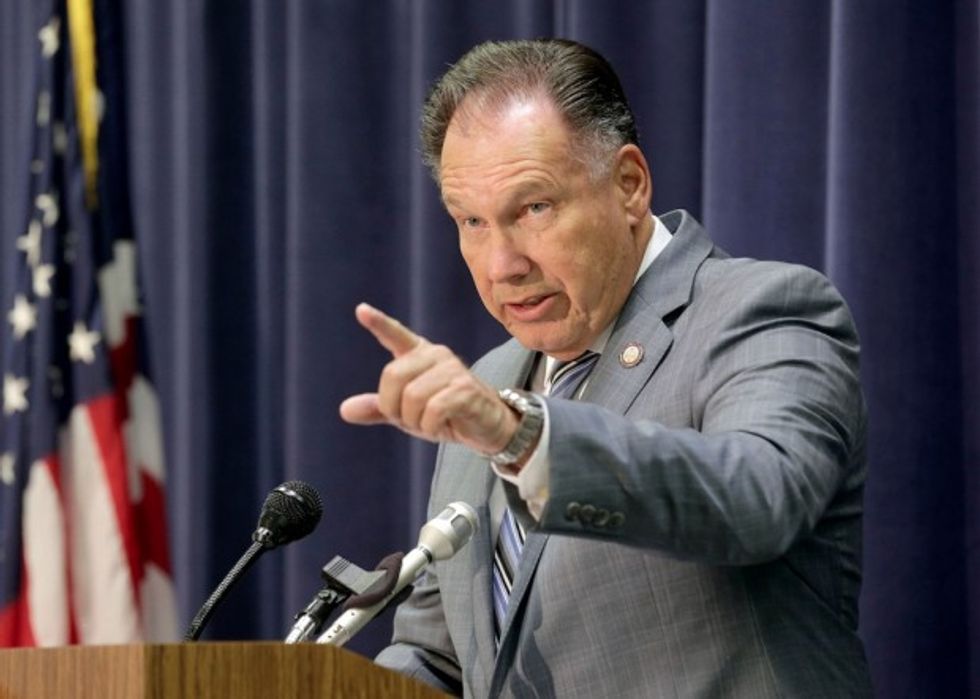 Orange County District Attorney Tony Rackauckas (AP Photo/Nick Ut, File)
"It is against the law to intentionally sell human body parts for profit, including fetal tissue donations obtained from abortions," he said, noting that the term "'valuable consideration' excludes reasonable payment" for associated costs such as transportation and storage.
Rackauckas said that, from 2009 to 2015, "the defendants obtained aborted fetus donations from Planned Parenthood and turned those donations into a profit-driven business."
"They did so by selling tissues and cells from the heart, lungs, kidneys, brain, intestines, skeletal muscle and bones of the aborted fetus donations," he continued.
Rackauckas' office estimates that the companies "sold hundreds of different fetal tissue products for valuable consideration in violation of the law," noting that from a single donation, the companies could sell "dozens of different types of prenatal products." They estimated that the defendants made up to $674 in profit for a heart, $233 for a liver, $221 for a stomach and $664 for a small intestine.
The district attorney also alleged that "sales personnel knew they were making money on sales," citing a 2009 email that stated: "it costs us roughly $25 per unit to manufacture and we are selling for $170," among similar emails.
An attorney for the biological supply companies told the Los Angeles Times that the organizations had done nothing wrong and characterized the lawsuit as a matter of "accounting issues."
In a statement, David Daleiden, the founder of the Center for Medical Progress, called the two companies "longtime baby body parts business partners" with Planned Parenthood of Orange & San Bernardino Counties.
"For eight years, Planned Parenthood supplied aborted baby hearts, lungs, brains, and intestines to DV Biologics, which DV Biologics then resold for profit," Daleiden said. "In exchange for merely providing access to aborted baby body parts, Planned Parenthood received kickback contributions from DaVinci Biosciences over the course of their eight-year contract."
"The wheels of justice are beginning to turn against Planned Parenthood and their corrupt business partners in the illicit trade in aborted baby body parts," he added. "Planned Parenthood is not above the law, and law enforcement and elected representatives everywhere must now hold Planned Parenthood accountable for their barbaric profiteering off of pregnant women and the body parts of their aborted children."
Earlier this year, the Center for Medical Progress released an undercover video depicting a conversation between an actor portraying a buyer from a human biologics company and Dr. Jennefer Russo, the medical director at Planned Parenthood of Orange and San Bernardino Counties.
In the video, Russo said her affiliate works with DaVinci Biosciences, and they strive to procure intact specimens.
"It's pretty rare," she said. "But, we try."
Planned Parenthood has denied allegations that they profited from the sale of aborted fetal body parts. The allegations are under an ongoing congressional investigation.