Blue Lives Matter, an organization that honors law enforcement nationwide, is calling on all Americans to boycott Ben and Jerry's after the ice cream makers endorsed Black Lives Matter.
Last week, the ice cream company posted an essay from the company's founders on their Facebook page noting the company's support for Black Lives Matter, a controversial group that says they're fighting against systemic racism and injustice.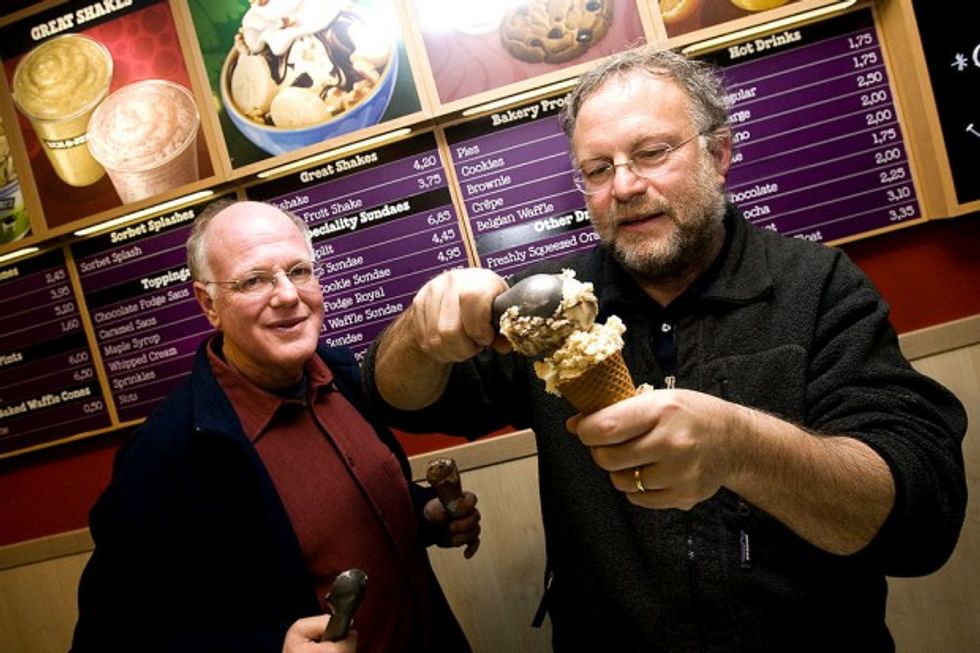 American ice cream makers Ben Cohen and Jerry Greenfield, founders of the brand, Ben & Jerry's. (Getty Images/Ade Johnson/AFP)
Ben and Jerry's endorsement drew outrage from every corner of the internet. Still, the company stuck to their guns saying, "Choosing to be silent in the face of such injustice is not an option."
"Systemic and institutionalized racism are the defining civil rights and social justice issues of our time," the company wrote. "We've come to understand that to be silent about the violence and threats to the lives and well-being of black people is to be complicit in that violence and those threats."
Now, Blue Lives Matter, an organization formed in response to the increased outrage against America's law enforcement, wants all Americans to boycott Ben and Jerry's to send the company a message.
In a statement posted to the group's website, Blue Lives Matter said Ben and Jerry's went too far in their accusation that law enforcement is guilty of "widespread systemic and institutionalized racism."
"Black Lives Matter is not a civil rights group. Most people have their own personal beliefs about what Black Lives Matter means to them," the organization said in their statement. "They think that their personal definition for Black Lives Matter is what the organized BLM groups stand for; this is not the case."
But, according to Blue Lives Matter, not only did Ben and Jerry's go too far, but their endorsement of Black Lives Matter is downright "dangerous."
"Ben & Jerry's went beyond making a statement in support of civil rights when they actively accused law enforcement of widespread racism," the statement said. "By spreading these false and misleading statements, Ben & Jerry's lends an appearance of legitimacy to the baseless claims that police officers are killing men based on the color of their skin. This message has inspired the assassination and attempted assassination of police officers, and it costs officers their lives."
The group's statement has been shared more than 130,000 times.
Ben and Jerry's has a history of using their ice cream to have their voice heard in national politics. Earlier this year, the company released a new flavor — "Empower Mint" — to raise money to fight against North Carolina's voter ID law.
And last summer, after the Supreme Court ruled same-sex marriage legal in all 50 states, the company temporarily changed the name of their cookie dough flavor to, "I dough, I dough," celebrating the decision.