In the hours after a Republican field office in central North Carolina was firebombed, Democrats came together to raise more than $13,000 in a matter of hours to help reopen the destroyed building.
David Weinberger, a research fellow at Harvard, started a GoFundMe campaign Sunday with the goal of raising $10,000 to help with the building. According to BuzzFeed, the campaign reached it's goal in less than 40 minutes.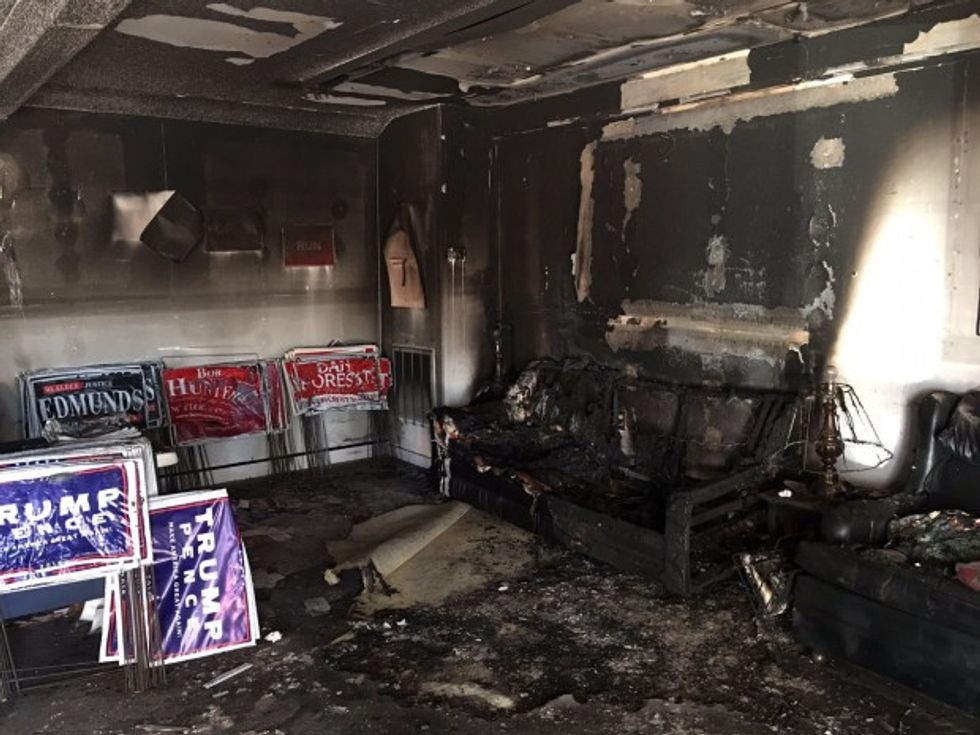 Image via Twitter @NCGOP
Weinberger told BuzzFeed News that he started the campaign after seeing a tweet from Zeynep Tufekci of UNC, who urged Democrats to help the Republicans.
"Zeynep's idea of having Democrats contribute to re-opening a Republican office that was a victim of political terrorism — no matter who was responsible — struck a chord with me, and apparently with lots of other people," he said.
On the GoFundMe page, Weinberger wrote:
As Democrats, we are starting this campaign to enable the Orange County, North Carolina Republican office to re-open as soon as possible.

Until an investigation is undertaken, we cannot know who did this or why. No matter the result, this is not how Americans resolve their differences. We talk, we argue, sometimes we march, and most of all we vote. We do not resort to violence by individuals or by mobs.

So, let's all pitch in , no matter what your party affiliation, in and get that office open again quickly.
Though the campaign's goal was only $10,000, it was able to raise an extra $3,000 before closing the campaign. More than 550 people donated and it was shared more than 10,000 times.
Despite help from Democrats, Republican presidential nominee Donald Trump still took to Twitter Sunday to place blame on the "animals" who represent Democratic nominee Hillary Clinton.
Animals representing Hillary Clinton and Dems in North Carolina just firebombed our office in Orange County because we are winning @NCGOP

— Donald J. Trump (@realDonaldTrump) October 16, 2016
For her part, however, Clinton also condemned the incident. Police are still investigating the crime and there is no evidence yet who is behind the firebombing.