Ninety-six percent of individuals working in journalism who have donated to a presidential campaign during the 2016 cycle contributed funds to Democratic presidential candidate Hillary Clinton, according to a report by the Center for Public Integrity.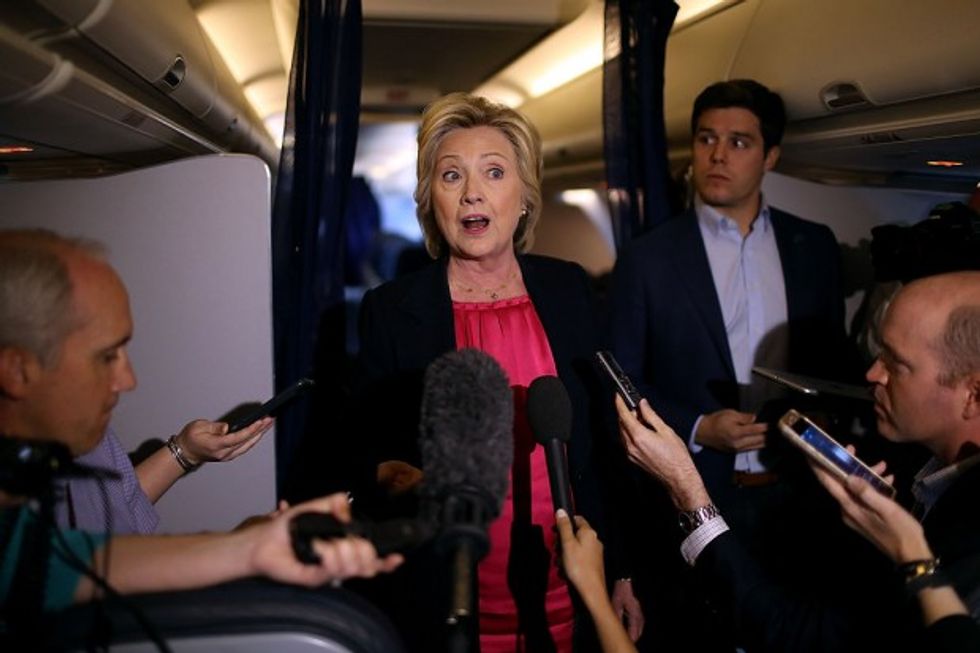 Democratic presidential nominee former Secretary of State Hillary Clinton speaks to members of the media aboard her campaign plane Sept. 6. (Justin Sullivan/Getty Images)
Dave Levinthal and Michael Beckel, the authors of the report, wrote that people working in journalism have donated more than $396,000 to the presidential campaigns of Clinton and Republican presidential nominee Donald Trump.
The report states that, as of the end of August, about 430 people "identified in federal campaign finance filings as journalists, reporters, news editors or television news anchors," in addition to "other donors known to be working in journalism," have donated approximately $382,000 to Clinton, compared to 50 journalism-connected donors who have given about $14,000 to Trump.
Journalists have donated more than $25 to @HillaryClinton for every $1 they've donated to @realDonaldTrump https://t.co/8t0HZILZCB pic.twitter.com/DwhTtl3sz6

— Michael Beckel (@mjbeckel) October 17, 2016
Media bias? Journalists are opening their wallets to help @HillaryClinton's presidential campaign https://t.co/7mtiXxJYR5

— Dave Levinthal (@davelevinthal) October 17, 2016
Levinthal and Beckel wrote that they excluded "talk radio ideologues, paid TV pundits and the like" from their tally. They also noted that federal candidates are required by law to disclose only the names of people who made contributions of more than $200 to a campaign during a single election cycle, so more journalists may have donated smaller amounts to either candidate.
Some journalists pushed back, arguing that there aren't political reporters named in the report.
Most of the people in this story are not political reporters or even news reporters https://t.co/ZNLBDVSARi

— Katherine Miller (@katherinemiller) October 17, 2016
I don't think journalists should contribute to campaigns, but "journalists" is being used very loosely here: https://t.co/logmr4Zrlp

— Olivia Nuzzi (@Olivianuzzi) October 17, 2016
"Why risk credibility — even one's livelihood — to help pad a presidential candidate's campaign account?" the report's authors asked, adding that the "vast majority" of journalists don't contribute funds to candidates.
The Center for Public Integrity's full report is available here.