With just over three weeks to go until Election Day, Americans are awash in polling data. Every day, new organizations release polls that purport to show the current state of the 2016 presidential race. Monday was no exception, as two new national polls have been released (so far) along with a smattering of state-specific polls.
Amid all the noise, one theme has emerged that should be familiar to those who watched the 2012 race: The national polls and swing state polls seem to show two completely different races — one in which Democratic nominee Hillary Clinton has a comfortable lead and the other in which Republican nominee Donald Trump remains competitive.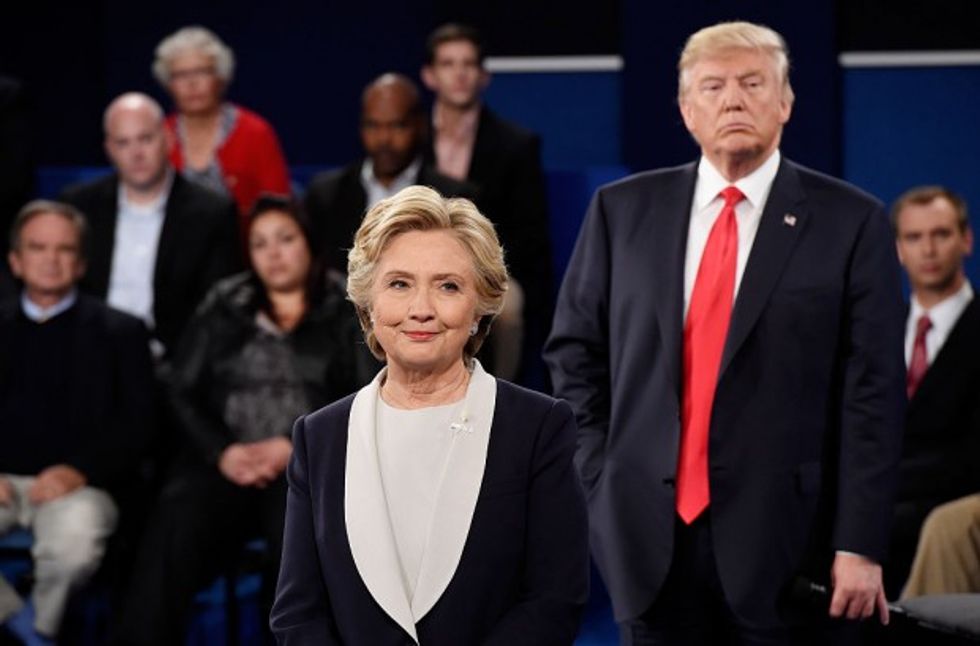 Getty Images/Saul Loeb-Pool
For instance, a GWU/Battleground national poll of 1,000 likely voters shows Clinton with a relatively comfortable eight-point lead. A Monmouth University national poll of 726 likely voters released today shows Clinton with an even more comfortable 12-point lead.
The bad news for Clinton is that most of the swing-state polling data is flatly inconsistent with a political environment in which the former secretary of state has a commanding national lead. For example, CNN/ORC released a swing-state poll showing Trump leading Ohio by four points and locked in a virtual tie with Clinton in both North Carolina and Nevada. Quinnipiac University likewise released a survey of Ohio voters that showed a tie between Trump and Clinton in a state that is widely regarded as a national bellwether.
It is difficult to imagine a scenario in which Hillary Clinton wins the whole country in a relative landslide, but swing states like Ohio, Nevada, and North Carolina remain bitterly competitive. This dichotomy has led many political observers to question whether one set of polls or the other is inaccurate and should be regarded with suspicion.
This is not new territory for national pollsters. In 2012, Republican nominee Mitt Romney ran either ahead of Barack Obama or even with him in national polling until the final homestretch of the campaign, when the national polls began to consistently show a small lead for President Obama. However, the swing state polling seemed to show Obama consistently leading in swing states like Ohio and Florida, leading to a heated debate between surrogates for the two candidates as to which set of polls was more accurate. After the 2012 election, many considered the swing state polling to have been vindicated as more accurate than national polling, and Gallup polling shocked many political observers by announcing that they would no longer poll national presidential races.
The Trump campaign's greatest hope is that this dynamic is playing out yet again and that the swing state polls are more accurate than the national polls as the campaign heads into the home stretch.