Former New York City Mayor Rudy Giuliani, a top surrogate for Donald Trump, thinks the women accusing the Republican presidential nominee of sexual assault are working from "kind of a script" to take him down in an "orchestrated" attack.
"Let's put it in context: He apologized for the terrible language that he used, you know, he admitted it was terrible language," Giuliani told CNN's Erin Burnett Wednesday. "He shouldn't have used it on that tape with Billy Bush."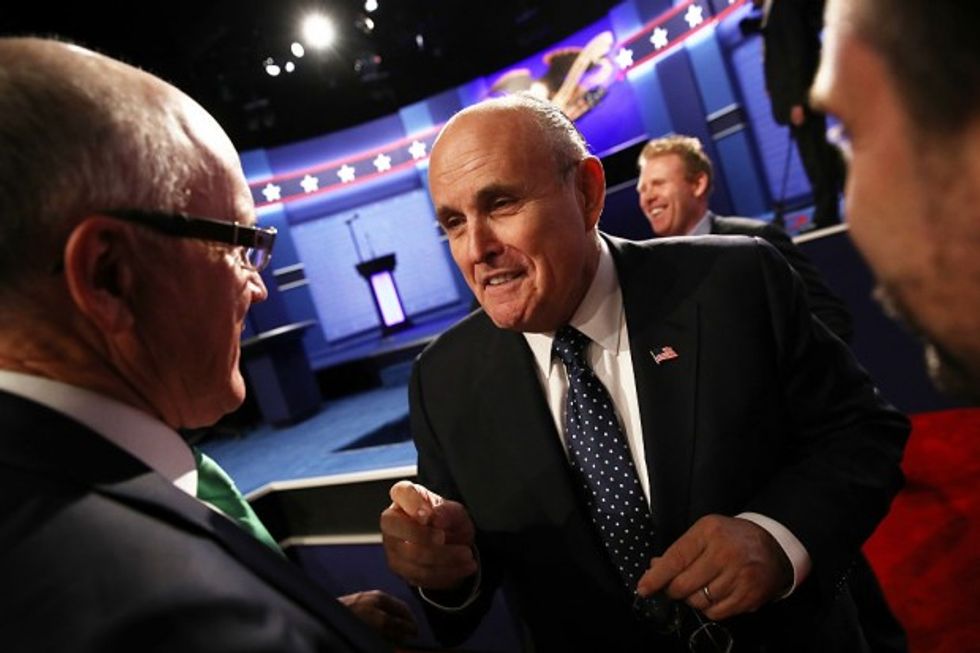 Rudy Giuliani (Win McNamee/Getty Images)
"Then these women come forward all of the sudden," he continued, "kind of orchestrated, all at the same time, using kind of a script, all of them, 'groping, groping, groping,' and he believes — and knows — it's untrue. He's being falsely accused."
The comments came when Burnett asked Giuliani if he feels it is appropriate for Trump to refer to his accusers as "liars" and to seemingly attack them for their appearance. The former Republican mayor said Trump is "justifiably upset" at those leveling accusations against him.
Giuliani also argued that "very little attention" has been given to those who have pushed back against Trump's accusers' claims with their own personal accounts. It is worth noting, however, that one British man refuting an accuser's story admitted in 2014 to supplying underage boys to high-ranking government officials for sex parties.
Later in the interview, the CNN anchor asked Giuliani is he is "positive" none of the allegations against the GOP standard-bearer are true.
"All I can tell you, I have known him for 28 years. I have never seen him do anything remotely close to that," he replied. "I know men who are touchy-feely, I know men who sometimes seem to act inappropriately in the way in which they touch or handle women. I don't like it."
"But Donald Trump is not one of them. He's always been a gentleman with women," he continued. "My wife and I both have been with him often. My daughters, he's always treated them gentlemanly, courteously, kind of courtly."
See the full interview below: