After Dewey Lainhart and his fiance Cody Moore declared their support for Republican presidential nominee Donald Trump at — of all places — a Trump rally in Cincinnati earlier this month, an interview clip hit Facebook and went viral.
But now the video is getting attention for all the wrong reasons.
Lainhart, 31, and Moore, 22, told the Wall Street Journal that they've gotten death threats from gay people warning them to stay in their house and avoid gay clubs. The couple told the paper one message suggested the pair drink bleach.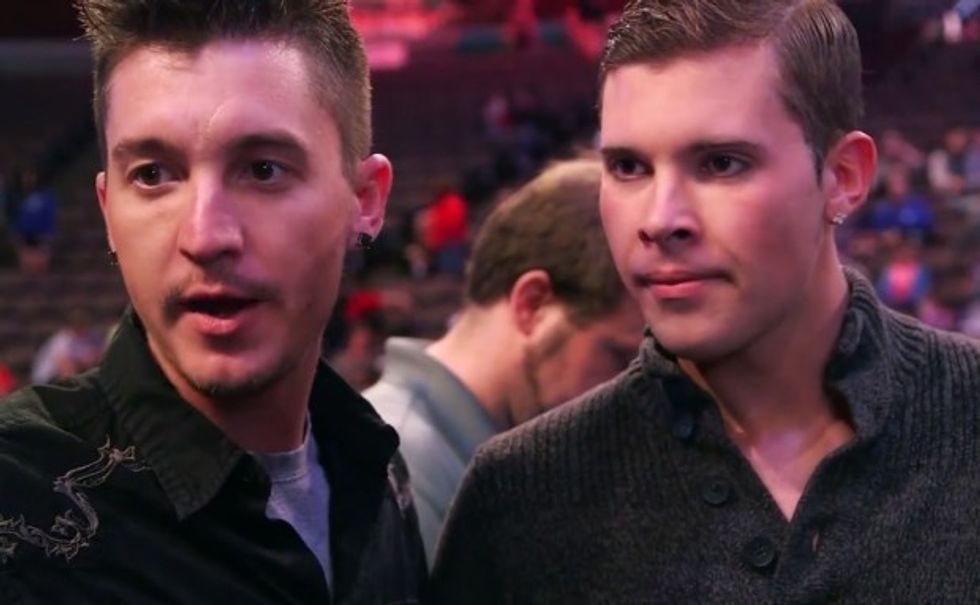 Dewey Lainhart, left, with fiance Cody Moore (Image source: Facebook)
In the clip, Lainhart said, "I got a lot of gay friends that support Trump," and added that he's "tired of the bulls**t government."
Since the threats began, Lainhart told the Journal, he's being extra careful — noting that he carries a gun "because I love the Second Amendment."
He added to the paper that a particularly upsetting comment accused him and his fiance of being "privileged white guys" — which Lainhart said is the opposite of the truth, given he works up to 80 hours a week in a blue-collar job.
"We're both two country folks," he told the Journal.
Moore told the paper, "The gay community is not a very supportive group," and called its reaction "extreme."
While the Facebook video didn't include their names, the Journal said gay activist blog Back2Stonewall identified them and linked to their Facebook pages.
Will Kohler of Back2Stonewall told the paper that Lainhart and Moore should have known they might get recognized and endure backlash.
"It's disheartening that people made hateful comments," Kohler told the Journal. "But a lot of people might find it hateful itself to support a man who if selected will take away all the rights and ... equality that the LGBT community has made over the past 45 years."
Here's the clip of the interview with Lainhart and Moore. (Content warning: Some rough language):