TheBlaze TV's Stu Burguiere examined the differences between abortion restrictions in the United States and European nations and concluded that many countries in Europe actually restrict abortion more than some U.S. states.
On a recent episode of his program "The Wonderful World of Stu," Burguiere noted that abortion is legal in every American state until at least 20 weeks gestation. Seven states — Washington, New Jersey, New Mexico, Colorado, Vermont, New Hampshire and Alaska — and the District of Columbia permit abortion at any point in a pregnancy. The other 43 states do restrict abortion after a certain point.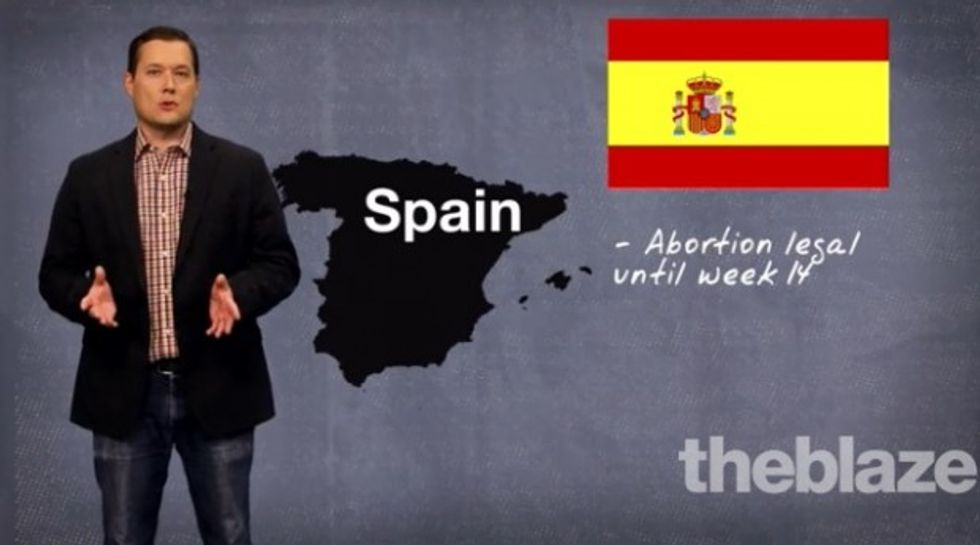 Image source: TheBlaze TV
Across the Atlantic, England and the Netherlands both prohibit abortion after 24 weeks gestation. The Netherlands also has a mandatory five-day waiting period between the initial consultation and an abortion procedure. Clinics must also provide women with comprehensive information about abortion alternatives.
Burguiere added that "socialist Sweden" permits abortion until 18 weeks gestation and bans most procedures after the 22nd week. Spain limits most abortions to the first 14 weeks of pregnancy, while Denmark limits abortions after 12 weeks.
Germany also restricts abortion after 12 weeks. A woman seeking an abortion in Germany must undergo a mandatory three-day waiting period and a counseling session.
Belgium limits abortions after 12 weeks and requires women to have six days of counseling prior to the procedure. France, Switzerland and Finland also limit elective abortions to the first 12 weeks of pregnancy. Portugal limits abortion to the first 10 weeks.
Italy prohibits most abortions that take place after 90 days from the date of conception.
Poland permits abortion only in cases of rape, fetal malformation or serious risks to the mother's health.
Andorra and Ireland permit abortion only if it is necessary to save the life of the mother, and Malta and Lichtenstein completely prohibit the procedure.
"The most abortion-friendly countries in Europe are more strict than almost all of America," Burguiere said. "The most restrictive countries in Europe are tougher on abortion than all of America."
"And Europe is supposed to be more enlightened than the United States. And, maybe the truth is, for this particular topic, they actually are," he concluded.
Watch below, via TheBlaze TV: