Independent presidential candidate Evan McMullin fired back Tuesday at charges that his candidacy is "taking votes away" from Donald Trump, arguing that the Republican nominee isn't a conservative.
CNBC host Michelle Caruso-Cabrera asked McMullin if his candidacy will make it harder for Trump to defeat Democrat Hillary Clinton.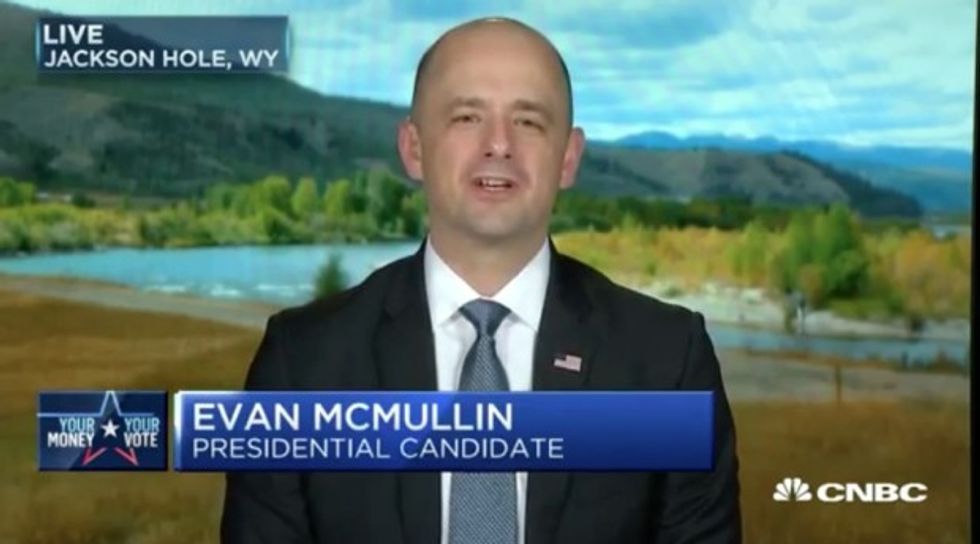 Image source: YouTube
"He's not going to beat Hillary Clinton unless something truly dramatic and incredible happens," McMullin said, noting that polls show Trump, whom he called a "terrible candidate," losing the election.
"He had no chance, even against the deeply corrupt and flawed candidate that Hillary Clinton is, and that's the reality," McMullin said.
Host Joe Kernen replied that "you can't know" what will happen on Election Day and repeatedly shouted "Brexit!" when McMullin said he was ignoring the polls.
Asked if he is "taking votes away" from Trump, McMullin replied, "He might be the Republican, he's no conservative."
"This guy wants to grow the size of the federal government, he wants single-payer health care, he's always been in favor of late-term abortions, he doesn't support the Second Amendment," McMullin said. "This guy wants to increase the size of our national debt. Is that what you're hoping for? Is that what you're defending?"
McMullin said a president should seek to "return power to the states."
Panelist Ken Langone, a supporter of Trump, asked McMullin if he supports term limits and noted that the Republican nominee has expressed support for term-limiting lawmakers.
"That's hardly an excuse for Donald Trump's candidacy, which has been a bigoted, misogynistic, xenophobic candidacy that has divided this country," McMullin replied.
McMullin said his campaign is doing well in Utah and gaining traction in other states such as Idaho and Wyoming, and they will "push as hard as we can for the next couple weeks."
Watch below: