A Kansas state representative up for re-election issued a Facebook comment recently that's dropped more than a few jaws.
Republican Joe Seiwert of Pretty Prairie noticed a post with a photo of a national anthem singer taking a knee during her performance — along with the following headline: "I'm so sick of these anti-American blacks — f*** Black Lives Matter." (The expletive wasn't deleted in the Facebook post, the Topeka Capital-Journal reported.)
And indeed, singer Denasia Lawrence revealed a shirt that displayed the phrase "Black Lives Matter."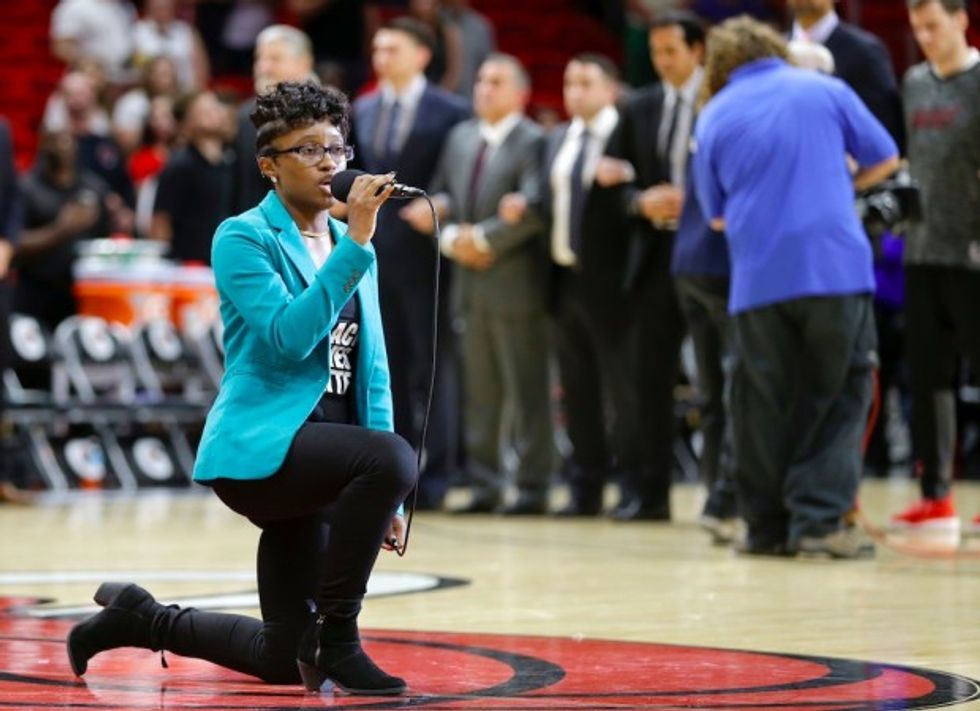 Denasia Lawrence sings the national anthem before an NBA preseason basketball game between the Miami Heat and the Philadelphia 76ers, Friday, Oct. 21, 2016, in Miami. (AP Photo/Alan Diaz)
Then Seiwart weighed in with a reaction of his own: "Go back to where you claim home ..." he said, according to the Wichita Eagle.
The Eagle — noting that the original Facebook post has been taken down — shared Seiwert's follow-up comment:
"I am where I claim home and like it, they want to claim it and it is their right to go where ever they like, so if they don't like it here, I believe that their freedom completely allows them to go wherever they believe is more free and non racist if that's what they believe."
Often elected officials walk back such incendiary social media comments after backlash hits — and it has for Seiwert, as you might expect — but he's been unrepentant.
"I'm not a racist. I believe in freedom," he told the Capital-Journal on Tuesday. "It offends me when people disrespect the flag. If unhappy, move to somewhere where you're happy."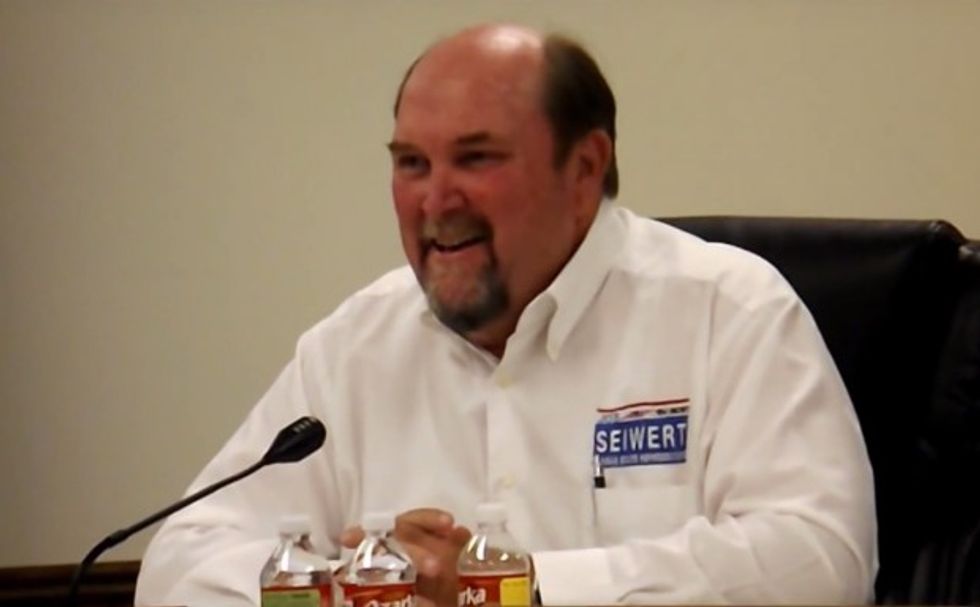 Image source: YouTube
As for the pointed headline that went along with the original post, Seiwert told the paper he didn't notice it until after he issued his comment. Either way, he told the Capital-Journal most of the reaction he's received regarding his comments has been positive.
Plus, the incumbent official said he doesn't believe he should give up his First Amendment rights, even if it's an election season and politicians' comments can make or break them.
But it seems clear that Seiwert's challenger in the election, Democrat Clifton Beck of Wichita, believes he should have kept his mouth shut in this case.
In fact on Wednesday he issued a Facebook post in the form of an "open letter to Joe Seiwert, who thinks he is not racist, on his recent racist remarks." In the letter he called Seiwert's remarks "un-Kansan and un-American."
Seiwert on Wednesday told the Hutchinson News he was "very offended" by Beck's open letter but wouldn't be responding despite pleas to the contrary from his supporters.
"They appreciate what I said," Seiwert told the News. "It wasn't racist."