While different polls may show varying opinions on how Americans feel about our presidential candidates, a recent poll conducted by the Military Times shows U.S. troops are not at all happy with Democratic presidential candidate Hillary Clinton.
The poll was conducted by surveying 2,486 active-duty members and while no candidate came out looking especially good, the clear loser was Clinton. A whopping 70 percent of military members said they are "very dissatisfied with" the former secretary of state.
Compare this to Republican presidential candidate Donald Trump, with whom the troops were also very dissatisfied, but by 14 points less at 56 percent. Trump also beat Clinton in terms of approval from the troops, as 18.2 percent said they were "satisfied" with him while a mere 8.3 percent voiced satisfaction with Clinton.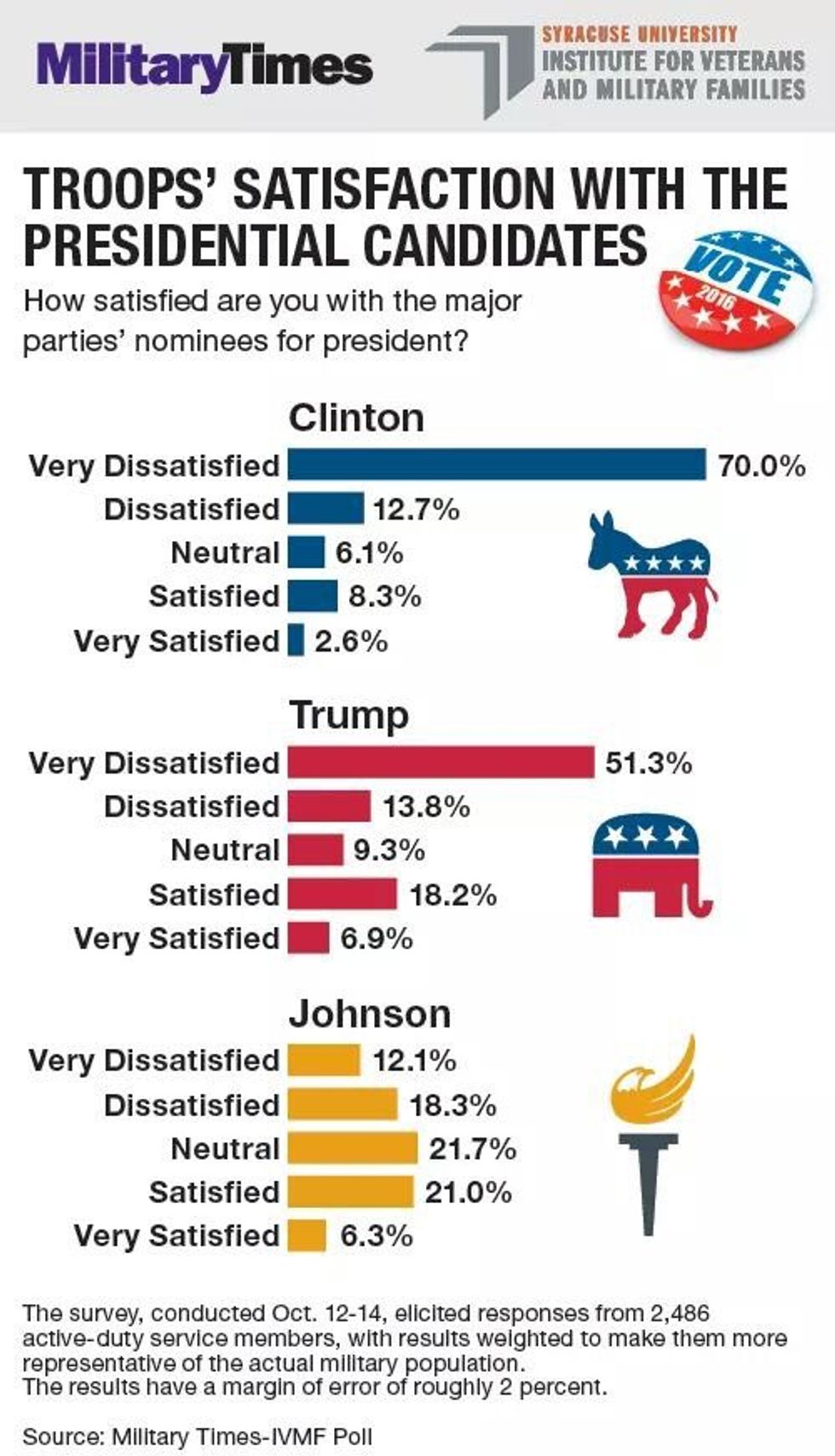 Interestingly enough, Libertarian Party nominee Gary Johnson was the clear winner. Only 12.1 percent told Military Times that they were "very dissatisfied" with the former New Mexico governor, while 21 percent were "satisfied," edging out both mainstream candidates. However, in terms of being just "dissatisfied," Johnson seemed to grab a higher percentage than both Trump and Clinton.
While the GOP nominee currently sits at a higher approval rating with the troops than Clinton, he is currently at odds with the Pentagon about operations in Mosul. Recently, reports have surfaced that the campaign to reclaim Mosul is going well, which runs contrary to claims made by Trump, who has been highly critical of the endeavor.
If the success continues, this could further damage Trump's standing with active duty troops in the final days of the election.