With just four days until Election Day, Democratic presidential nominee Hillary Clinton's lead in the polls continues to shrink.
According to the latest Fox News poll, Clinton now leads Republican nominee Donald Trump by just two points, 45 percent to 43 percent. In the four-way race, Libertarian Gary Johnson also received five percentage points while the Green Party's Jill Stein registered two points.
The poll's results mark a slight improvement for Trump, who during the last Fox survey was three points behind Clinton.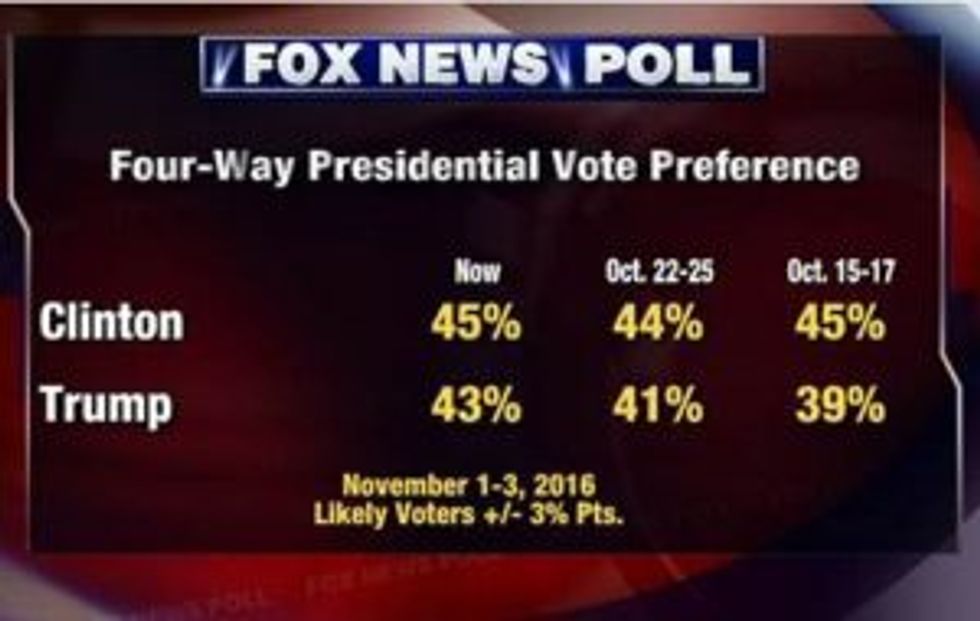 Image source: Fox News
More from Politico:
The survey also found small shifts in likely voters' perceptions of both major party candidates. Compared to Fox's October survey, a slightly larger proportion said they believe that Trump is honest and trustworthy and view him favorably. Thirty-eight percent of those polled said the Republican nominee is honest, compared with 34 percent who said the same in October; 43 percent said they have a favorable view of him, compared with 42 percent in the last survey.

For Clinton, the survey — which was conducted after the FBI's bombshell announcement that it was reviewing new evidence in her email scandal — reports a small decrease in the percentage of polled likely voters who view her favorably, but an increase in those who view her as honest and trustworthy. (Forty-three percent said they have a favorable view of her, compared with 45 percent in October, while 31 percent said she is honest, compared with 30 percent previously.)
Fox's poll also aligns with many of the other national polls in the run-up to Election Day, in addition to the RealClearPolitics national average of polling, which has Clinton ahead by just 1.8 points.
There's almost no doubt that FBI Director James Comey's surprise announcement last month that the bureau was re-opening their criminal probe into Clinton's use of a private email server has hurt the former first lady's standing with independent voters.
In mid-October, prior to Comey's announcement, Clinton had a lead of more than seven points. But after the announcement, the race tightened considerably — so close it's become a statistical toss-up.
The Fox News poll of 1,107 likely voters was conducted between Nov. 1-3. It has a margin of error of +/- 3 percentage points.