In the wake of Donald Trump's upset victory over Democratic rival Hillary Clinton, pro-life lawmakers and leaders expressed optimism about what the president-elect's administration will mean for their cause.
Trump, who has described himself as pro-life since launching his presidential bid, made a series of conflicting statements on abortion during his campaign and expressed support for abortion prior to his candidacy. He struggled to win over some pro-life activists who questioned the sincerity of his conversion on the issue.
As a candidate, Trump once defended Planned Parenthood, the nation's largest abortion provider, as an organization that does "good work" for women. He later pledged to nominate pro-life justices to the U.S. Supreme Court and to sign the Pain-Capable Unborn Child Protection Act into law.
But will President Trump follow through on his pro-life policy commitments? Two Republican lawmakers said they believe he will.
Rep. Diane Black (R-Tenn.) told TheBlaze, "As a national co-chair of Donald Trump's Pro-Life coalition, I know that we can count on his administration to work with Congress in order to advance protections for our most vulnerable members of society."
Tennessee Republican Rep. Diane Black (Alex Wong/Getty Images)
"I've been encouraged to see that, even after Nov. 8, President-elect Trump hasn't backed away from his pro-life promises," Black said. "He reaffirmed his commitment to appointing pro-life Supreme Court justices last Sunday in his interview with "60 Minutes," and his transition website states his commitment to protecting 'innocent human life from conception to natural death.' These overtures to the pro-life community at a time when his name won't be on a ballot for another four years give me great optimism for how he will govern."
Black added that she looks forward to working toward implementing pro-life policies.
"Specifically, I am eager to work with President-elect Trump on defunding Planned Parenthood, passing the Pain Capable Unborn Child Protection Act -- a bill to protect unborn babies from abortions after 20 weeks -- and protecting the conscience rights of pro-life individuals who refuse to pay for, perform or refer abortions," she said. "We in the pro-life community have secured a commitment from the president-elect on each of these issue areas, and we will follow through on that."
Black pointed to Trump's selection of a running mate as a reason for hope for pro-lifers.
"I served with Vice President-elect Mike Pence in Congress, and I know him to be a fearless pro-life leader with a heart for the unborn," she said. "He previously carried a bill to defund Planned Parenthood that he later passed on to me upon being elected governor of Indiana. I am especially confident in the prospect of getting these live-saving bills signed into law knowing that he will be part of this administration."
Black said that she expects the next administration to be a vast improvement on the current administration when it comes to protecting the unborn:
President Barack Obama has long held an unholy alliance with the big abortion industry; even going so far as to become the first sitting president to speak at Planned Parenthood's annual fundraising gala. His administration was a callous betrayal to the unborn. President-elect Donald Trump will be a welcome change for all who believe in celebrating life at every stage.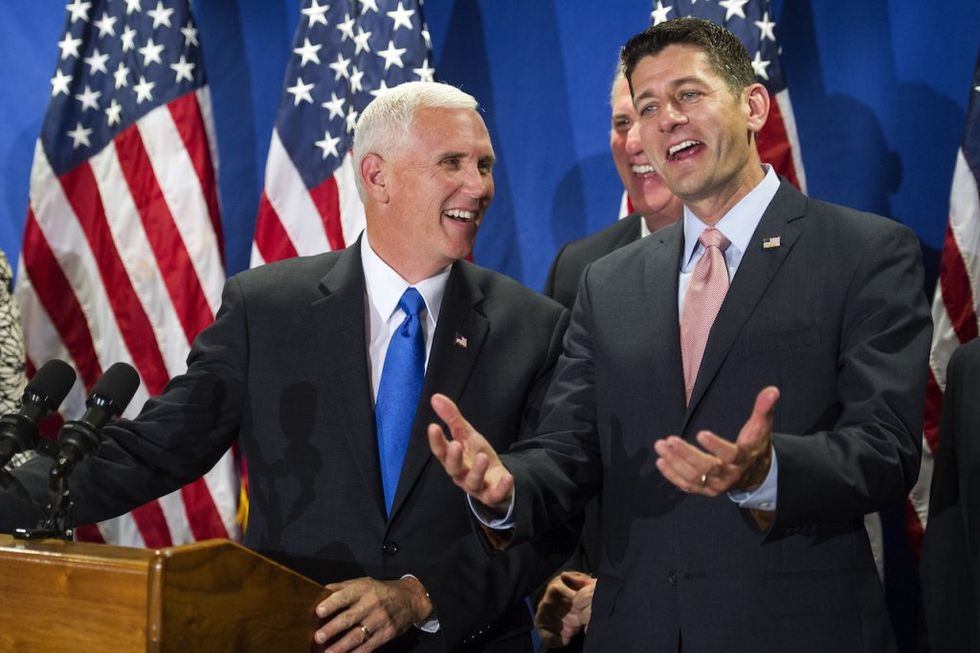 President-elect Mike Pence, left, and House Speaker Paul Ryan (R-Wis.) share a laugh during a news conference. (AP/Cliff Owen)
Rep. Marsha Blackburn (R-Tenn.) told TheBlaze in a statement:
President-elect Trump has repeatedly said he is committed to nominating pro-life judges.

It's imperative we have judges on all courts who respect the Constitution and Congressional intent to implement policies that respect the sanctity of life. I look forward to working with the new administration in our continued efforts to protect women and the unborn.
Pro-life groups also expressed optimism about advancing a pro-life agenda under President Trump.
Kristan Hawkins, president of Students for Life of America, seemed optimistic when she told TheBlaze:
Ultimately, no one knows if Donald Trump will follow through on the significant promises he made during the campaign.

But there are many indicators that give pro-lifers hope that indeed he will be a force for the good of pre-born babies and their mothers. His vice president, Mike Pence, attempted to defund Planned Parenthood before it was cool, and his new chief of staff, Reince Priebus, is staunchly pro-life. His campaign manager, Kellyanne Conway, is a great friend to the pro-life movement as well. Donald Trump has surrounded himself with people that the pro-life community believes are all great influences on the president.
"Right now, pro-lifers need to unify and present this new administration with an enormous grassroots army of passionate pro-lifers who are ready to defund Planned Parenthood and ultimately make abortion unthinkable in this nation," Hawkins continued. "It is imperative that President-elect Trump continue to keep trusted pro-lifers by his side and appoint those who hold strong pro-life views to powerful positions in our government."
Mallory Quigley, communications director for the pro-life Susan B. Anthony List, said that "over the course of the general election, Donald Trump's commitments to the pro-life movement only became stronger":
He has made four specific commitments to the pro-life movement and, in the third debate, he went on offense to call out Hillary Clinton for her abortion extremism, emphasizing the clear contrast between the two of them. The power of the pro-life grassroots was a huge factor in making possible this pro-life White House and Congress and now the Trump transition team is off to a great start with longtime pro-life allies like Mike Pence leading the way.
"Moving forward we'll be working with the Trump-Pence administration and our allies on the Hill to advance the commitments laid out during the campaign," she added. "But this is not a time for complacency. Pro-life grassroots need to participate."
Quigley argued that "the abortion lobby suffered a loss this election cycle" and warned that "they are going to pull out all the stops to try and intimidate lawmakers to stop pro-life progress."
They will stop at nothing to thwart the defunding of Planned Parenthood, the enactment of common ground laws like the Pain-Capable Unborn Child Protection Act, and the nomination and confirmation of pro-life judges. We will need pro-lifers from across the country to pick up their phones as often as possible to call Congress and demand action, to demand the enactment of the Trump-Pence pro-life agenda.
She suggested that pro-lifers need to join organizations such as her own "so they're kept up to date on the most pressing action alerts and breaking news."
Pro-choice groups have condemned Trump's statements about abortion. After his election, Cecile Richards, president of Planned Parenthood Action Fund, said in a statement: "There are almost no words to capture the threat that this election result poses to our democracy, to our economic security, to access to reproductive health care and most especially to the safety and dignity of people of color":
We will fight alongside our partners to make sure that the progress of the past eight years, including emerging from the worst recession we've had in close to a century, expanding health care coverage to more than 20 million Americans, breaking down barriers of discrimination and racism, and upholding marriage equality, is protected. We cannot allow the acceptance of institutionalized racism, sexism, and discrimination to become our new normal.