While Texas Tech energy commerce professor Terry McInturff is known as a tough customer in the classroom, a sense of humor manages to hover around his no-nonsense persona.
So after he read a Wall Street Journal article about all the over-the-top support some colleges and profs were offering students in the wake of Republican Donald Trump's election to the presidency, McInturff had an idea.
He left a copy of the article — along with his opinion on the matter — on each desk.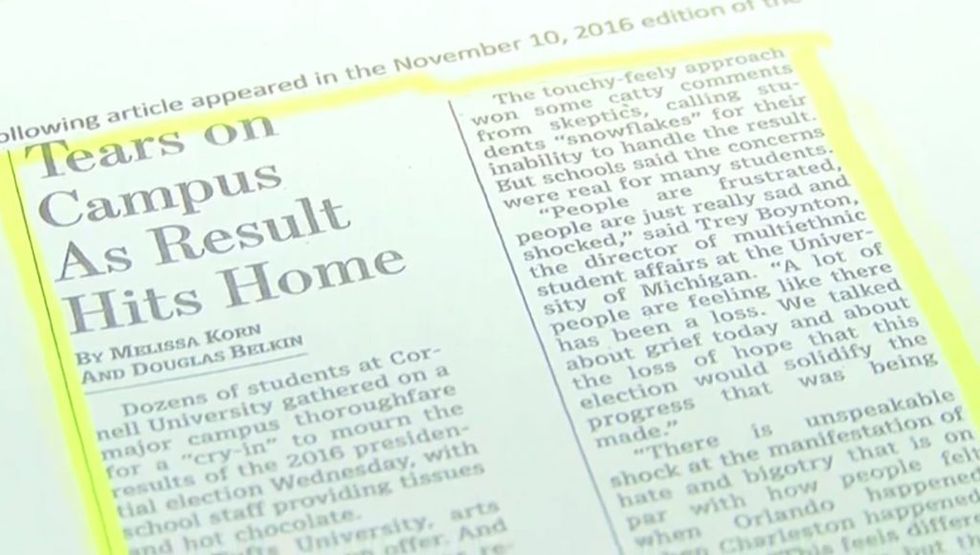 Image source: KLBK-TV
Here's what McInturff wrote to his students, KLBK-TV reported:
After reading the article and reflecting on my often repeated statement to you that "I don't care how you FEEL, I care what you THINK," it occurred to me that perhaps I have been a bit too harsh. Therefore, in the spirit of dealing with the wounds of those feeling grief and unbearable angst over the election, Kim's tragic Paris robbery, the heart wrenching Brangelina break-up or other similar tragedy, I would like to do my part. While I can't offer "arts and crafts" or a "therapy dog," the Energy Commerce Department has arranged for free hugs from our therapy boa constrictor. Please go to room 139 to schedule a session should you feel the need.

Have a great day. It's great to be a Red Raider!
"It was tongue-in-cheek," McInturff told the station. "It was a joke, and they took it as a joke. Apparently some people on the East Coast did not take it as a joke."
A KLBK reporter quickly observed in a face-to-face interview with the prof, who's been at Texas Tech for 13 years, that he isn't looking to make anybody happy, is he?
"I don't even try," McInturff responded bluntly.
But little did the Texas Tech prof know that his humorous message made it to social media — and before he knew it, there were more than 7,000 likes on his Instagram page, and a Newsweek writer was on the phone with him.
"Here in West Texas we are a little different," McInturff said he told the writer. "We're a little more thick-skinned. And hopefully a little more realistic about how the world operates."
In the end, he explained to KLBK, the "worst thing we can do as educators is to tell the students 'you are ready to hit the real world, you're going to be a success' when they are really not ready. So our job is to prepare them for the ups and downs of life and not protect them from everything that comes along that doesn't agree with their current world view."
But in case anyone's wondering: No, there really is no boa constrictor ready to give extra-tight hugs to any of his down-in-the-dumps charges — not that they're asking.
Said McInturff: "I haven't had any requests for hugs from the boa constrictor yet."