Late Sunday night, the White House Twitter account posted a video showing President Barack Obama and actor Bill Murray inside the Oval Office, engaged in a playful game of putting on the carpet.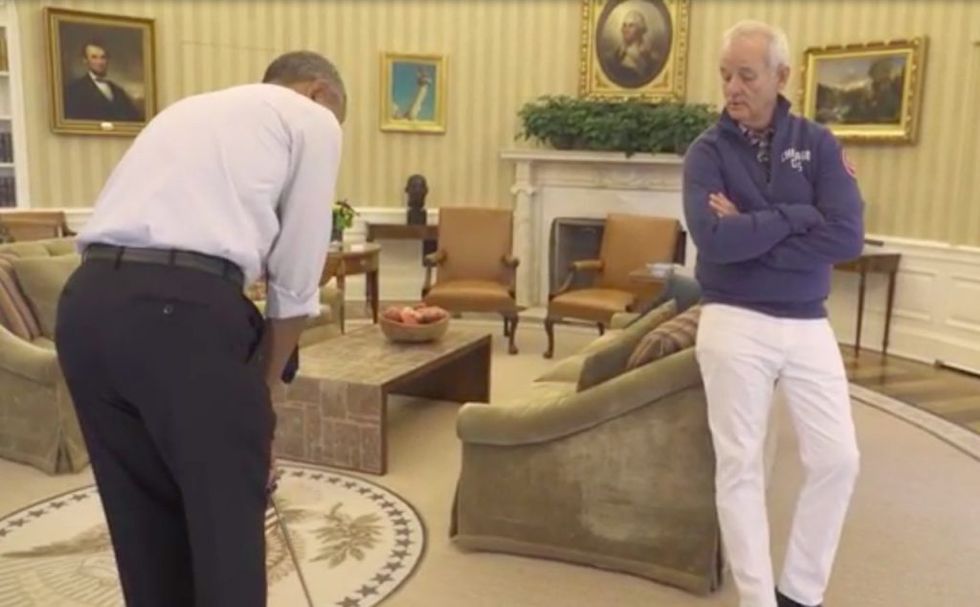 Image source: Twitter/@WhiteHouse
Murray, an unabashed supporter of the World Series champion Chicago Cubs, was trash-talking with Obama, a die-hard Chicago White Sox fan as the two took turns trying to hit a golf ball into a glass a few feet away.
After Obama missed a putt, Murray bent down to retrieve the wayward golf ball and winced audibly. "You all right?" the president asked Murray.
"Yeah, just my knee barks a little," replied the comic.
After Obama asked Murray if he had the sore knee looked at, Murray replied, "I don't — I don't have anyone to look at it."
The president pressed, "You mean you don't have health insurance?" he asked.
"No — not really," replied Murray.
Of course, we are expected to believe a successful entertainer with an estimated net worth in excess of $125 million and a membership in a union that provides health benefits does not have medical insurance. It also should be noted, the 66-year-old Murray would have become eligible for Medicare a year earlier when he turned 65. In fact, a representative from the Healthcare.gov hotline told TheBlaze, "Once a 66-year-old completes an application, it is automatically sent to Medicare."
President Obama quickly turned this "organic" moment into a plug for last-minute enrollment in the Affordable Care Act:
Don't putter around. Head to https://t.co/GNfbft9Ewv by December 15th to #GetCovered starting January 1st, 2017. https://t.co/X4R4hhC5Fe

— The White House (@WhiteHouse) December 12, 2016