© 2023 Blaze Media LLC. All rights reserved.
Principal pens note nixing 'white' chant at games over 'current social climate' — and students react
Blue and white are the school colors at Connecticut's East Hampton High.
Naturally, students there have over the years utilized school colors in chants: "We say blue, you say white! Blue, white! Blue, white!" is a familiar rallying cry at games, WFSB-TV reported.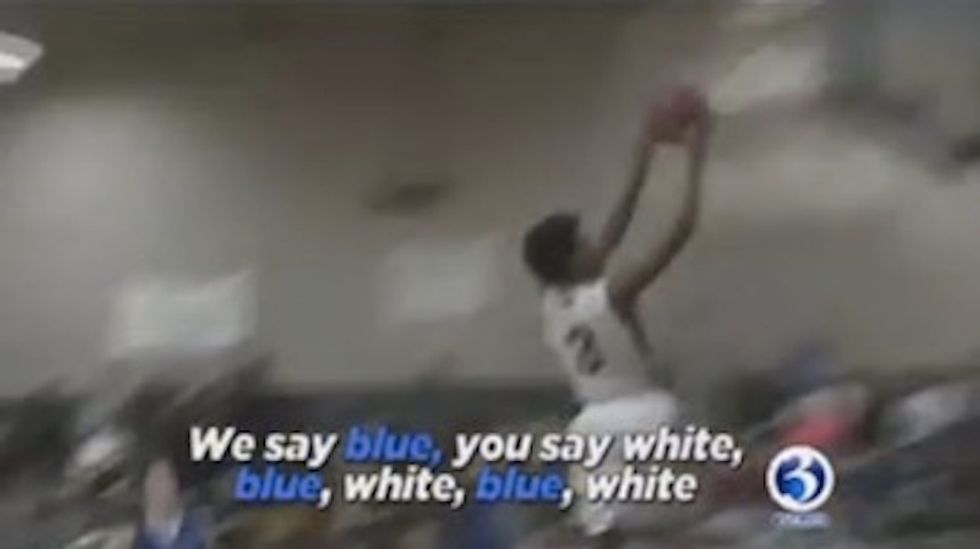 Image source: WFSB-TV
In addition to home games often dominated by "white outs" (a common fan practice of agreeing to wear white shirts to games), the senior class has carved out a special chant for themselves, shortening it to just "White! White! White!"
And that apparently became a problem.
WFSB reported that principal John Fidler penned a note last week saying that due to the "current social climate across our country, our use of the 'White' cheer is under suspension. Please show your pride in our town and in our school through other means when cheering on our teams."
As you can imagine, that didn't sit too well with students.
"It's not really that big of a deal to me or to any of our sophomore class," student Kylie O'Brien told WFSB. "I don't understand why it's a problem now."
The station said Jordan Michnowicz wrote on Facebook that "this stuff has me outraged they are trying to take a simple chant that our school has done for years and years. They are trying to make it about race."
Brandon Kochuk concurred, the station added, noting that seniors only say "white" — and not "white power or anything involving race."
But Superintendent Paul Smith told WFSB that the chant has "kind of outgrown just being done in our gym and at pep rallies and there's a time and a place where the cheer is appropriate and a time when it may appear insensitive."
Smith added to the station that East Hampton teams are dressed in blue for road games and that the chant "white, white, white, over and over" isn't necessarily understood by others.
In the end, school officials met with the senior class last Thursday about the issue, and Smith told WFSB the chant is not suspended.
"He is not telling them what they can say and can't say in the gym at the games," Smith said, presumably referring to principal Fidler. "He wants them to come, but he also wants them to reflect the positive things they do outside of the gym as well."
(H/T: The College Fix)
Want to leave a tip?
We answer to you. Help keep our content free of advertisers and big tech censorship by leaving a tip today.
Sr. Editor, News
Dave Urbanski is a senior editor for Blaze News.
DaveVUrbanski
more stories
Sign up for the Blaze newsletter
By signing up, you agree to our
Privacy Policy
and
Terms of Use
, and agree to receive content that may sometimes include advertisements. You may opt out at any time.