© 2023 Blaze Media LLC. All rights reserved.
Glenn Beck travels to Haiti to learn about sex trafficking and finds the meaning of hope
It's the humanitarian crisis no one wants to talk about: Human trafficking. The trafficking women and children for sexual exploitation is the fastest growing criminal enterprise in the world, according to Equality Now.
Conservative radio host Glenn Beck recently traveled to Haiti with an organization he has partnered with, Operation Underground Railroad (O.U.R.), to visit some of the children who have been rescued by the organization.
Years ago, Beck helped raise the first $1.5 million for O.U.R., allowing founder Tim Ballard to transition from special agent for Homeland Security involved in sex trafficking operations to non-profit CEO rescuing women and children victims to sex trafficking.
O.U.R. aims to stop global sex trade and put an end to child slavery. Their organization, outfitted with retired military personnel, sets up sting operations complete with undercover cameras, to provide enough evidence needed to convict the criminals involved in sex trafficking rings. Outside of their organization, in the last year 16,000 sex traffickers were arrested and only one third of those were convicted — mostly because conviction usually requires testimony from the victims and that usually doesn't happen.
But O.U.R. has a 100% conviction rate due to the effectiveness of the hidden cameras they utilize, and that 100% rate is without any victim ever having to testify in court.
Sadly, many of the victims saved by O.U.R. are initially turned over to sex trafficking rings by their own families, leaving them with no other option but to find new families within foster care organizations. O.U.R works with foster care organizations to make sure the children they rescue are fed, clothed, and well-cared for as they grow into self-sufficient adults.
Today, Beck continues to be an active part of the organization, recently traveling to Haiti to visit some of the rescued victims in their foster home. Beck and others traveling along with him celebrated Christmas with the children, bringing hundreds of Christmas gifts for the group of 121 children grateful to receive not only gifts, but affection and kindness.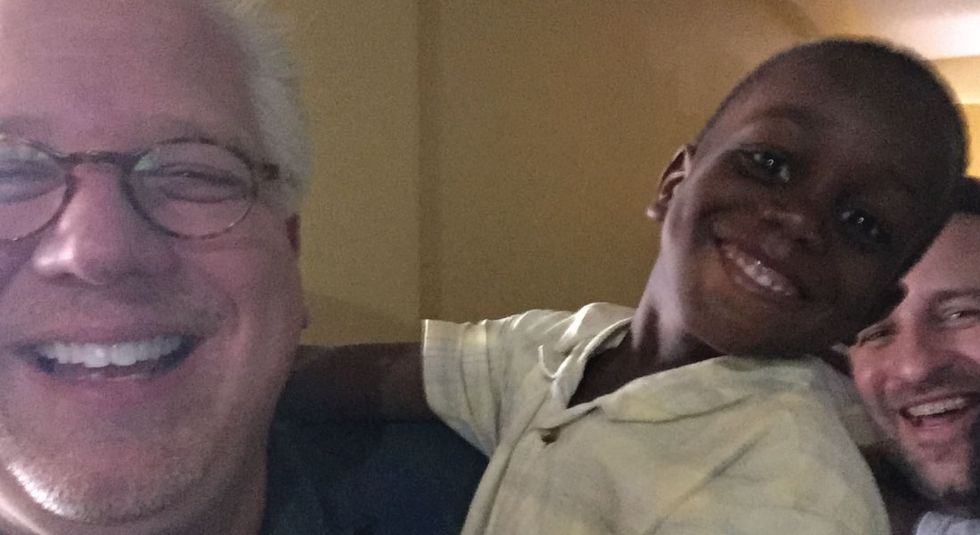 "Pierre. The cutest kid ever. He would not let me put him down. He put on my glasses and we became pals. Later, hand in hand, I took him to the room full of gifts and let him pick one. From the toys, play guns, matchbox cars, light sabers, etc., he picked a stuffed elephant." - GlennBeck.com
"No child would let us go. They all pressed their faces to ours, starved for love and kindness. There are 300,000 orphans ready to adopt and only 300 were adopted last year. The government is so corrupt and standing in the way." - GlennBeck.com
Though the statistics tell a story of darkness, Operation Underground Railroad and Beck himself have made it a story of hope and light. They have given these children a better life, a life of hope, and a chance at success.
If you are interested in O.U.R.'s mission, or to donate to the cause, please visit their website here.
Want to leave a tip?
We answer to you. Help keep our content free of advertisers and big tech censorship by leaving a tip today.
BlazeTV Host
Sara Gonzales is the host of "The News & Why It Matters."
SaraGonzalesTX
more stories
Sign up for the Blaze newsletter
By signing up, you agree to our
Privacy Policy
and
Terms of Use
, and agree to receive content that may sometimes include advertisements. You may opt out at any time.