With his time as leader of the free world coming to a close, President Barack Obama's efforts to secure his political legacy are in the home stretch.
So before Republican President-elect Donald Trump takes office next month, Obama has started a final push to tackle some of his most important issues — and make sure they're safe from Trump for at least the time being.
From Guantanamo Bay to Planned Parenthood, here's a look at how the 44th president is closing out his final term and preparing for his successor:
Guantanamo Bay
A  key campaign promise when Obama was just a candidate — the closing of the detention center at Guantanamo Bay, Cuba — has remained atop Obama's to-do list. Gitmo is still open with 29 days left to go until Obama leaves the White House.
Despite an executive order in 2009, plans to shutter Guantanamo have often remained gridlocked.
By law, Congress must be notified 30 days before any detainees are transferred, and Obama did so on the final day possible, informing Congress that 17 or 18 detainees would be transferred to Italy, Oman, Saudi Arabia and the United Arab Emirates, the New York Times reported Monday.
Still, that would leave more than 40 detainees in Guantanamo before Trump takes office, and he certainly has no plans to close the facility.
[graphiq id="5AGrSpNaoO9" title="Transfer Country of Guantanamo Bay Detainees" width="600" height="529" url="https://w.graphiq.com/w/5AGrSpNaoO9" link="https://www.graphiq.com/vlp/5AGrSpNaoO9" link_text="Graphiq" ]
And while Obama hasn't been able to shut the facility completely, former National Counterterrorism Center Director Matthew G. Olsen told the Times that being able to transfer as many detainees as Obama did should still be considered an accomplishment.
"There is a humanitarian imperative not to detain people who can be safely transferred to their home country or to another country, and much of what we have seen over the past few years has been continued detention for many such people," Olsen said.
Presidential Pardons
In what was certainly not an unusual move for an outgoing president, Obama on Monday granted a get-out-of-jail Christmas gift to 78 people.
Obama issued 78 pardons and 153 commutations Monday. Not only did he break the record for a single-day use of his clemency power, but he also more than doubled the number of pardons he has given over the past seven years, USA Today reported.
With his pardons, Obama has focused on those with lengthy prison sentences due to drug-related crimes — among those a New Hampshire woman convicted of dealing heroin in 1999.
White House counsel Neil Eggleston said a "common thread of rehabilitation underlies all of" those granted clemency this week.
The people "granted clemency today have all demonstrated that they are ready to make use — or have already made use — of a second chance," he said in a White House blog post.
While Obama has by far commuted the sentences of more people than any other president, his record isn't expected to be broken by Trump who has promised to be the "law and order" politician.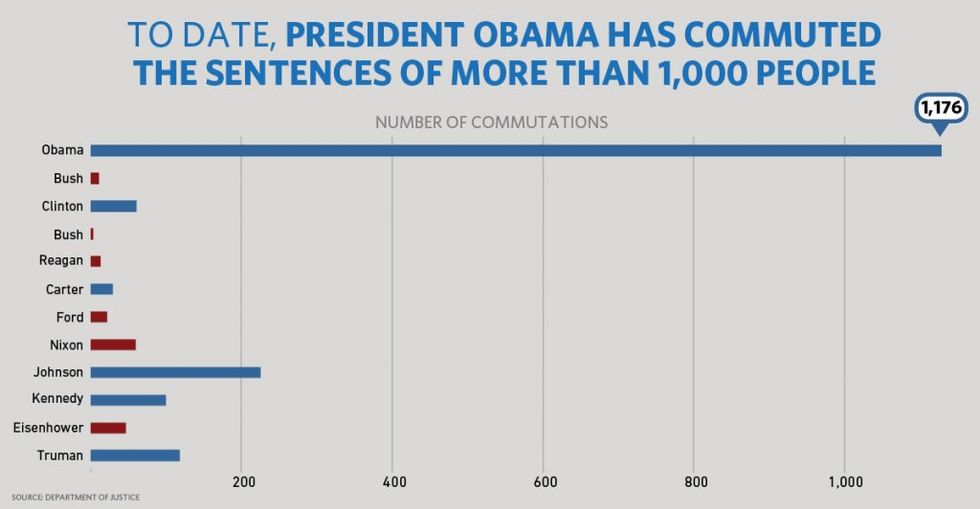 Image source: WhiteHouse.gov
Planned Parenthood
Last week, the Obama administration sought to prevent states from stripping federal funds from Planned Parenthood with new regulations.
On Dec. 14, the Department of Health and Human Services announced its move to protect the country's largest abortion provider by blocking states from stripping Title X funds from clinics for "reasons unrelated to their ability to provide services in an effective manner," TheBlaze previously reported.
The regulation will go into effect just two days before Trump is inaugurated.
The move has angered many conservative and anti-abortion activists and lawmakers, including Rep. Diane Black (R-Tenn.)
"President Obama knows that hope is rising for the innocent victims of Planned Parenthood's brutality and the big abortion industry's days of taxpayer-funded windfalls are numbered," Black previously told TheBlaze.
But the Obama administration's financial protection of Planned Parenthood earned the outgoing president thanks from the nonprofit organization.
.@POTUS's new rule protects preventive health care & family planning for the millions of people who rely on #TitleX… https://t.co/2UZN6aswZw

— Planned Parenthood Action (@Planned Parenthood Action) 1481742617.0
"President Obama has cemented his legacy as a champion for women's health by issue a rule that protects birth control, cancer screenings, STI testing and treatment and other health care for millions of people," Planned Parenthood President Cecile Richards said in a statement.
However, Obama's protection of Planned Parenthood may already be unraveling slightly even before he leaves office as Texas moved Tuesday to cut the organization from its Medicaid funding.
Drilling Ban
On Tuesday, Obama invoked an obscure portion of a decades-old law — the Outer Continental Shelf Lands Act —to ban drilling in the Arctic and Atlantic Oceans.
Obama's decision is a win for environmentalists who for years have called on the president to protect some of the more environmentally vulnerable areas of U.S.-controlled water.
By invoking the 1953 law that governs the Outer Continental Shelf, Obama has blocked drilling in federal waters in the Chukchi Sea and most of the Beaufort Sea in the Arctic. Twenty-one underwater canyons in the Atlantic Ocean were also protected from drilling, according to the White House.
Canada, too, will prevent drilling in the areas of the Arctic Ocean which it controls.
"These actions, and Canada's parallel actions, protect a sensitive and unique ecosystem that is unlike any other region on Earth," Obama said in a statement Tuesday.
Obama's controversial move is seen as an affront to Trump's incoming administration.
As CNBC explained:
The law allows a president to withdraw any currently unleased lands in the Outer Continental Shelf from future lease sales. There is no provision in the law that allows the executive's successor to repeal the decision, so President-elect Donald Trump would not be able to easily brush aside the action.
The Obama administration will use the law at its broadest as it is so far-reaching with the lands that it would protect — and without an expiration date, according to CNBC.