After a white high schooler circulated a racist petition at a Maryland high school last Friday, police said a 14-year-old black student posted a threatening tweet directed at the school, WJZ-TV reported — and did so with an account using a KKK handle.
Officials at Arundel High School in Gambrills, about 30 minutes south of Baltimore, told Anne Arundel County Police about a disturbing Monday tweet that read, "We're planning to attack tomorrow," the station said.
The tweet came from the Twitter account @KoolkidsklanKkk, WJZ reported.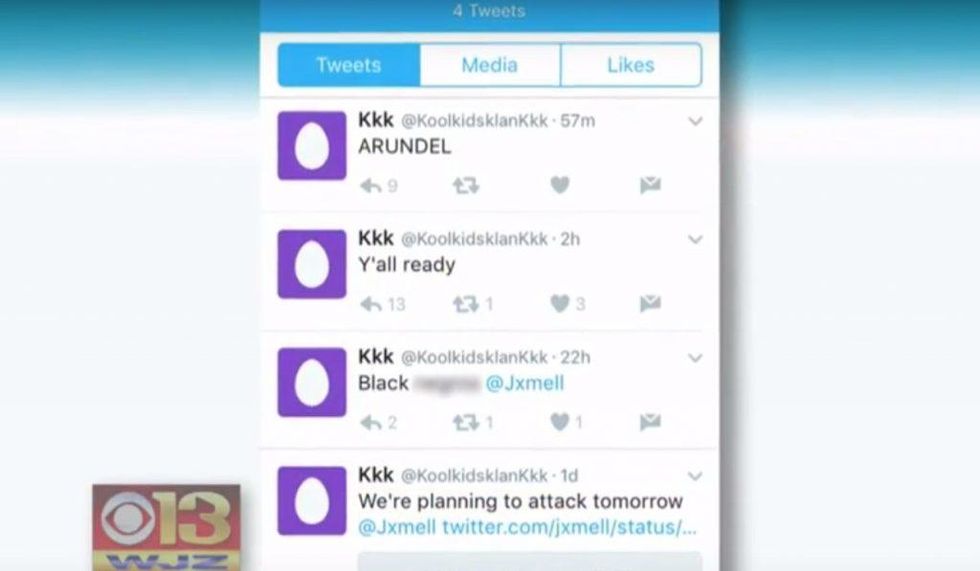 Image source: YouTube screen cap
But the account used words similar to those on the racist petition by the "Kool Kids Klan," the station said, adding that police worked with Twitter to identify the user behind the tweet.
Investigators interviewed the 14-year-old while she was with her parents, WJZ said, and police said the Arundel High School student admitted to creating the Twitter account and sending the tweet. After being cited for juvenile disruption of school activities, she was released to her parents.
The tweet caused a stir, as many students didn't report to school over safety fears, WJZ reported.
While WJZ reported Friday that police said the girl behind the tweeted threat wasn't involved in the racist petition, police told the Capital Gazette the tweet was likely a reaction to the petition.
As for the petition, the Washington Post reported that it said blacks are a "scourge," they "invented" rape, stealing and basketball — and noted "the supreme White race."
Racist Petition Asking Students to Declare White Supremacy Circulated at MD High School. https://t.co/t64w464GbY

— Soraya Chemaly (@Soraya Chemaly) 1484163945.0
School officials quickly identified the students involved in the petition and condemned it.
"I am shocked, dismayed, and quite frankly angered that such a piece of material would be produced, much less appear in one of our schools," George Arlotto, schools superintendent in Anne Arundel County, wrote in a letter to parents, the Post said. "It is unconscionable to me how anyone could believe this material is anything but horrifying, and it has absolutely no place in our schools or school system."
It's unclear what kind of school discipline any of the students faced. The white student who created the racist petition and the two white students who signed it weren't criminally charged, WJZ said.