One Philadelphia law enforcement officer who started out in art school before ultimately joining the police force has found a way to use his talents to honor his fellow officers across the U.S. who have been killed in the line of duty.
Officer Jonny Castro, who joined the military and then the PPD after a stint in art school, was inspired to start the project when, according to WTXF-TV, a job opened up in the graphic arts department. The Philly cop said the job fits his interests and gives him the opportunity to honor fallen officers.
Though he has to spend roughly eight hours on each portrait, he says it's worth the time it takes. "It's something the family has to remember them by — not just husbands and wives but maybe brothers and sisters, sons, daughters," Castro said.
"They can each have a copy and hang it in their own place," he added.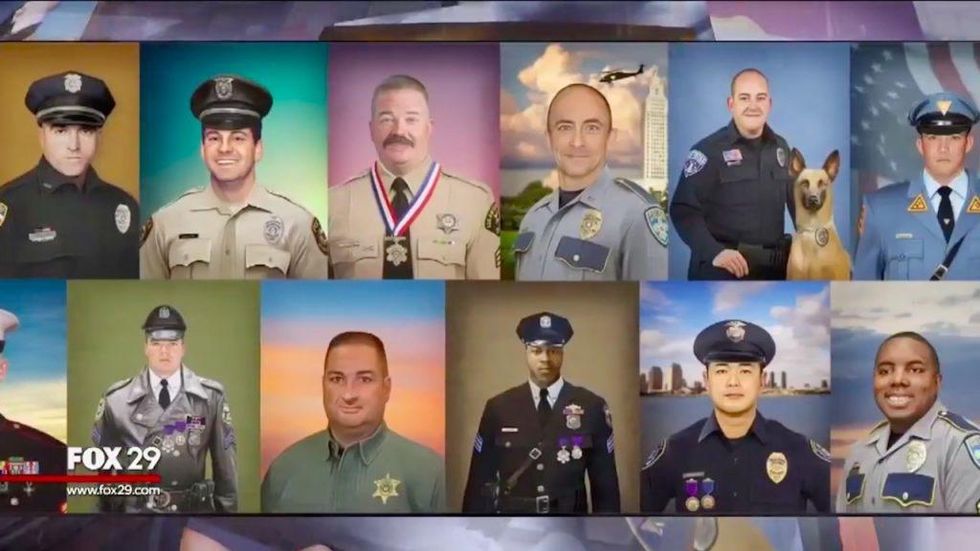 Image source: WTXF-TV
However, the job has become daunting. In 2016, 135 law enforcement fatalities nationwide, according to a report from the National Law Enforcement Memorial Fund.
"At one point," Castro said, "there was a time when five died in one week, and I was just like: 'I can't, it's impossible to do that.' ... By the time I did two, two more died."
One of the first paintings Castro completed was of slain Philadelphia Sgt. Robert Wilson, who died in the line of duty when he confronted two armed robbers at a Game Stop in March 2015 and became caught up in a shootout with the suspects.
In May 2016, President Barack Obama posthumously awarded the medal of valor to the fallen officer. Wilson's grandmother, Constance, accepted the medal from the president.
In addition to his tragic death, according to Castro, Wilson was promoted to sergeant after he passed away, so there were no photos taken of the officer in his new uniform. Castro decided to fix that.
"The one year anniversary of Sgt. Wilson was approaching back in March, and he hadn't really had any photos of him because he got promoted to a sergeant after he passed way. So I wanted to paint something of him in uniform as a sergeant," Castro said.
Since starting the project, Castro has received many letters of support with some even expressing interest in purchasing prints of his work, but the officer said he doesn't do it for the money.
"I just couldn't accept the money," he said. "I would donate the money, regardless. It would go to the police survivors fund or somewhere to help officers."