© 2023 Blaze Media LLC. All rights reserved.
Trans community: Women's March protesters' focus on female genitalia was 'oppressive
Editor's note: This report deals with topics that might not be suitable for all audiences.
The transgender community is pretty peeved with the fact that Saturday's Women's March was so focused on female genitalia.
In fact, though conventional wisdom would suggest that progressives everywhere were pleased with the demonstration, it turns out some transgender people thought the prevalence of "pussy hats," vagina costumes and paintings of female genitalia were "oppressive" toward their community.
"[P]ussy hats set the tone for a march that would focus acutely on genitalia at the expense of the transgender community," Mic.com staff writer Marie Solis reported. "Signs like 'Pussy power,' 'Viva la Vulva' and 'Pussy grabs back' all sent a clear and oppressive message to trans women, especially: having a vagina is essential to womanhood."
Part of the reason the Washington, D.C., march, which reportedly drew half a million protesters, was so focused on female genitalia was because it was highlighting Trump's vulgar remarks about women in the past, most notably his 2005 hot-mic comment that he could "grab" women "by the p***y" because he's famous.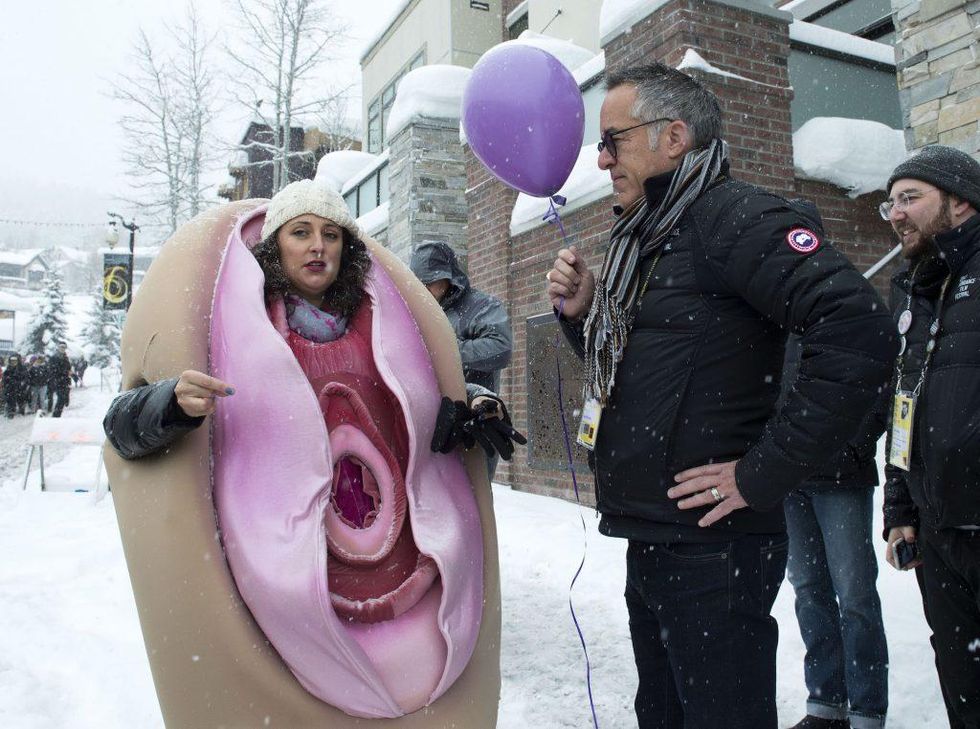 Women's March protester in Salt Lake City, Utah, Saturday. (VALERIE MACON/AFP/Getty Images)
However, the rally's theme has sparked a feud between transgendered women and "trans-exclusionary radical feminists," who believe real women are those who have a vagina from birth.
According to the Mic.com report, the march was overrun with too many slogans and too much imagery that relied on gender norms.
"The main reason I decided not to go was because of the pussy hats," one transgendered woman told the liberal news site. "I get that they're a response to the 'grab them by the p***y' thing, but I think some people fixated on it the wrong way."
"I believe there's a lot of inequality that has to do with genitals — that's not something you can separate from the feminist movement," the trans woman added. "But I feel like I've tried to get involved in feminism, and there's always been a blockade there for trans women."
Solis went on to explain that some "nonbinary" individuals, those who do not identify as male or female or who say their gender identity evolves over time, felt the protest "might be a dangerous space for them" because Saturday's event was a "white cis women march."
"Cis" is a term that means an individual identifies with their biological sex. One couple, Sam Forrey, a nonbinary student, and Forrey's girlfriend Lilian McDaniel, who is transgender, were upset that the protest centered on "genital-based" womanhood.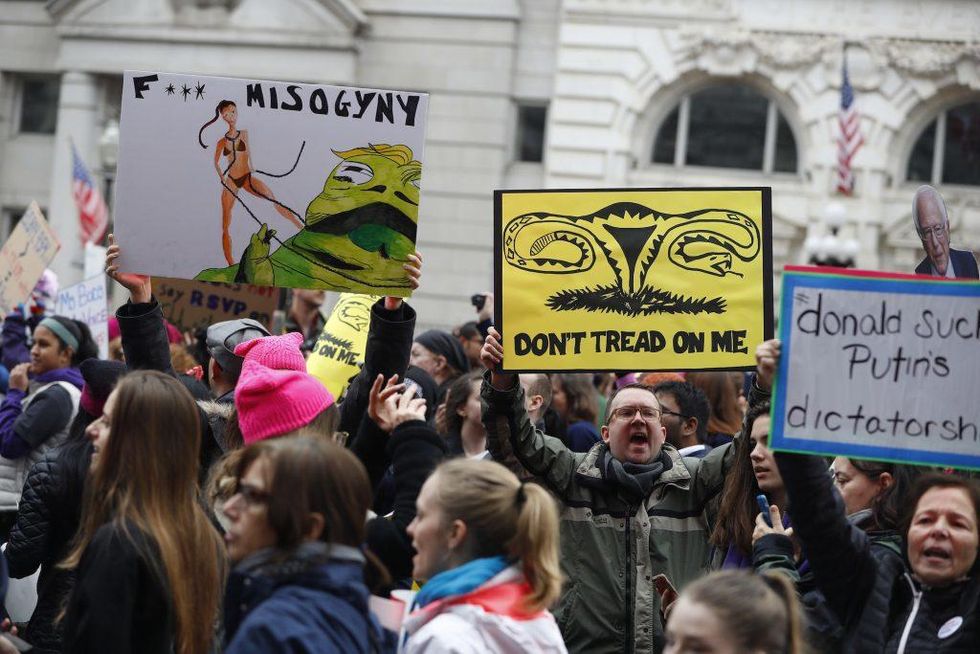 Protesters gather in Washington, D.C., on Saturday. (Aaron P. Bernstein/Getty Images)
"There were other marginalized communities there," McDaniel said, "but it didn't seem like they were the focus."
And Forrey didn't like the protest's theme, either: "As a nonbinary person, the emphasis on genitals just bought into the rigid, Western concept of gender."
Raquel Willis, a communications associate for the Transgender Law Center, claimed that her microphone was cut off while she gave a speech at the march when she mentioned two transgender activists.
Want to leave a tip?
We answer to you. Help keep our content free of advertisers and big tech censorship by leaving a tip today.
more stories
Sign up for the Blaze newsletter
By signing up, you agree to our
Privacy Policy
and
Terms of Use
, and agree to receive content that may sometimes include advertisements. You may opt out at any time.