Conservative firebrand Matt Drudge, who supported Donald Trump throughout the presidential campaign, expressed frustration with Trump's own party Wednesday, saying Republicans "should be sued for fraud."
Drudge rarely speaks out publicly, but in a tweet sent Wednesday morning, Drudge blasted Republican Senate Majority Leader Mitch McConnell for invoking a little-known Senate rule Tuesday night, which resulted in Democratic Sen. Elizabeth Warren no longer being allowed to speak.
Warren had taken to the Senate floor to read a letter Coretta Scott King, who was Martin Luther King, Jr.'s widow, sent to the senate judiciary committee in 1986. The letter accused Attorney General-designate Sen. Jeff Sessions of "us[ing] the power of his office as United States attorney to intimidate and chill the free exercise of the ballot by citizens..."
McConnell invoked Senate Rule 19, which states, "No Senator in debate shall, directly or indirectly, by any form of words impute to another Senator or to other Senators any conduct or motive unworthy or unbecoming a Senator."
Senate Republicans then voted 49-43 along party lines to bar Warren from speaking on the floor again until the governing body holds a final vote on Sessions' attorney general nomination, which is likely to come Wednesday night, The Hill reported.
But Drudge, a Trump supporter, made clear Wednesday that he didn't think silencing Warren was how the Senate should be spending its time.
"No Obamacare repeal, tax cuts! But Republicans vote to shut Warren? Only know how to be opposition not lead! DANGER," Drudge tweeted.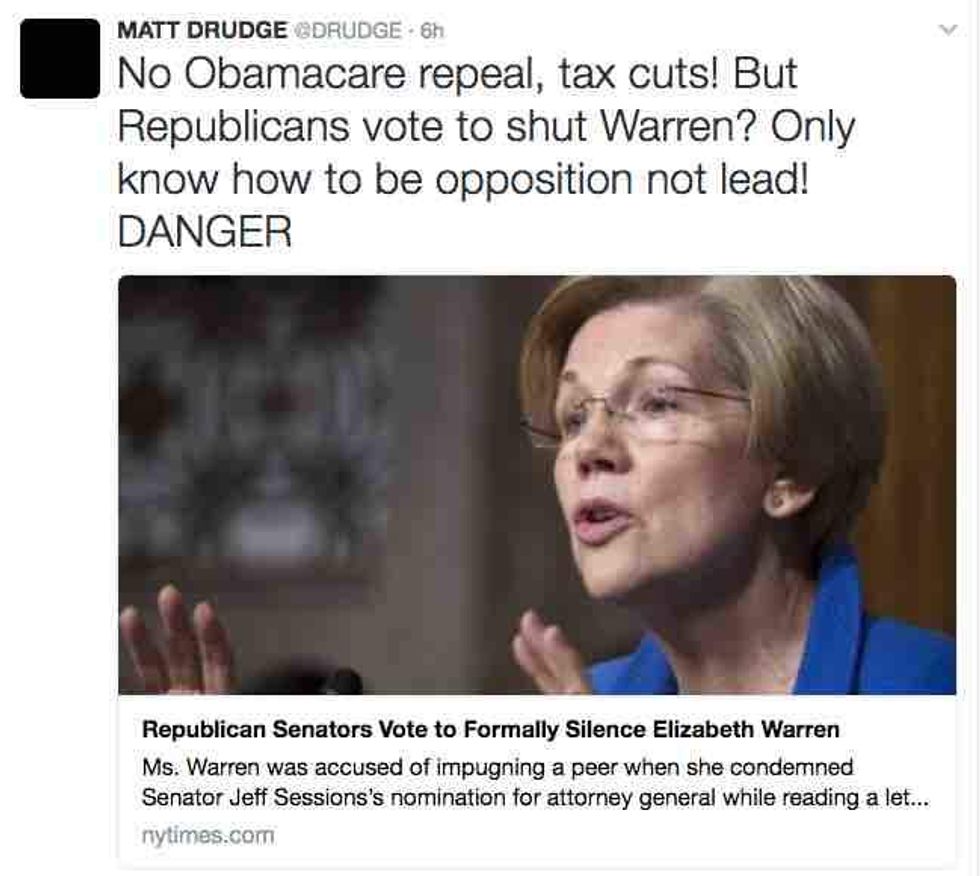 Image source: Twitter/@Drudge
Drudge followed that up by suggesting the GOP "should be sued for fraud" for not moving more quickly to cut taxes, which is part of what many Republican candidates, including Trump, campaigned on.
Trump took officer just more than two weeks ago. Members of the House and Senate were sworn in early January.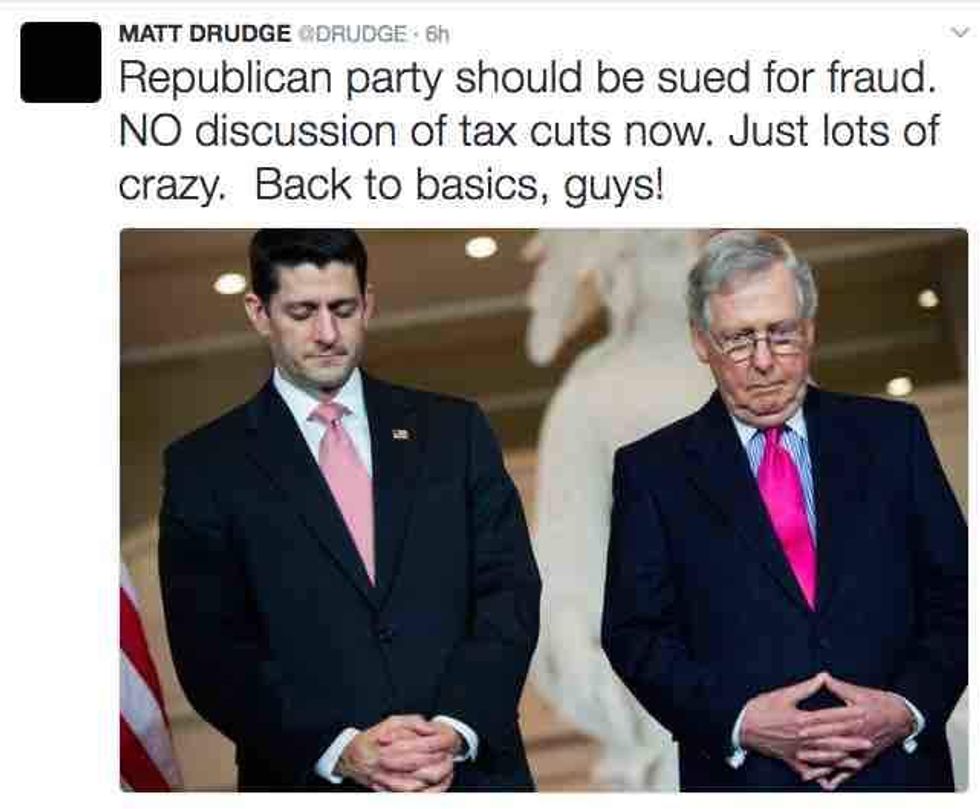 Image source: Twitter/@Drudge
That's not all Drudge is upset about, though.
Minutes after sending his second tweet, Drudge took aim at an executive order the White House will reportedly issue, while leaving the Obamacare mandate penalty intact — at least for now.

Image source: Twitter/@Drudge
Trump said just before taking office last month that he would act to "quickly" repeal and replace Obamacare, the New York Times reported. During a separate ABC News interview shortly after being sworn in, Trump vowed that whatever legislation he signs as president will "cover more people at less cost," according to Raw Story.
As TheBlaze reported earlier, Sen. Bob Corker (R-Tenn.) recently admitted Republicans haven't even started writing a bill to replace Obamacare.
The "conflict minerals" order would reverse a 2010 Dodd-Frank provision that requires companies to disclose whether their products contain certain materials found in parts of Africa that have been ravaged by war, Reuters reported Wednesday.
White House Press Secretary Sean Spicer addressed Drudge's tweet Wednesday during the daily White House press briefing.
Pushing back on Drudge's assertion that Trump is not making good on his campaign promises, Spicer told reporters: "It's hardly stalling."
"It [Obamacare] is a mammoth thing to repeal or replace," Spicer said. "We can either do it quickly or we can do it right."
(H/T: Daily Caller)