An Oregon judge is being investigated by the state's judicial department after a U.S. attorney claimed that the judge helped an illegal immigrant escape Immigration and Customs Enforcement custody.
In January, Mexican national Diddier Pacheco-Salazar appeared before Judge Monica Herranz on DWI charges. Pacheco-Salazar, who showed up to plead guilty to the charges, had previously been deported and reentered the country illegally. Though it is unclear exactly what happened in the courtroom, U.S. Attorney Billy Williams said that ICE agents allege that when courtroom staff noticed the agents in the hallway, Herranz took it upon herself to allow Pacheco-Salazar to use her private exit to flee the scene.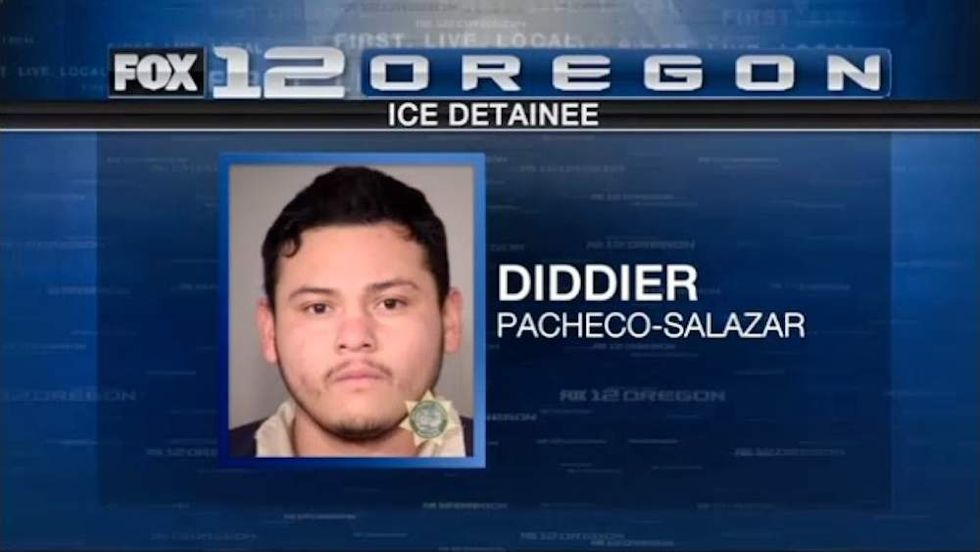 Diddier Pacheco-Salazar (Image source: KPTV-TV)
"I felt that it was inappropriate and delegitimizes the work of ICE agents who are out there doing their jobs," Williams told KPTV-TV.
There are three exits to every courtroom: one for the public, one for the inmate and one that is accessible only by the judge. Williams said that since ICE agents were guarding the public exit, it needs to be determined which exit did Pacheco-Salazar use to escape.
"So what happened with the individual in question was that he was allowed to use one of those two doors to elude being taken into custody," Williams said.
Although ICE has decided not to pursue a criminal investigation of Herranz, Chief Justice Nan Waller of the Oregon Judicial Department said her office is conducting an internal investigation into the matter but would not comment further.
Pacheco-Salazar was arrested by ICE two weeks later when he returned to the courthouse for another hearing. He is currently being held in an ICE detention facility in Tacoma, Washington.
TheBlaze reached out to Herranz for comment, but she did not immediately respond to the request.