Ski instructor Natty Hagood figured blasting through a gap between two trees on his trip down a slope at Wyoming's Jackson Hole Mountain Resort last week would be a cinch.
"With my experience, you can bash between trees and it's not that big of a deal," the 29-year-old Hagood told the Idaho State Journal. "But this time I guess I didn't get away with it."
Indeed.
After Hagood was knocked off balance, he told the Journal of a subsequent strange sensation.
"I thought maybe my chinstrap got pushed up into my face, so I tried to brush it off and that's when I felt the stick," Hagood told the paper. "So, I shook left to right and saw the stick moving in my peripherals. I reached out and grabbed it and wiggled it before realizing it was pretty far in there."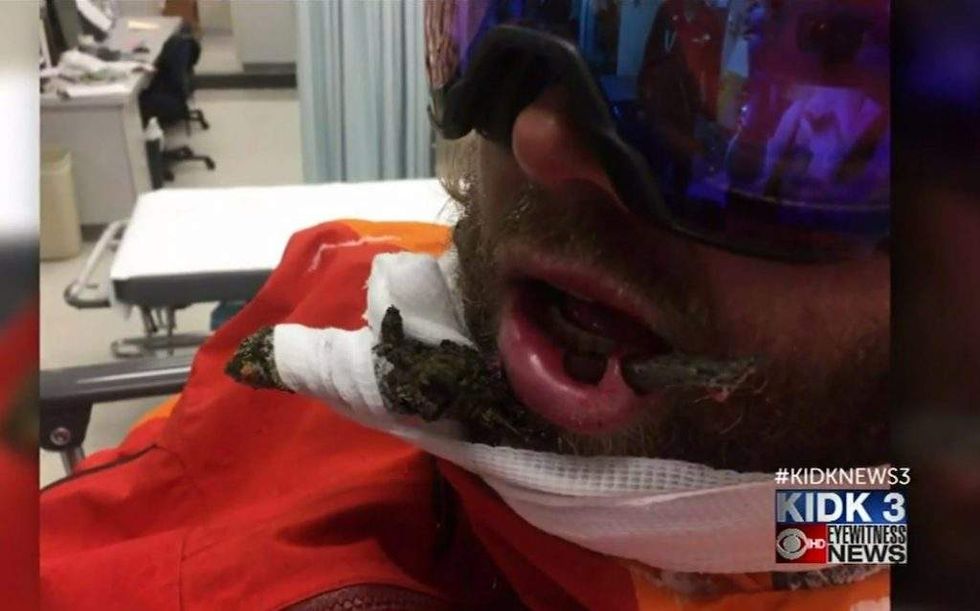 Ski instructor Natty Hagood's leap through the  trees resulted in a tree branch going through his lip. Image source: KIDK-TV video screen cap
Hagood's reaction? "Holy crap, I just got impaled," he told the paper.
He said he wasn't in pain — and even made the load a little lighter, you might say. "It was initially about a foot and half long," Hagood told the Journal of the intruding branch. "But I braced it against my cheek and snapped it down to about 6 inches. Ski patrol was all like, 'You're crazy, man.'"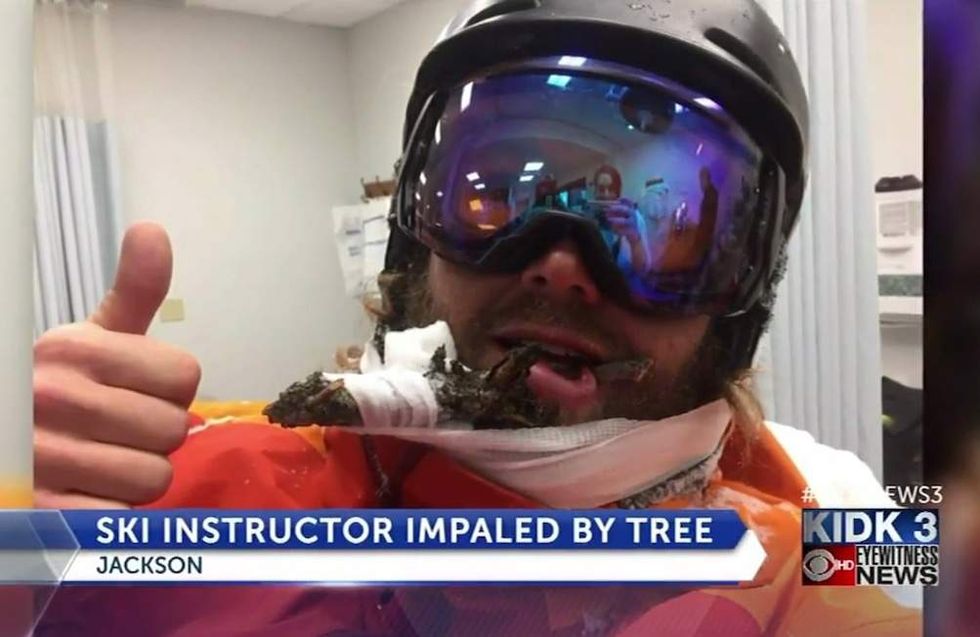 Image source: KIDK-TV video screen cap
The pain actually began with numbing shots at the hospital, he told the paper, after which "they cut the top-left section of my lip near the exit-wound, trimmed the back half and pulled it through."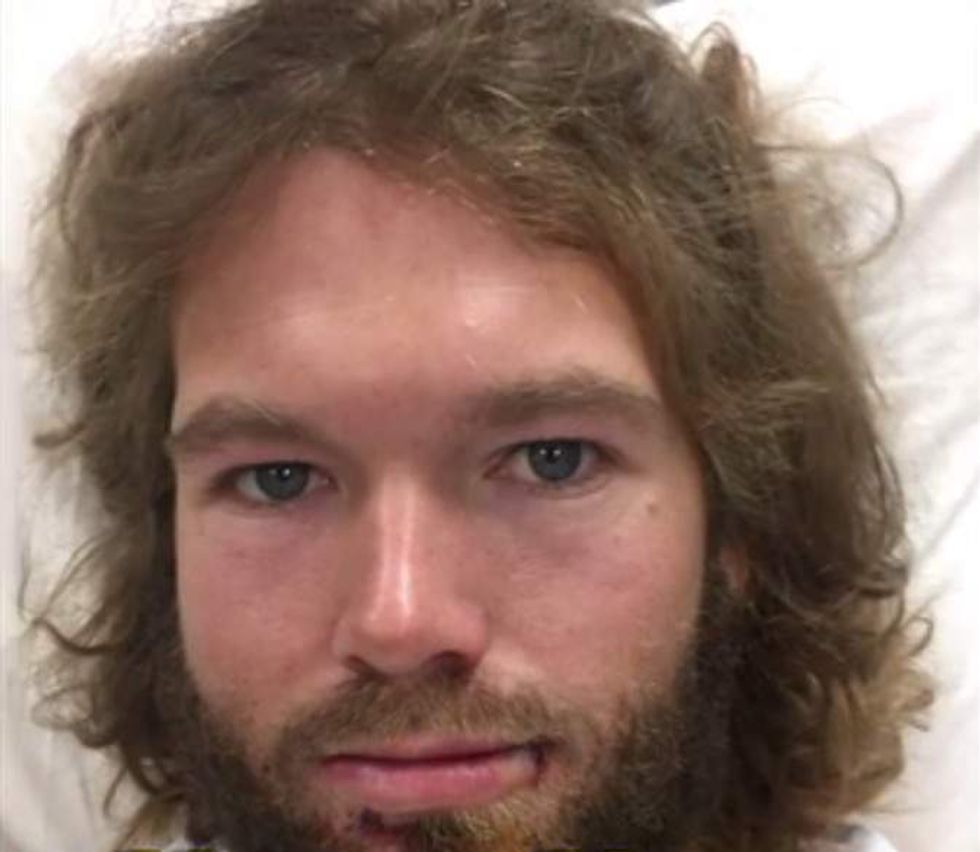 Hagood raised money to pay for the surgery through a GoFundMe campaign. (Image source: Idaho State Journal video screen cap)
The other painful part? The hospital bill — $1,5oo.
And while the Huffington Post reported that Hagood is "feeling grateful for the Affordable Care Act," his expenses prompted him to launch a GoFundMe campaign.
"The surgery to remove the stick will easily cost me over a thousand dollars. My deductible is 1250. This was totally unplanned and sucks so if y'all would be so kind as to chip in for my medical expenses that would be sooo cool," Hagood wrote on his GoFundMe page. "Guess I should reconsider the lip piercing trend."
As of Wednesday morning, Hagood's $1,500 funding goal has been met, and total stands at $1,805.
While a number of folks have been supportive of the skier's predicament, others snapped at him on the page for seeking donations.
"Another dip s**t with his hand out," Del Yates Jr. wrote. "Pay for your own f*** ups."
"This guy says he has insurance but still needs to beg for money (because Obamacare)..." Brynn Forest said, "yet he has a Facebook profile full of crap about 'resisting' our elected President, Donald J. Trump, who, ironically is trying to make healthcare affordable again. This dude is an idiot in more ways than one."
Julie Kreps suggested that "if you can afford to go skiing you can afford your medical expenses. Suck it up cupcake, welcome to being a responsible adult!"
Hagood doesn't see it that way.
"I don't know where they're from or what their ideologies are, but some people have said that's the problem with America is that people need to suck it up and pay for their own stuff," he told the Journal. "Some people have been vocal about what I'm doing is distasteful or irresponsible and I'm not taking credit for my own actions ... but I certainly don't feel bad asking people in the community to pitch in $10 so that I don't have this crippling expense."
Hagood added to the Post: "Health care is a business in this country. A way to make money off sick people."
This story has been updated.
(H/T: The Daily Wire)