Outside a speech by conservative commentator Ben Shapiro at the University of Florida on Monday, a reporter and videographer chatted with a couple of protesters holding signs.
The reporter from the Daily Nerv noted that one of the protesters had a UF identification badge around her neck and asked if she was a faculty member at the university — and with that she flung the ID behind her shoulder, apparently in an attempt to conceal her identity.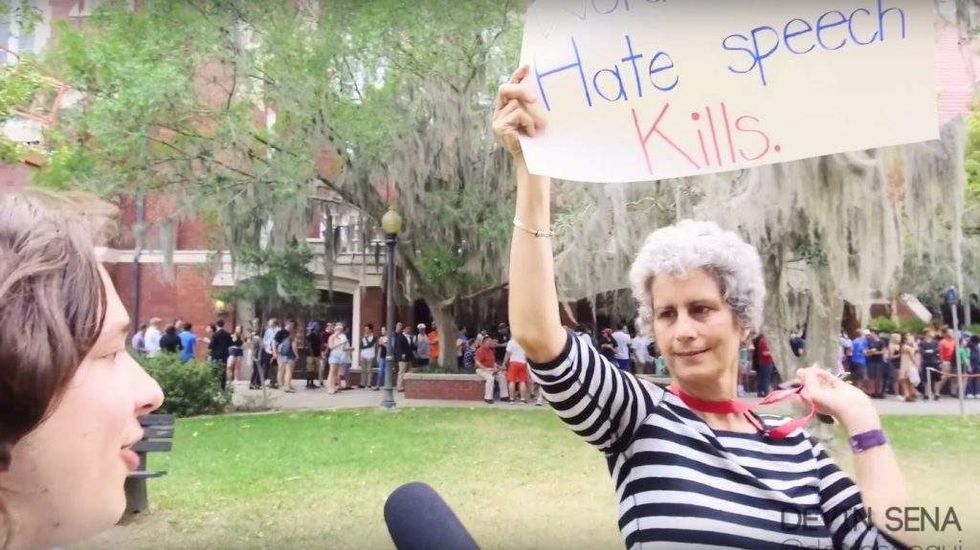 Image source: YouTube screen cap of Daily Nerv video
The woman wouldn't say if she's a faculty member but offered that her name is "Linda."
Turns out the Daily Nerv got a close-up photo of the woman's ID badge before she tossed it out of camera view, and the outlet said she appears to be Linda F. Hayward, an associate professor at UF's College of Veterinary Medicine.
A close look at a female protester's University of Florida identification badge before she tossed it out of camera view during an interview with the Daily Nerv outside a Ben Shapiro speech on Monday. (Image source: The Daily Nerv, used by permission)
The professor carried a sign — "Words matter. Hate speech kills." So the reporter asked her how she defined hate speech.
"When you attack specific groups or people ..." she replied, "Like you make fun or have derogatory comments about transgender people or women."
When the reporter asked her if hate speech should be protected, she replied, "I think at some point, no ... it shouldn't be protected. It becomes dangerous."
The reporter asked the professor for a specific example of what she'd consider hate speech, and she repeated her earlier transgender comment, noting that "making fun of transgender or deciding that they shouldn't be included and having derogatory comments about them. That goes beyond free speech. Now you're affecting other people."
To be fair, the professor said during the refreshingly civil exchange that "the fact that there are diverse opinions out there" is "great" and that having them "debated" is a good thing.
"I don't mind a dialogue," she added.
(H/T: Campus Reform)