Television news stations these days frequently employ cellphone videos to illustrate their stories. It's part of journalism's evolving landscape as non-reporters present during newsworthy events capture on camera what's unfolding before their eyes.
And now a cellphone video is being used in a decidedly unflattering story about a TV news reporter.
Colleen Campbell — who had been among the on-air talent at Philadelphia's WPHL-TV — was caught on video Sunday outside a comedy club in the city cursing out a police officer, allegedly attempting to spit at a man and then getting handcuffed and walked from the scene.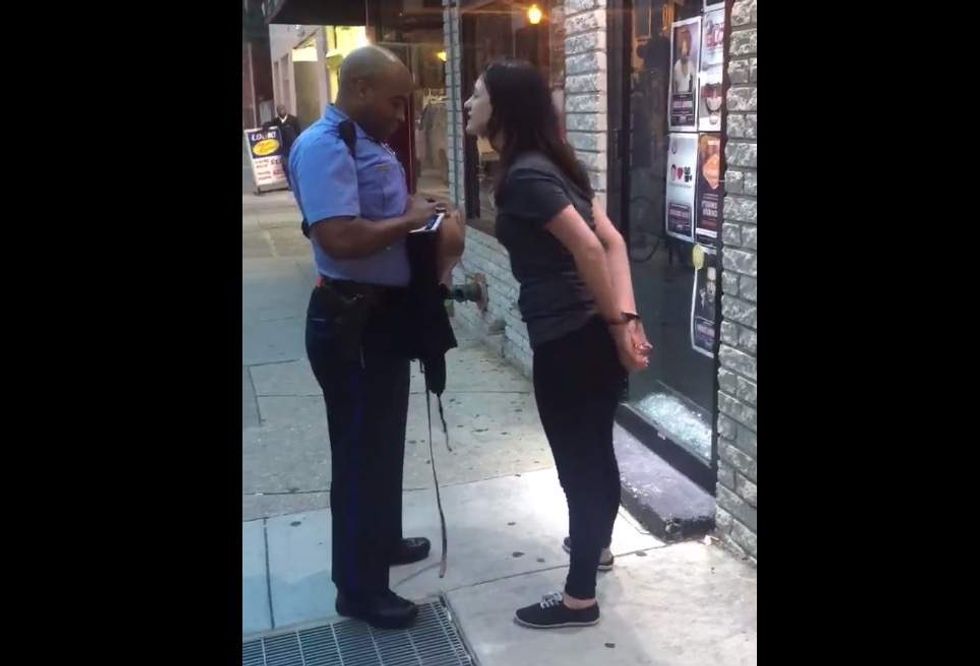 Image source: Twitter video screenshot
The 28-year-old from southern New Jersey was asked to leave Helium Comedy Club because she was being loud during the show, New York City comic Wil Sylvince told Philadelphia Magazine.
Sylvince took video of Campbell outside the club, the magazine said, where she absolutely goes off on a cop in a foul-mouthed tirade — complete with a Philly accent.
The officer simply wanted Campbell to leave the area, but she's seen on the clip apparently trying to spit at a man at the scene, whom Sylvince said is the club's manager. Sylvince said that beforehand Campbell kicked, punched and eye poked three employees in bar area.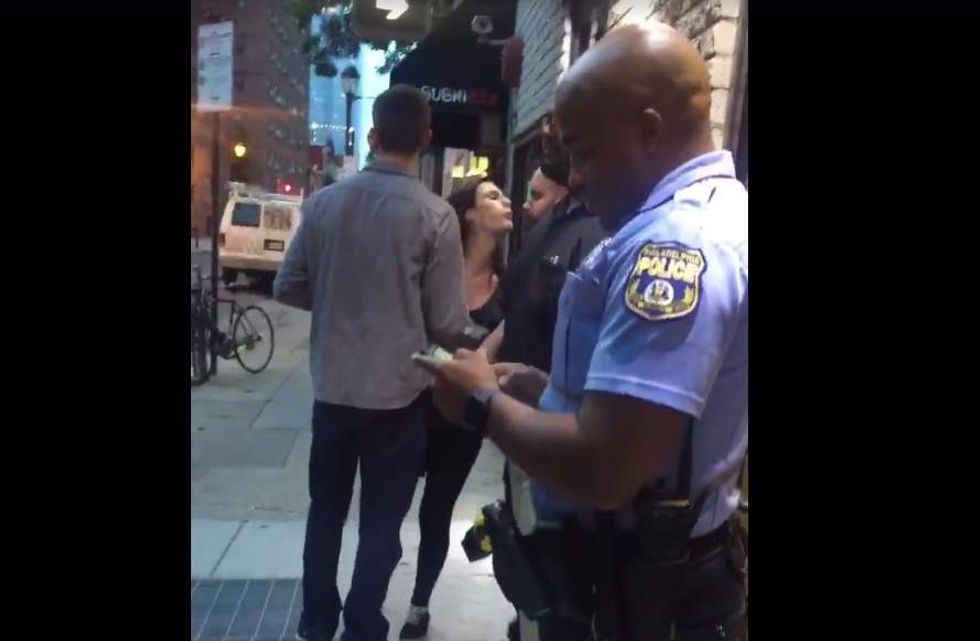 Image source: Twitter video screenshot
She then removes her right sneaker and raises it up toward the man.
"Smell my shoe, bitch!" Campbell says on the clip.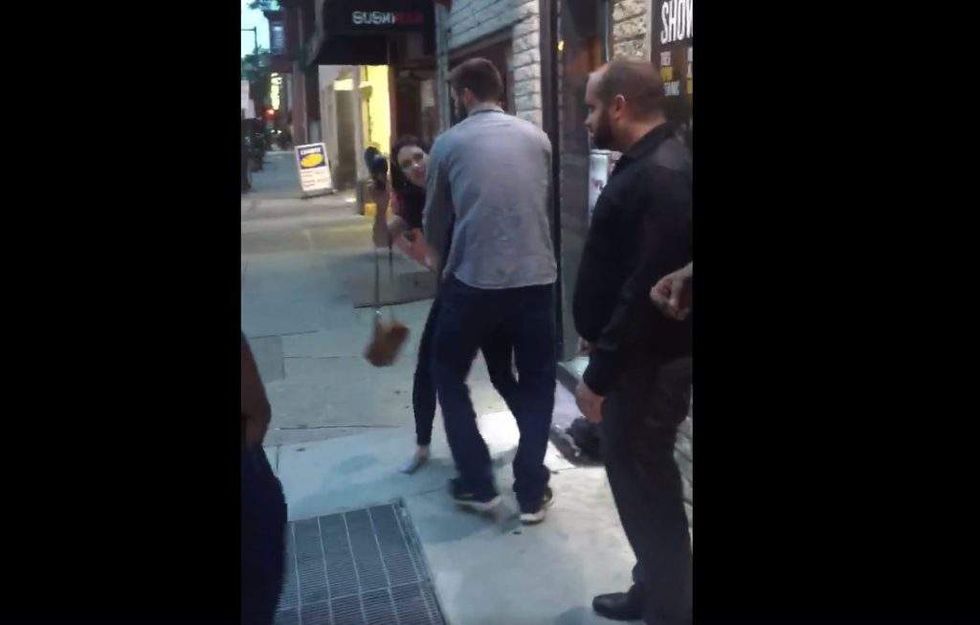 Image source: Twitter video screenshot
That's when the officer intervenes and handcuffs Campbell, after which she makes several profane references to people hating police.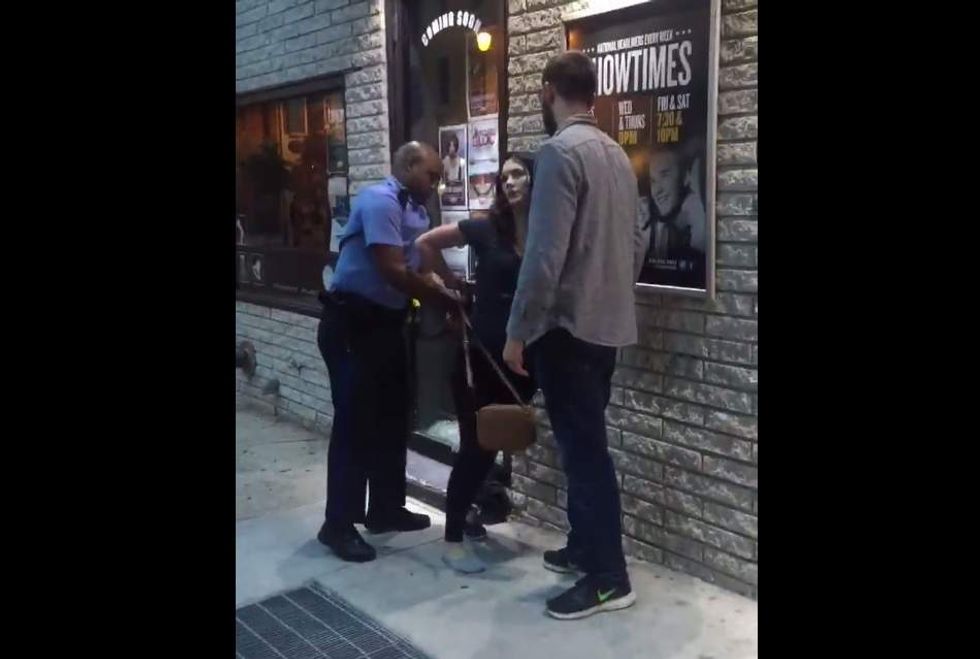 Image source: Twitter video screenshot
She was then walked down the street by the officer — still yelling as her voice grew quieter in the distance.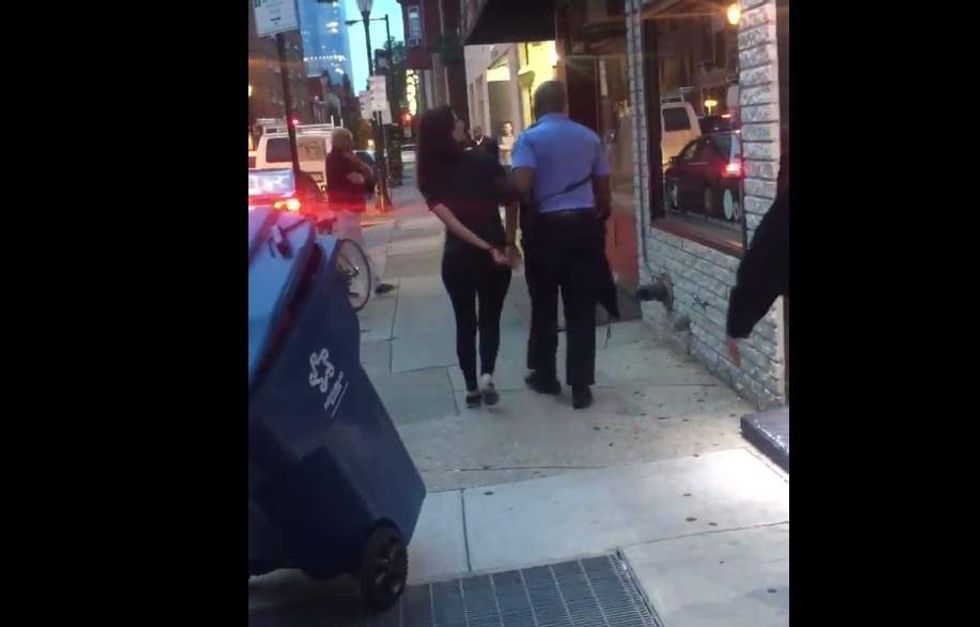 Image source: Twitter video screenshot
Campbell was charged with resisting arrest, criminal mischief and disorderly conduct, the magazine reported. She was released Monday on her own recognizance and is due back in court June 13.
Her coup de grace comment on camera? "I work at a f***ing news station, motherf***er!"
Campbell used to work at one, anyway.
She told Philadelphia Magazine in a phone interview after the incident that she was being terminated by WPHL. Before she deleted her social media accounts, the magazine said Campbell noted on Facebook that she had only one drink and that she may have been drugged.
"That's not me or how I talk or act or anything at all," she told the magazine. "I don't know what to do. I feel ruined and embarrassed for me and my family."
When the magazine asked why she thought she'd been drugged, Campbell replied, "Everything was foggy. I do remember coming in to Helium. I do remember getting into an altercation there, but I don't remember what it was about. I only had two drinks at Helium."
Philadelphia Magazine countered that Campbell wrote on Facebook that she had one drink and asked if she'd been drinking before going to Helium. Campbell replied, "Yes, I was working at Devil's Den. I bartend there. And then we went to Cantina for a margarita, and I had two shots. But that was an hour before. Then we went to Helium, waited in line, got our drinks. I don't even remember going out to the lobby. I do remember getting into the cop car."
She told the magazine: "I wanna apologize to the officer. I don't remember the whole altercation at all. I remember feeling attacked. I would never talk like that. It was like watching a whole different me."
Here's the clip. (Content warning: Lots of strong language):
This story has been updated.