Sometimes it's wiser just to let certain things go.
That appears to be the case concerning a Pennsylvania high school valedictorian who took his speech off script at his commencement Friday — and was then unceremoniously shut down by the principal as a video camera rolled and family members and friends reacted with a chorus of boos and protests.
Peter Butera — also class president at Wyoming Area Secondary Center in Exeter, Pennsylvania — cleared his speech with administrators, the Washington Post reported, but he also brought to the podium unapproved text.
Thing is, Butera — who's headed for Villanova University in the fall — hadn't been happy with a school administration that seemed to shoot down every idea class officers proposed, leaving them with little to oversee beyond event decorations, the Post said.
So Butera decided to use his time behind the microphone to point that out — and offer an alternative mindset for the adults in charge.
When the 18-year-old got behind the podium, his speech moved along in garden-variety fashion. No surprises. Principal Jon Pollard, seated just to Butera's left, stared straight ahead.
Then Butera, likely knowing it was now or never, went rogue.
"However," he began, stating his first unapproved word.
"At our school the title of class president can more accurately be class party planner," Butera continued. "Student council's main obligation is to paint signs every week."
At that point Pollard visibly reacted with a frustrated frown, turning his head upward toward Butera.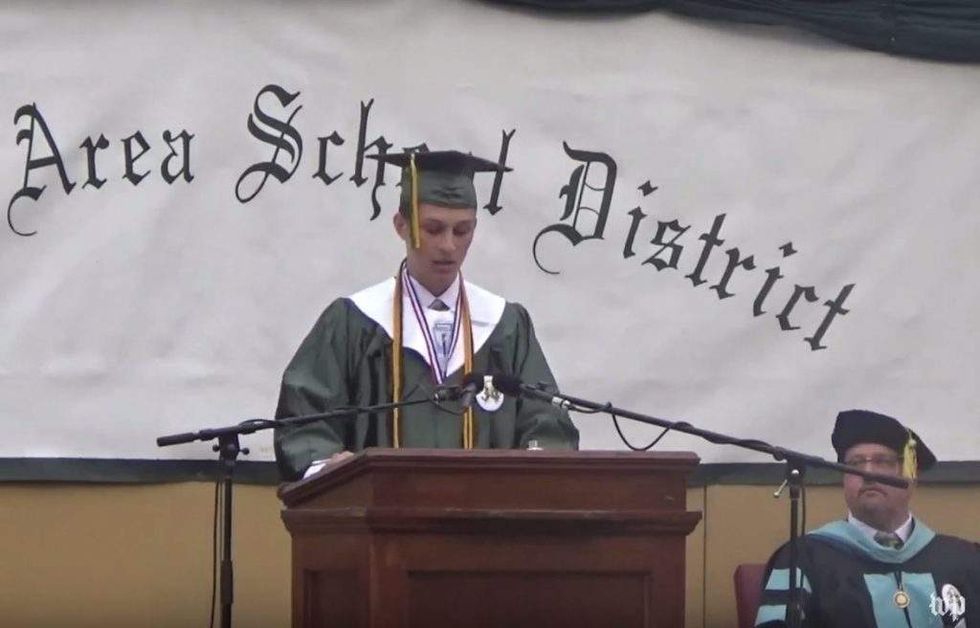 Image source: YouTube screenshot
The kid kept on: "Despite some of the outstanding people in our school, a lack of a real student government combined with the authoritative attitude that a few teachers, administrators and board members have —"
Pollard was then seen turning his head away from Butera, apparently speaking to someone about the unapproved direction the speech was headed.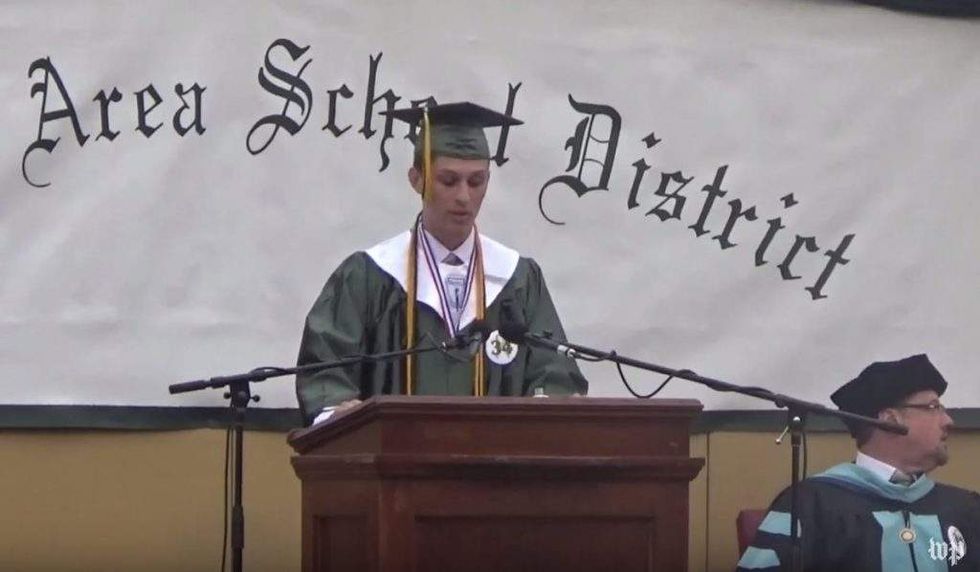 Image source: YouTube screenshot
Butera was still going: "— prevents students from truly developing as leaders. Hopefully, this will change."
Then the microphone was turned off, leaving Butera alone with only the volume his voice would provide — but the video still picked it up.
"Hopefully, for the sake of future students, more people within our school who do not do so already —" he kept on.
But that was all she wrote. Pollard stood up, moved right next to valedictorian and said something that no one else heard.
"He said, 'Alright Peter. You're done,'" Butera told the Post. The crowd was hollering in response, clearly angry at the principal.
Pollard then waved his right arm downward across his body, presumably encouraging Butera to leave the podium, which he did. Cheers then rang out for the class president who didn't do what he was told.
Here's the clip:
In the back, by Butera's mother, father, girlfriend, grandmother, aunt and uncle, the Post reported that someone said, "I'm so proud."
The paper said Pollard didn't immediately respond to its inquiries, but Superintendent Janet Serino said the principal's actions were justified.
"The young man submitted his graduation speech to his principal and delivered a speech different than the speech that was submitted," she wrote to the Post, which added that Serino has since reached out to Butera to discuss his concerns.
Butera's shut-down speech ironically began gaining traction on social media — far beyond the crowd who heard his rogue words live. Then TV host Jimmy Kimmel caught wind of the incident.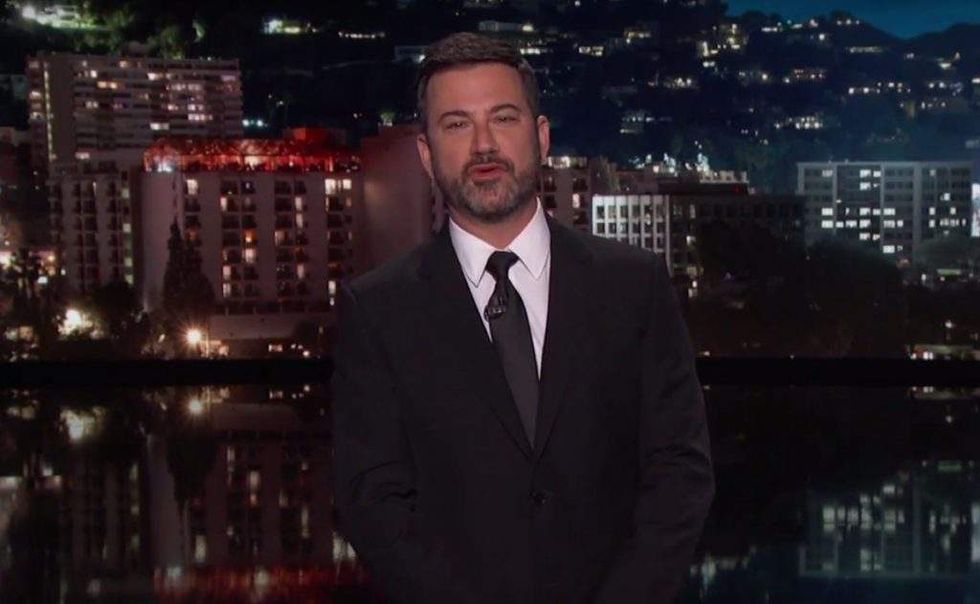 Image source: YouTube video screenshot
He had Butera as a guest via video Tuesday night and had an idea: Give the valedictorian a chance to finish his speech on TV — and for a way bigger audience than he stood before Friday. Which is just what Butera did:
Hopefully, for the sake of future students, more people of power within our school who do not do so already will begin to prioritize education itself as well as the empowering of students. Because at the end of the day, it is not what we have done as Wyoming Area students or athletes that will define our lives but what we will go on to do as Wyoming Area alumni. And I hope that every one of my classmates here today as well as myself will go on to do great things in this world and achieve true happiness and success. Thank you all for coming out to this great celebration here today.
Kimmel's studio audience cheered, and he asked Butera if he learned his lesson that he "should always carry a bullhorn" in his pants.
"Keep being a pain in the ass," Kimmel told Butera. "I think we should encourage this sort of thing. He's a good American."