Several Christian organizations well known for their defense of traditional marriage have been labeled "hate groups" by GuideStar, one of the United States' leading charity research groups.
GuideStar, which touts itself as a "neutral" database containing information on more than two million charities, has adopted the left-leaning Southern Poverty Law Center's nonprofit designations. The charity site pointed to the "hateful rhetoric" during this "highly politicized moment" in American history as its reason for making the decision, The Associated Press reported.
Profiles for Christian organizations such as the Family Research Council, Alliance Defending Freedom, Liberty Counsel, and the American Family Association now each feature a banner warning they were "flagged as a hate group by the Southern Poverty Law Center."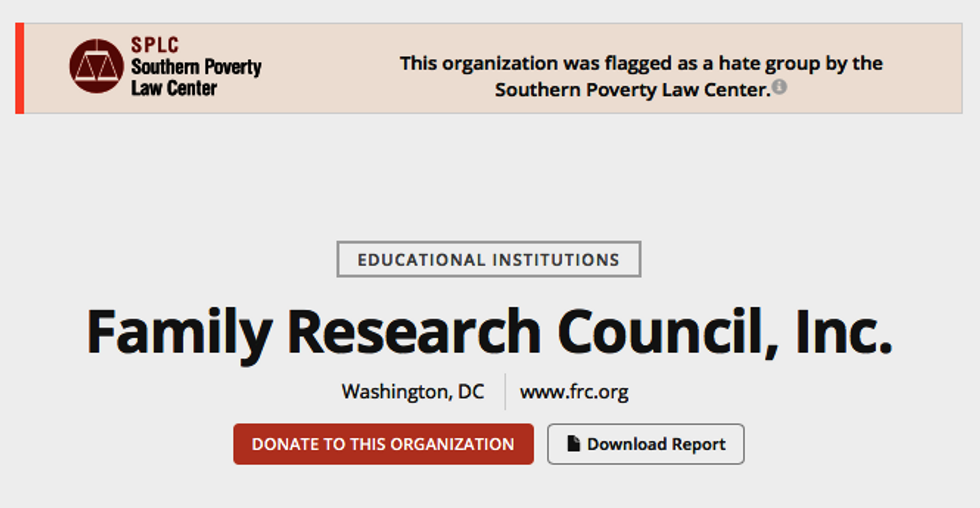 Image Source: GuideStar Screen Shot
Retired Army Gen. Jerry Boykin, vice president of the FRC, told Christianity Today that the new GuideStar policy is "another attack on conservative Christian organizations and individuals." And in an interview with The Daily Signal, he said GuideStar is "becoming an arm of the ultra-left."
In a phone interview Friday with TheBlaze, Dr. Chris Gacek, a senior fellow at the FRC, said the thinking behind GuideStar's decision is nothing new, noting that left-leaning organizations like the SPLC have for years been conducting "guerrilla warfare against their political opponents."
"This is part of a general operating plan, it seems, on the left and this part of it just kind of fell into place," Gacek explained of GuideStar's decision to integrate the SPLC's classifications.
The Southern Poverty Law Center's "hate group" designation is particularly controversial among Christian groups, given the liberal, Alabama-based watchdog applies the label to organizations that oppose LGBT agenda items, such as same-sex marriage.
According to its website, the SPLC sees these conservative groups as part of a "dangerous new narrative that portrays Christians who object to homosexuality on biblical grounds as victims of religious persecution."
Moving forward, Gacek said the only way to defeat groups like the SPLC is to change public opinion about the progressive watchdog.
"These are pretty vicious people," he said, "and once you unmask them, you can at least point average people in the right direction."
So far, 46 organizations listed in the GuideStar database feature the SPLC's banner at the top of their pages, which led dozens of conservative leaders to write a protest letter to GuideStar President and CEO Jacob Harold, voicing their "strong disagreement" with the new policy and describing the SPLC as "a hard-left activist organization."
Conservatives Leaders' Letter to GuideStar by The Heritage Foundation on Scribd
The idea that Harold may be sympathetic to the SPLC's perspective is not all that surprising.
On GuideStar's website, Harold is described as "a social change strategist," and on Jan. 23, he tweeted a photo of himself participating in the progressive Women's March against President Donald Trump in Washington, D.C.
https://t.co/aMPGcMXp2c

— Jacob Harold (@Jacob Harold)1485180880.0
In a statement, though, to The Daily Signal, a spokesperson for GuideStar said the charity portal is "reconsidering" how the SPLC data will be displayed on each charity's profile.
The FRC, a pro-life, pro-traditional-marriage organization that works to "advance faith, family, and freedom … from a Christian worldview," has a significant past with the SPLC. In 2012, the Christian group blamed the SPLC in part for an attack on its headquarters in Washington, D.C.
The letter to Harold noted that James Hodgkinson, the 66-year-old gunman who opened fire on Republican lawmakers during a June 14 baseball practice in Alexandria, Virginia, "liked" the SPLC on Facebook.
"Does it not concern you that within the past five years, the SPLC has been linked to gunmen who carried out two terrorist shootings in the D.C. area?" the letter read. "With these points in mind, we respectfully request that GuideStar return to its prior, nonpolitical approach to evaluating nonprofit organizations."
Groups like the Liberty Counsel, which represented Kim Davis, the county clerk who in 2015 made headlines for refusing to sign same-sex marriage licenses, have also voiced their opposition to GuideStar's use of the SPLC's "hate group" label.
"The only purpose of providing the SPLC's false and dangerous 'hate group' label is to push a liberal political agenda designed to hurt good organizations," Mat Staver, founder and chairman of the Liberty Counsel, told Christianity Today.
And Greg Scott, a spokesman for Alliance Defending Freedom, which was just added to the SPLC's "hate group" list in February, described GuideStar's new policy as "so unfair," calling the decision "highly partisan."
"Normally," he explained, "we wouldn't waste time talking about it, but some mainstream news organizations take what the SPLC says as gospel. We see it more as tabloid."
The letter was sent to Harold on Tuesday, and the conservative leaders are requesting a response within one week.