For a while there, Gypsy Freeman wasn't going to be in Kansas anymore. Literally.
After the Wichita-based makeup artist got word of a national contest sponsored by big-name tattoo artist Kat Von D — known for her reality show "LA Ink" — Freeman and a photographer friend of hers went to work.
For the Saint + Sinner Contest, she turned in an Instagram image that lots of people loved — most notably Kat Von D herself, Freeman said.
And with that, Freeman and photographer Jenn Bischof were declared the winners. The spoils included plane tickets to Los Angeles to attend the launch party of a new makeup line from Kat Von D — and the approximate value of the prize package, which included a $500 gift card to Sephora, was $2,100, the Wichita Eagle reported.
That was until curious folks wanted to know more about Freeman and discovered that on Election Day last year she posted a campaign image supporting then-Republican presidential nominee Donald Trump, the paper said.
And faster than you can growl, "I'll get you, my pretty!" Freeman got a direct message from Kat Von D's personal Instagram account saying that she was no longer the winner, the Eagle reported, citing screenshots taken by Freeman.
Turns out the reality star had "drawn a personal line in the sand between myself and anyone who supports that man," the paper said, citing Freeman's screenshots.
"My launch party [and my brand] celebrates many things that Trump is against," Kat Von D continued to Freeman, the Eagle noted, citing the screenshots. "And I just need you to know that I personally have a hard time with inviting anyone who would support such an anti-feminist, anti-homosexual/LGBT, anti-immigrant, and anti-climate change fascist such as Trump."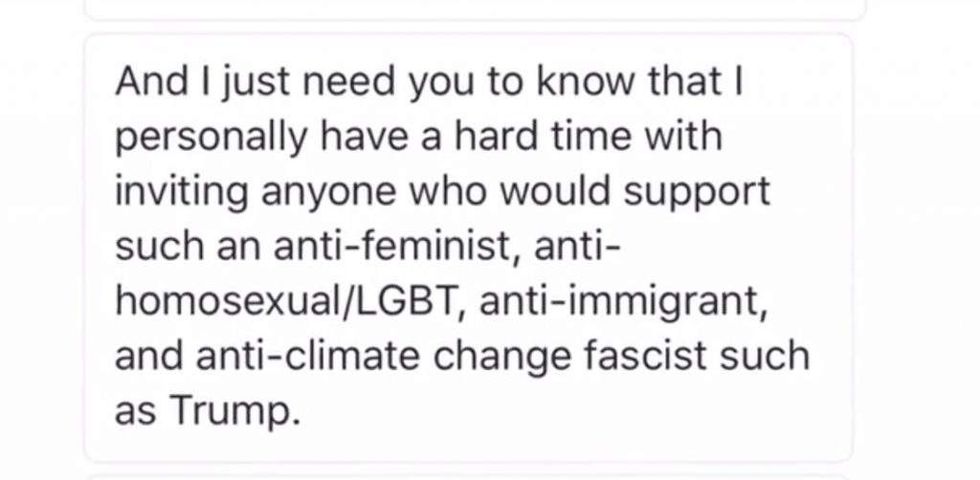 Image source: Wichita Eagle video screenshot
Freeman's reply?
"I won't be upset with you if you can't have us there for these reasons, and I wish you the best," she wrote back, the paper said, citing the screenshots. "We would love to be there, of course, but I sincerely do understand if you decide to replace us with someone who supports the candidate you support."
But it appears ol' Kat needed to clarify things a tad more.
"It's not about inviting people based on their political stance – it's just extremely difficult (borderline impossible) for me to be friends with or associate with anyone who would support a man who goes against everything I stand for," she wrote, the Eagle reported, citing the screenshots. "I would feel the same way towards people who supported Hitler, or any other fascist."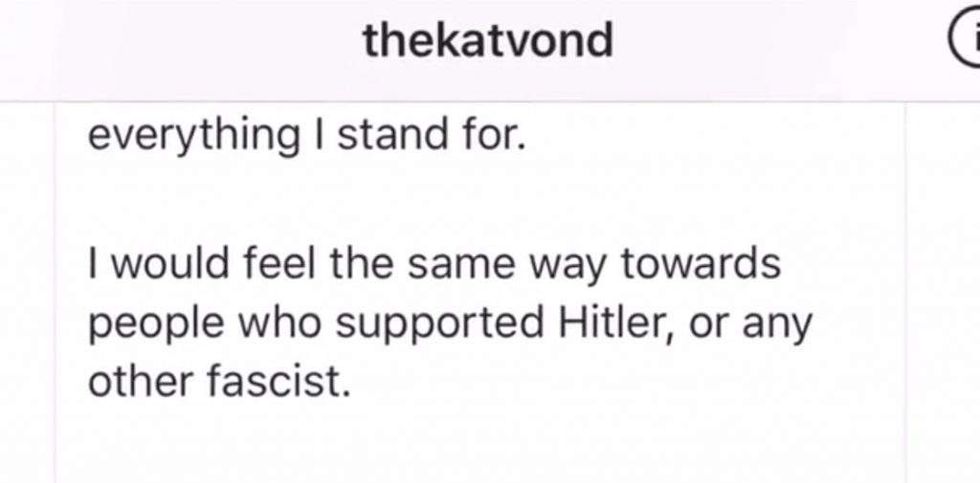 Image source: Wichita Eagle video screenshot
Interestingly, the paper added that "all evidence of the contest's existence has since been deleted from the brand's Instagram account and website, though the contest rules are available in a cached version of the site."
Kendo Holdings, the parent company of Kat Von D Beauty, has been silent on the issue, according to multiple reports.
In another twist, Freeman's photographer ended up going to the launch party — and a post on Bischof's Instagram account shows her there with Kat Von D herself.
Freeman — who never deleted her pro-Trump post — told the Eagle that "part of the great thing about this country is having freedom of speech. I said the same thing to Kat. I was like, 'You can say whatever you want to say and you shouldn't filter comments based on who I support. It doesn't bother me.'"
Still what happened to her is "definitely bigotry," she told the paper. "It's everything that they're calling us, they're doing. It's a huge case of hypocrisy."
(H/T: Truth Revolt)