A photo of former President Barack Obama and his family serving food for victims of Hurricane Harvey went viral recently, drawing praise from thousands.
Except there is just one problem: it's not actually the Obamas serving food for victims of Harvey.
The photo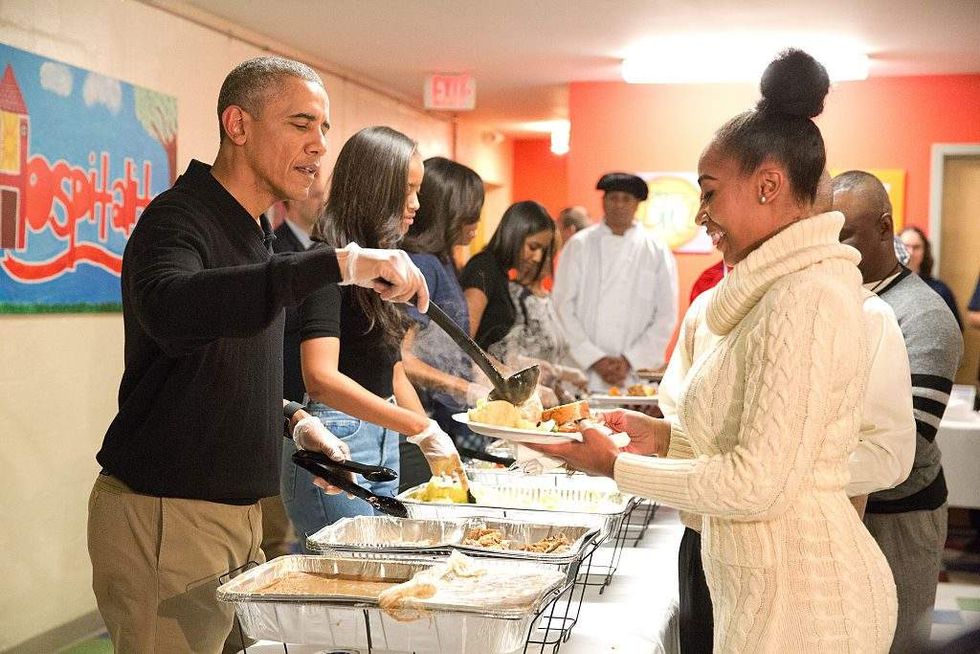 President Barack Obama and his family on Thanksgiving in 2015. (Martin H. Simon-Pool/Getty Images)
According to Getty Images, which distributed the picture, the photo was snapped in on Thanksgiving Day 2015. The picture actually shows the Obama family serving "Thanksgiving meals to homeless and at-risk veterans" at a shelter in Washington, D.C.
Oops
The original tweet was posted Saturday with the caption: "Something you'll never see trump do: Obama is in Texas serving meals!"
The tweet was later deleted when its poster was informed he was incorrect, but only after it had racked up thousands of retweets and shares.
The poster later apologized for the tweet.
Buyer beware
When all eyes in the nation are pointed on one event, such as with Hurricane Harvey, it's easy to believe the photos and videos being shared about it on social media.
However, before you buy into everything you see, it's wise to exercise a dose of skepticism because people are willing to share false or misleading information simply to earn "likes" and retweets. Not only did this false tweet go viral, but pictures showing sharks swimming through Houston have been widely shared. The photos are either not from Houston or they are photoshopped.
Believe it or not, this is a shark on the freeway in Houston, Texas. #HurricaneHarvy https://t.co/ANkEiEQ3Y6

— Jason Michael (@Jason Michael) 1503900034.0
Other false rumors have widely circulated during this storm. Officials in Corpus Christi were forced to debunk a rumor that city residents were disallowed from re-entering the city, while officials in Houston had to publicly state they were not turning off city water.