A first-grade teacher at an Indiana public school complained in a letter to parents that some students had been discussing "God," "Jesus," and the "Devil" during class and that it needed to stop — but not every parent is happy about the letter.
"I have had a group of about 5 students using the words God, Jesus and Devil in conversation. The first time I had a talk about it with them, unfortunately on a different day the conversation came up again," the letter read in part, WXIN-TV reported. "With McCordsville Elementary being a public school, we have many different religions and beliefs, and I do not want to upset a child/parent because of these words being used. If you go to church or discuss these things at home, please have a talk with your child about there being an appropriate time and place of talking about it."
A parent spoke to WRTV-TV about the letter sent home in late August saying that she's worried about the long-term effects on her daughter who's used to freely talking about religion.
"She's shy to begin with," the parent told the station on camera but without showing her face, "and this being the first year her attending this school, I don't want her to withdraw from everything because of being told that 'you can't talk about this' or 'you can't say this word.'"
But Mt. Vernon Community School Corporation Superintendent Shane Robbins said in a response letter that students may talk about religious beliefs as long as the discussions aren't disruptive.
"To simply summarize, MVCSC employees can neither advance nor inhibit religious views," the letter said. "Trying to limit a student's view on religion is a violation of a student's first amendment rights. However, if the discussion becomes an academic disruption, then as a district, we can intervene to maintain the integrity of the educational process while at the same time being sure to not violate a student's constitutional rights."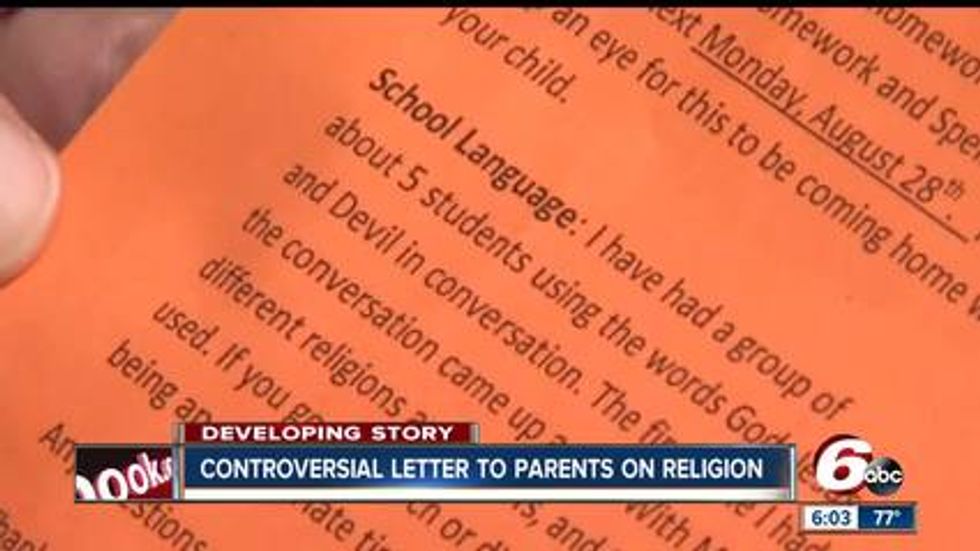 District officials told WXIN they've met with the teacher about the school's policies, but it's unclear if the teacher will face disciplinary action. WXIN referred to the teacher as a female.
The district added to WRTV that the teacher's letter to the parents wasn't sanctioned by the district and that the teacher wrote parents the next day saying the letter didn't come across the way it was intended.
How about the reverse?
How do you think parents would react to a teacher complaining that students use "God" and "Jesus" — as the Bible notes — "in vain" during class. (You know the answer to that one.) Such speech is a much more common practice these days — and certainly is not policed.
Yet when first-graders use such words in a genuine way, all hell breaks loose.
Go figure.
(H/T: EAGNews)