CNN came under fire on Friday after they attempted to show viewers how bump stocks work on semi-automatic rifles — but used a depiction of a rifle that didn't have a bump stock on it.
What happened?
During a segment on Friday discussing bump stocks and their legality, CNN producers put on screen a picture of semi-automatic rifle that had no bump stock, but did have a grenade launder and suppressor, both of which can only be legally obtained after an arduous government process.
The animation showed what a bump stock allows a rifle to do — it allows the rifle's recoil to help the gun fire more rapidly, even at a fully automatic rate. But a bump stock is an entirely different stock. CNN's rifle animation simply showed an adjustable stock.
CNN tried to explain a bump stock with an animation.

The animation of the rifle features a suppressor, grenade launcher and no bump stock. pic.twitter.com/0jTpTzp0mB

— Caleb Hull (@CalebJHull) October 6, 2017
What does an actual bump stock look like?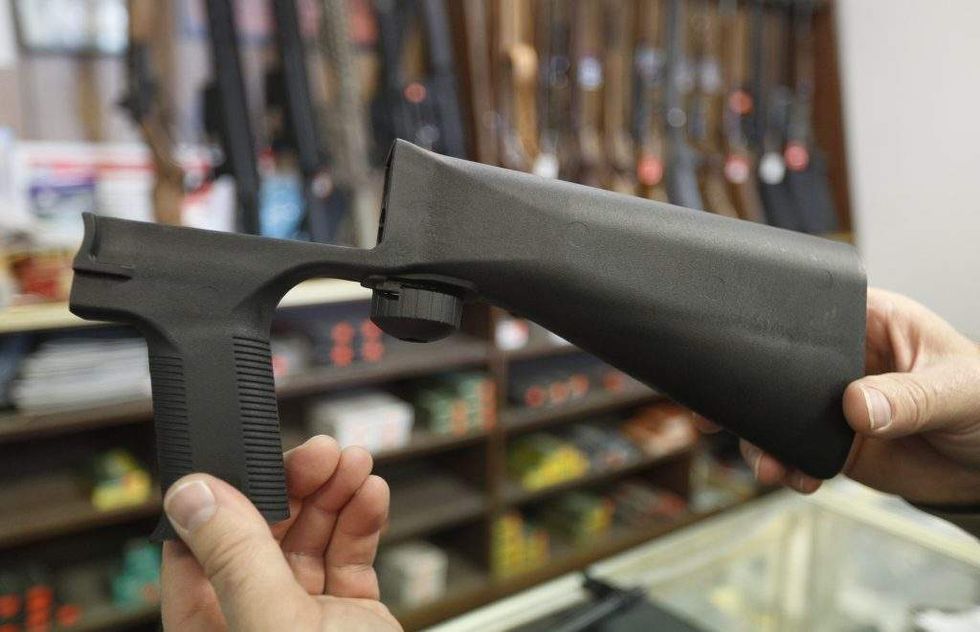 A bump stock device that fits on a semi-automatic rifle to increase the firing speed, making it similar to a fully automatic rifle, is shown here at a gun store on October 5, 2017 in Salt Lake City, Utah. (George Frey/Getty Images)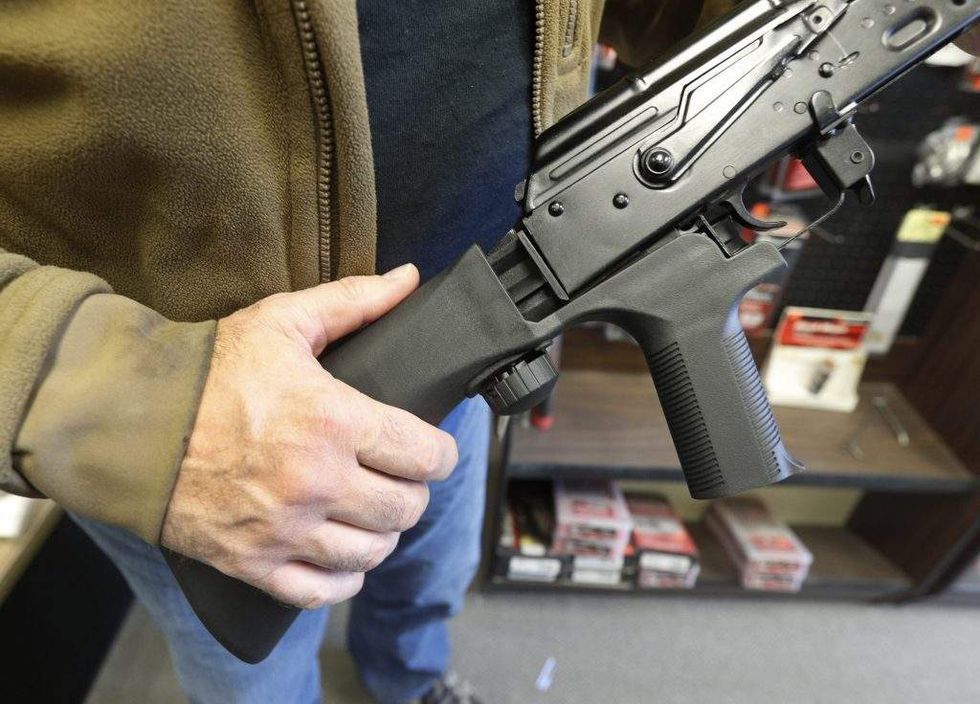 (George Frey/Getty Images)
How did Americans react?
CNN has been widely scrutinized in the Trump-era, given that the president regularly charges that CNN is "fake news." Obviously, criticizing bump stocks, while showing viewers a rifle with no bump stock and a grenade launcher, did not go over well.
Here's what people said:
Next, CNN will animate human intercourse, using a banana, motor oil and a drainage pipe.

— JimmyToons (@JimmySportToons) October 6, 2017
October 6, 2017
Relax. The gun IDENTIFIES as being bump-stocked.

— Richard Lauder (@Kauwhaka) October 6, 2017
I swung into the gas station on my way home from work & grabbed one of these bad boys onsale, 2 for $0.99 if I bought a lrg slurpee #sarcasm pic.twitter.com/DtsrVKPhtI

— Rick Beaman (@chiefbeaman) October 6, 2017
I'm surprised it wasn't wearing a red #MAGA hat

— ThadLeach (@thadleach) October 6, 2017
@StephenGutowski It's a suppressed bump stock.

— Chuck Boyle (@boyledad) October 5, 2017
Why didn't they have a kid's voice over it going #PewPewPew? Would have given them some cred

— MommaK (@Lautergeist) October 6, 2017