A Michigan city council honored four young men as "heroes" for taking a knee during the national anthem at several Lansing Catholic High School football games this fall, WLNS-TV reported.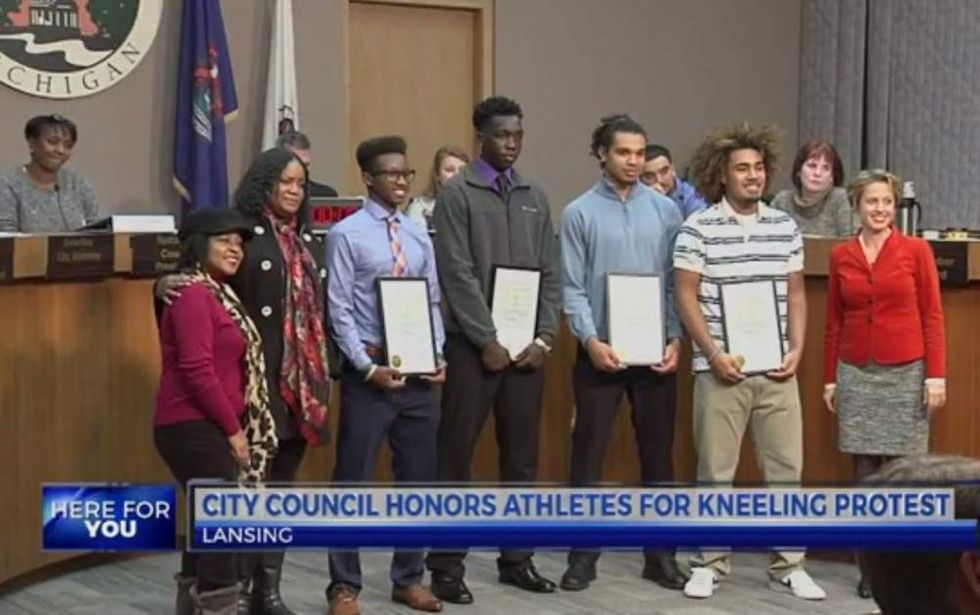 Image source: WLNS-TV video screenshot
Lansing City Council members recognized Michael Lynn III, Roje Williams, Matthew Abdullah and Kabbash Richards during a special ceremony Monday night, the station said, adding that the foursome received a standing ovation from attendees.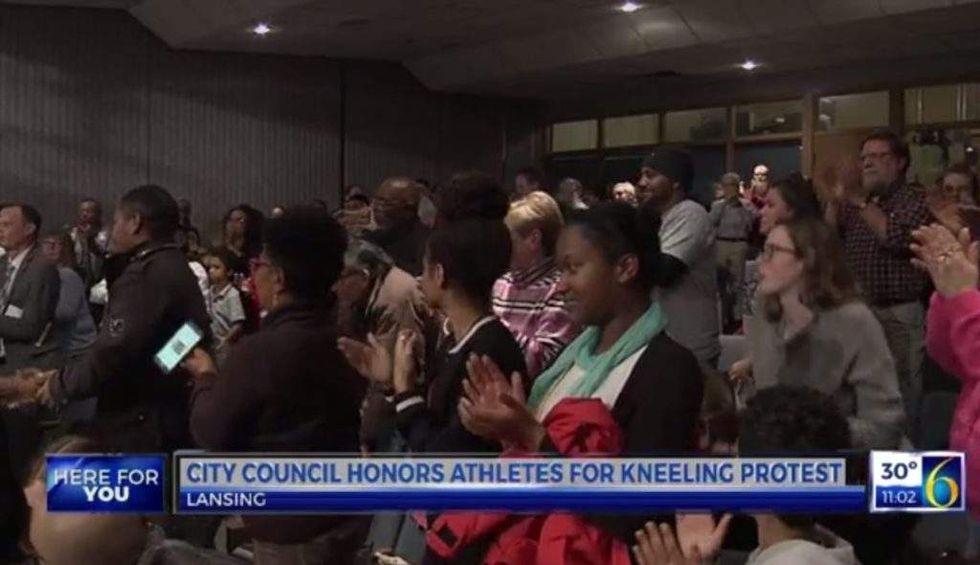 Image source: WLNS-TV video screenshot
Councilwoman Jessica Yorko read a resolution that called the four athletes "local heroes" and declared the council "supports their efforts to leverage their positions and platforms, both present and future, to raise awareness of injustices affecting many residents in our community," WLNS reported.
At-large Councilmember Judi Brown Clarke called the four players "role models," the station said.
The players made headlines in October after they were benched prior to a game over their plans to kneel during the anthem.
Lynn — who was the team's starting quarterback and a captain — has since transferred out of Lansing Catholic along with Abdullah, the station reported.
How did the players react to the ceremony?
"When people hate on you or hate you, scream the loudest you don't really see it, you don't feel it, but it was definitely in full effect today," Lynn told WLNS regarding the council's recognition. "The standing ovation almost made me cry."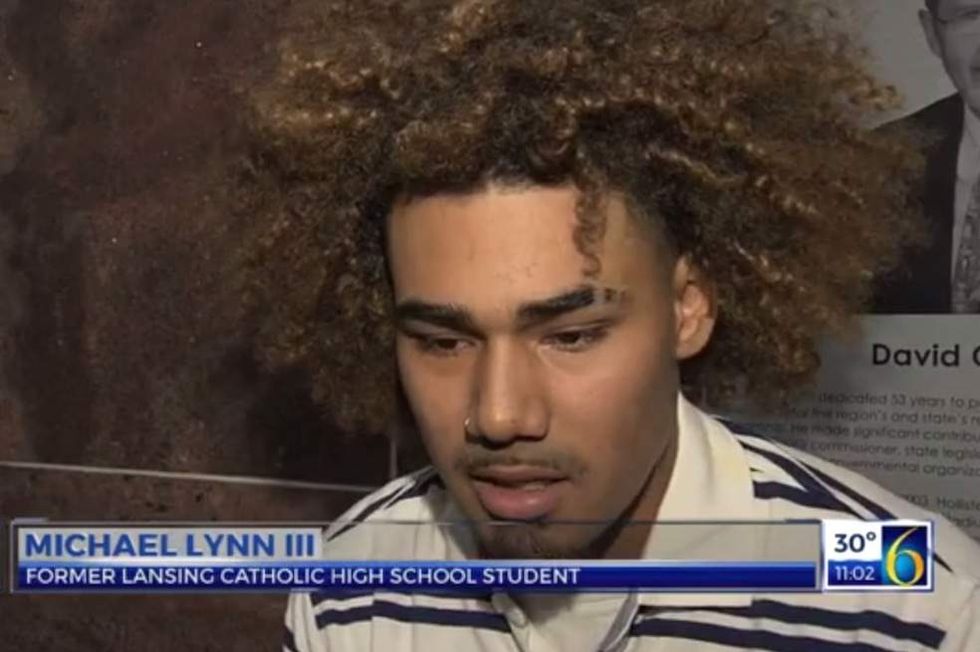 Image source: WLNS-TV video screenshot
"We are four young black men who are dedicated toward ending injustice and racism," Williams said at the ceremony, the station noted. "We started off as supporting the Take a Knee movement, through our own journeys we have found each of us have been battling racism on our own within the walls of Lansing Catholic High School."

Williams added that "people have attacked our character, our respect for our country and have done everything they can to twist our message," WLNS reported.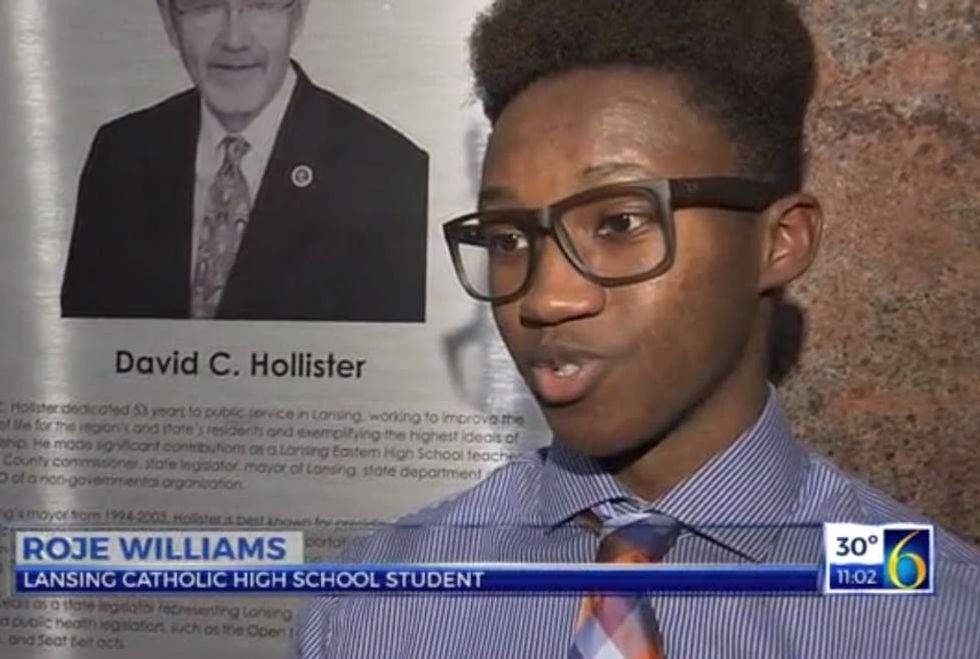 Image source: WLNS-TV video screenshot
"To the young people of Lansing, young minorities of any kind whether that's sexual, racial, religious, speak up for what you believe in," Lynn added, according to the station. "Don't take flack for what you are; you can't change what you are."
Are the protests continuing?
Following the football season, Richards continued his protests as a basketball player and took a knee during the anthem at Lansing Catholic's game against Williamston High School last Friday, WLNS said.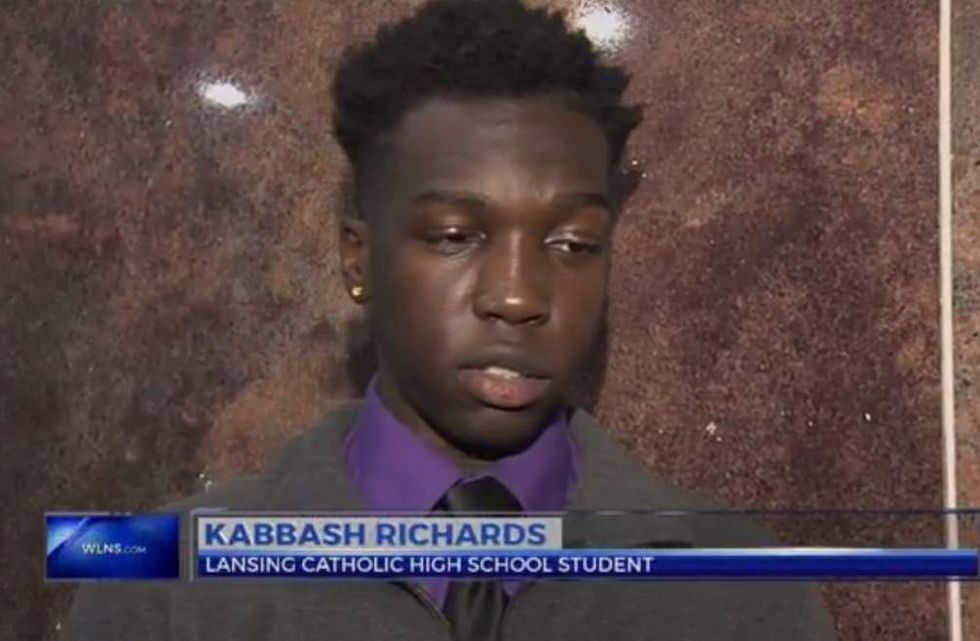 Image source: WLNS-TV video screenshot
As a result, Richards was benched for the entire game, the station reported, adding that fans didn't like what he did and said his actions contributed to continued negative attention on the school.
How did Lansing Catholic respond?
WLNS didn't immediately hear back from school's president after reaching out for comment.

But Lansing Catholic sent a letter to parents last week saying athletes who kneel during the national anthem won't play in games.
This story has been updated.