Kellyanne Conway — counselor to President Donald Trump and a diehard Philadelphia Eagles fan — likened her "underdog" team facing down the New England Patriots in Sunday's Super Bowl to Trump going up against heavily favored Hillary Clinton in the 2016 election.
"If you have to put a political cast on it, I've told the president, 'Hey, you know that the New England Patriots are like Hillary Clinton,'" Conway told Philly radio host Chris Stigall before rattling off familiar phrases — "the establishment; you can't lose; here you come again: you're in the finals again and again and again" — that spoke to the prediction that Clinton would win in a landslide.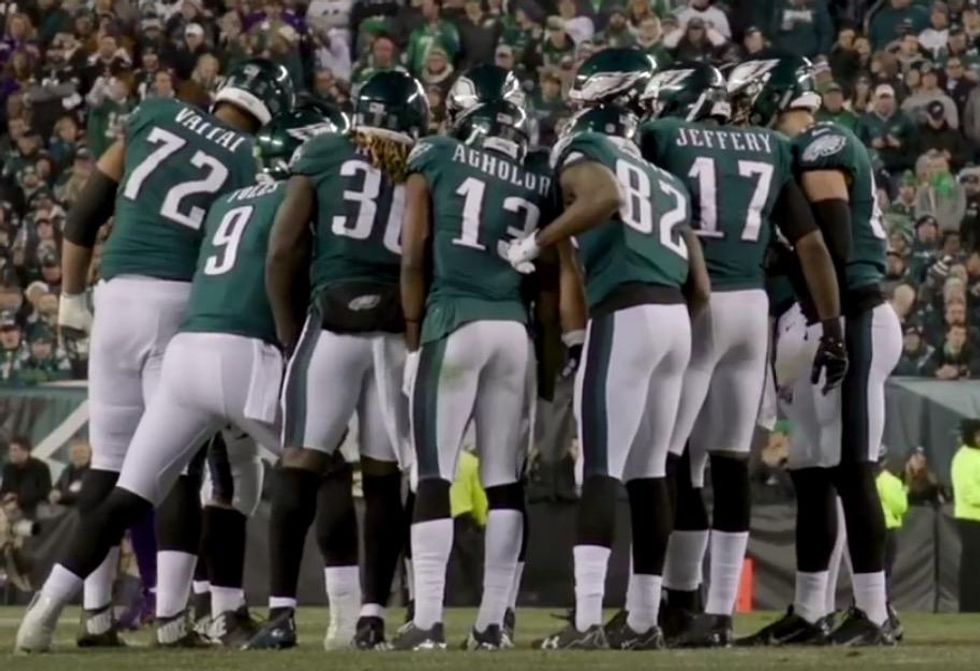 Image source: YouTube screenshot
"Clearly our Philadelphia Eagles, particularly this year, are much more like insurgent candidate, ultimately successful, president of the United States Donald J. Trump," she added during the interview.
Conway also said she plans on attending the Super Bowl in Minneapolis and that Trump "loves my moxie" in regard to her longtime love for the upstart Eagles and that he'll be watching the game as well.
Born in Camden, New Jersey, across the Delaware River — and forever a "Philly girl" — Conway told Stigall that she and her family regularly attend Eagles games and feel "lots of love" from fans.
"When you're with the crowd, you really feel like you're all one of the same," she added during the interview. "Everybody comes from a diverse background. I have no idea what their politics are. I don't much care. But I can tell you when you walk around the Linc, you're quickly reminded that Donald Trump won Pennsylvania. I can tell you that."
Conway also said she hopes to meet all the players on her favorite team "when we welcome the new Super Bowl world champions Philadelphia Eagles to the White House for them to receive their trophies."
And even after hearing some "smack talk from some [saying] they're not coming," Conway resolutely stated that such scenarios were fine and that she'd just "invite a couple more veterans who are Eagles fans. No problem."