The host of "Top Chef" defended her desire to "showcase" Planned Parenthood on Thursday's season finale by choosing to wear a Planned Parenthood pin on camera — along with the other three judges.
A Twitter user asked host Padma Lakshmi "Why does politics have to invade everything?" after noting that she and judges Gail Simmons, Tom Colicchio, and Graham Elliot were wearing the Planned Parenthood pins.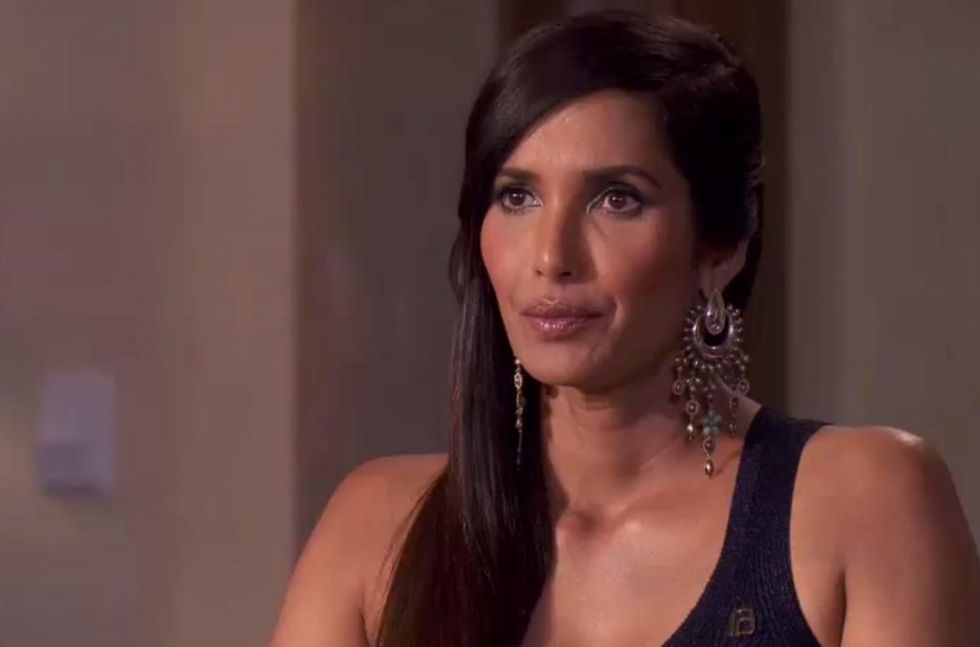 Padma Lakshmi (Image source: MRC video screenshot)
The Twitter user then quipped, "Come on just stick with food. Crap can't we relax?"
But Lakshmi — who's also a judge on the show — apparently was in no mood to trade jokes: "No ... we can't relax," she tweeted back. "We need food for survival, we also need privacy to deal with our own bodies as we see fit."
Lakshmi added in another Twitter post, "I've been supporting @PPFA for a long, long time and want to thank @BravoTopChef for letting me showcase them tonight."
Elliot — who's seated at the far left in episode images — retweeted a pair of posts lauding the judges for wearing the Planned Parenthood pins:
Did Planned Parenthood president get in on the act?
Planned Parenthood's president Cecile Richards certainly was happy to see the abortion provider's logo on display and said so in a reply to Lakshmi.
"Your support is always appreciated," Richards wrote — with a heart emoji included.
What has Lakshmi said previously about Planned Parenthood?
Lakshmi appeared on CNN last year and criticized the notion of defunding Planned Parenthood:
I am worried about Planned Parenthood being defunded. So little of what Planned Parenthood does is abortion, and they don't receive any federal money for that. They get reimbursed by Medicaid for other health services that they provide to people that cannot afford them — both men and women. Like breast cancer screenings and pap smears.
She added:
I am an immigrant. I came to this country when I was four. I am a woman of color. I am a brown person working in a white culture and living in a white culture. And so I have two reasons to be wary of this administration — not just of [President Donald Trump] but of his appointees — of Congress who has vowed to turn back a lot of the rights and benefits that I hold very dear, like the right to choose.
How did the network react to it all?
NBC Universal on Friday didn't immediately respond to TheBlaze's request for comment regarding Lakshmi's tweets.
Here's a clip from the episode:
(H/T: NewsBusters)